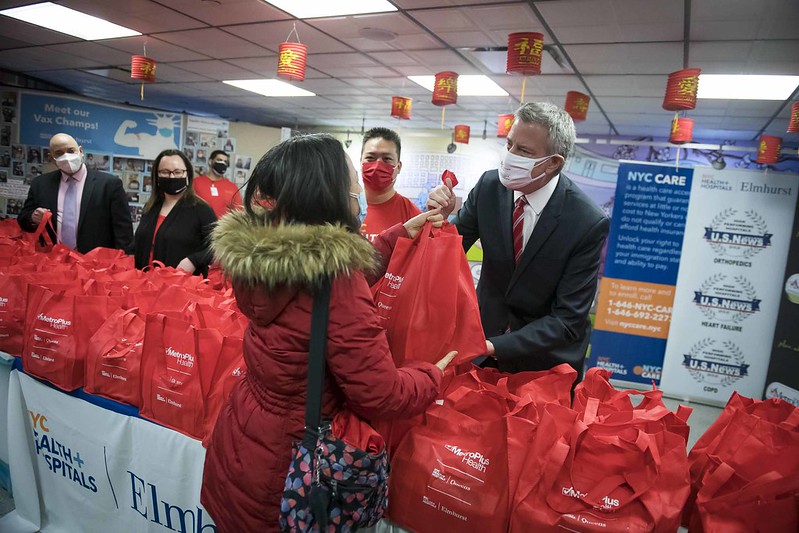 Mayor de Blasio handing out food (photo: Ed Reed/Mayoral Photography Office)
---
Human services workers are the unsung heroes of the COVID-19 response, and the new city budget has failed them.
Many New Yorkers may not know that most social services are delivered by nonprofit
organizations under city and state government contracts that consistently set poverty level wages for workers.
Throughout the pandemic, when we heard about lines wrapping around the block outside of
food pantries, childcare being provided for hospital workers, and home-delivered meals
programs being created, we didn't often hear about the nonprofit human services providers
who stepped up to meet these needs.
At Urban Pathways, our frontline staff showed up to ensure our residential facilities were clean and sanitized, and to ensure our residents' well-being. We continued to conduct street outreach and opened 60 additional stabilization beds to bring New Yorkers experiencing street homelessness inside to safety. Human services workers risked their own health and that of their families to show up for New Yorkers in need.
To recognize their immeasurable contributions during the pandemic, we and our partners across the human services sector asked the City Council and Mayor de Blasio to include $48 million for a 3% Cost of Living Adjustment for the workforce (a drop in the bucket of a $98.7 billion
budget), and to begin the rightsizing of wages for those doing this work far below a living wage. A COLA is the least that could be done for our essential workforce, and we hoped it would act as a first step in moving towards a broader plan for raising low wages and achieving wage equity.
Disappointingly, Mayor de Blasio and the City Council failed to meet this call. The final fiscal year 2022 New York City Budget passed on June 30 does not include a human services COLA nor does it address wage equity. Instead, the city provided $24 million for a one-time bonus. While better than nothing, it is not the sustained investment in the workforce that is truly needed and will not help workers meet increased costs for food, rent, and other basic necessities. The continuous failure to invest in human services workers puts nonprofits at risk of no longer being able to serve communities, as we see employees exiting our workforce for higher paying opportunities and due to high levels of burnout.
This administration and City Council had an opportunity to leave a legacy by setting the stage
for addressing the long-held and long-overlooked inequities in the human services sector. They
had an opportunity to promote racial and gender equity by raising wages for a workforce primarily composed of people of color and women, and of which 85% of the frontline workers
most exposed to COVID-19 identified as Black, African-American, Hispanic, or Latino. Instead, they gave our workforce a pat on the back and invited them to a parade.
We thank those City Council members who supported our COLA ask and are seeking to address wage equity in the human services workforce through legislative means. And we look forward to working with the next administration and City Council to finally address these issues head on. It's frankly hurtful that the city failed to address wage equity. If not following this past
tumultuous year, where both the critical nature of human services and the extreme racial
inequities present in our city were burst open, then when?
***
Nicole McVinua, Director of Policy at Urban Pathways. On Twitter @UrbanPathwaysNY.
***
Have an op-ed idea or submission for Gotham Gazette? Email This email address is being protected from spambots. You need JavaScript enabled to view it.