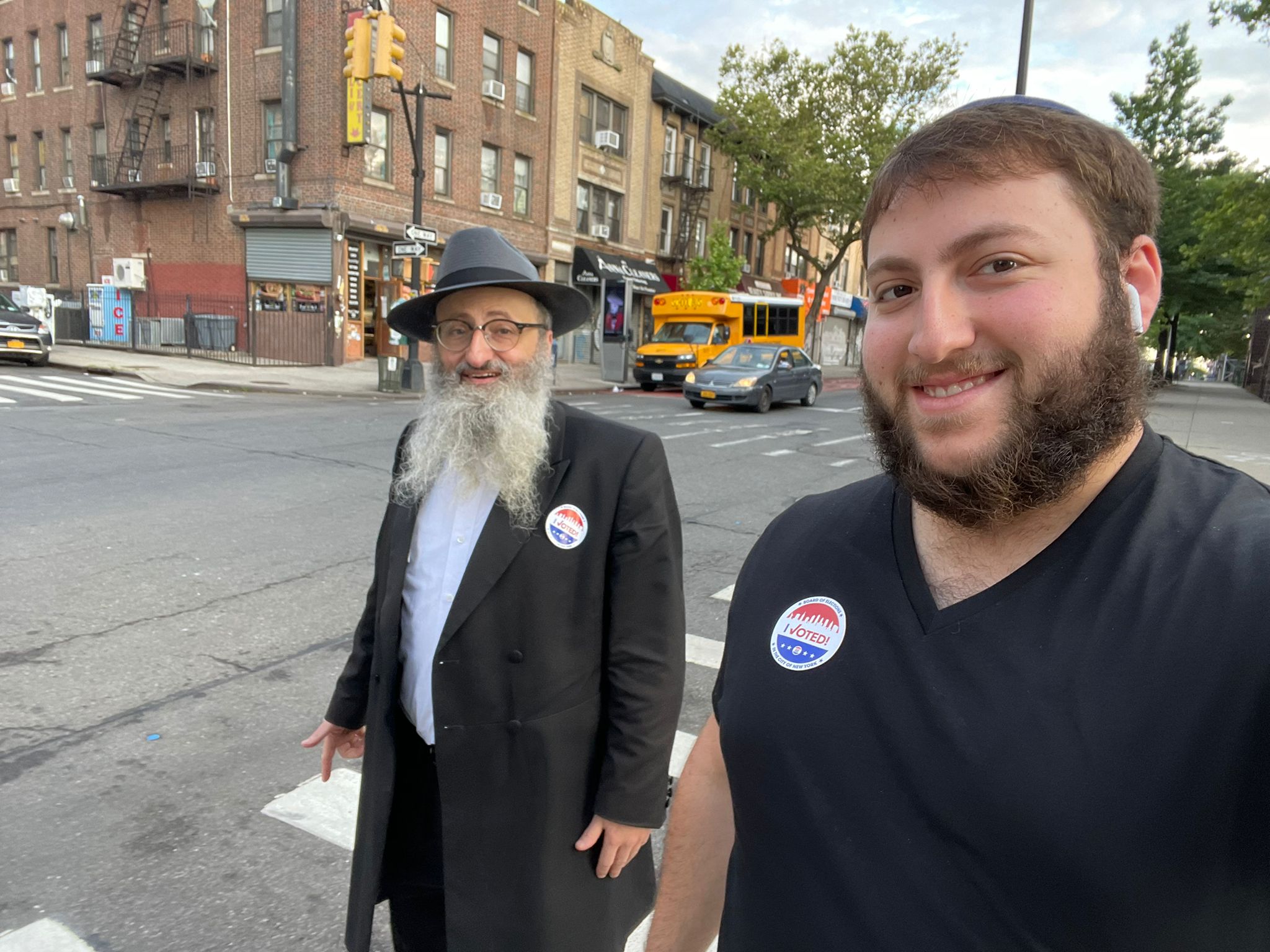 Father and son and longtime Crown Heights residents after voting
---
The New York City 2021 Democratic primaries saw Brooklyn's hotly-contested 35th City Council district swing in favor of community organizer Crystal Hudson, who bested tenant activist Michael Hollingsworth by eight points. This district includes Prospect Heights, Clinton Hill, Fort Greene, parts of Bedford–Stuyvesant and Crown Heights. All of these neighborhoods have been devoured by gentrification in recent years.
Primary voter turnout in the district was high, about 35%, easily surpassing city-wide average turnout of about 25%. And while you might think that this level of civic engagement is a good thing, leftists close to the Hollingsworth campaign, like the Democratic Socialists of America and the Crown Heights Tenants Union, would disagree — because those voters were Chassidic Jews.
In the aftermath of the primaries, which Hollingsworth lost by about 2,400 votes, progressive rage was directed at the Lubavitch community of Crown Heights, whose massive turnout exceeded Hudson's margin of victory, while also garnering some 4,500 votes for Eric Adams' mayoral campaign. Social media has since been dripping with insults toward Crown Heights Jews as fake Democrats, accusing Hudson of nefarious backroom dealmaking, and reviving antisemitic Jewish conspiracy tropes of bygone centuries.
The message, overall, is clear: the Chassidic community had no business getting involved here. A terrible electoral injustice was committed when these people had the absolute chutzpah to cast votes for the representation of their neighborhood. Had this backlash been directed at any other ethnic group, the news media and others would have commenced a weeks-long focus on the bigotry.
In truth, the secret to Hudson's success is fairly mundane: good campaigning. She took the time to get to know the Lubavitch community, for whom Crown Heights has served as the spiritual and cultural epicenter since World War 2. Hudson nurtured a running conversation with Jewish leaders and institutions, while Hollingsworth was remarkable in declining dialog with one of the very communities he sought to represent in the City Council. Furthermore, Hollingsworth's inflammatory position against Israel during its conflict with Hamas, contrasted with his silence on anti-Jewish street violence, spoke volumes to Jewish voters.
The Lubavitch community of Crown Heights had been, over the years, politically ambivalent. Had Hollingsworth not antagonized them, causing a huge spike in their turnout, many would likely have stayed home and history might have played out differently.
The fuel behind the Hollingsworth campaign was an endorsement by the radical DSA, which offered up a base of mostly white, leftist activists — the same gentrifiers who've contributed mightily to the insane housing costs Hollingsworth decries. Instead of good politics, his campaign opted for rhetorical bomb-throwing and marginalized a sizable Jewish enclave with over 80 years of history in the district. Hollingsworth's alliance with DSA won the vote of yuppies and mostly young, white newcomers to the district, while Hudson won long-time residents: working class, Black, and Chassidic Jewish families.
So, according to leftist internet rage, voter turnout is not always good. While socialists usually purport to be on the side of the people, post-election tantrums indicate this may only be true of certain people. In conditions of higher voter turnout, ideological grandstanding, class warfare, and ethnic antagonism weren't enough to thwart a neighborhood that simply voted for a representative who cared about representing everyone.
***
Rabbi Yaacov Behrman is founder of the Jewish Future Alliance and a lifelong resident of Crown Heights. On Twitter @ChabadLubavitch.
***
Have an op-ed idea or submission for Gotham Gazette? Email This email address is being protected from spambots. You need JavaScript enabled to view it.