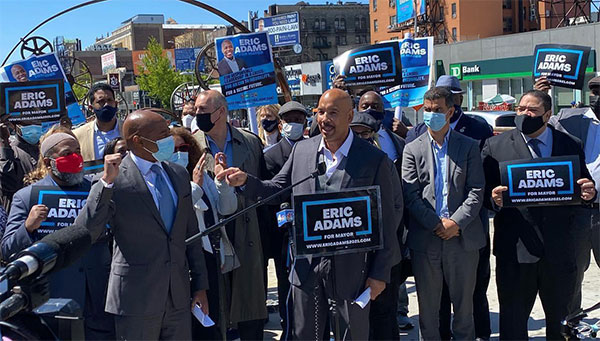 Eric Adams with Ruben Diaz Jr, Ydanis Rodriguez, and others (photo: @ydanis)
---
The Democratic mayoral primary is finally over. Over too is the ranked-choice vote counting process. We know enough for a preliminary analysis of how many Latinos voted and how, though those numbers will need to be fine-tuned after results have been certified and voter information updated.
Here is what we know right now: In a crowded field, Eric Adams earned the greatest chunk of the Latino vote, especially in the Bronx, the only Latino-majority borough in the City of New York. It appears that Adams won over 50% of the first-choice votes in the election districts with the highest number of Latino voters. That's an impressive feat considering that there were 13 candidates vying for the Democratic nomination, including one Latina (Dianne Morales) and another candidate with a Latino surname (Kathryn Garcia). Though the obvious second choice for many Latinos might have been Morales or Garcia, in fact, election night results show they voted overwhelmingly for Maya Wiley (again, in terms of first-rank votes, we will eventually seek how all the ranked ballots turned out).
Adams' performance among Latinos in other boroughs was not as decisive as in the Bronx, though he garnered at least a third of the first-rank votes in election districts with high Latino concentrations and won most of them. Take the 72nd Assembly District in Washington Heights: there, Adams earned almost 33% of first-place votes, the most of any candidate. Wiley received a quarter of the first-place vote in this overwhelmingly Latino district. Of course, this is the home district of Congressional Rep. Adriano Espaillat, who eventually endorsed Adams, and City Council Member Ydanis Rodriguez, who was a strong supporter from early in the campaign.
This same Adams-Wiley dynamic is evident in majority Latino election districts in Brooklyn (Cypress Hills, and parts of Bushwick, East New York, and Williamsburg), Manhattan (East Harlem, the Lower East Side, and Washington Heights), and Queens (Corona, East Elmhurst, Jackson Heights).
Why was Adams' performance among Latinos decisive in the Bronx and not as impressive in the other boroughs? Here are my hunches.
On one hand, Adams earned critical endorsements in the condado de la Salsa. Borough President Ruben Diaz Jr., Rep. Espaillat (whose district covers Upper Manhattan and much of the West Bronx), Assemblymember José Rivera, City Council Member Rafael Salamanca, and former Borough President Fernando Ferrer all endorsed Adams. (Congressional Rep. Ritchie Torres announced Adams as his second pick after Andrew Yang.)
Were the Diaz Jr. and Espaillat endorsements a key moment for Latino voter preference in the Bronx—besides Adams' own campaign operations and the independent expenditure support there, of course? And what was the full impact of Espaillat's nod? Remember that in the past he has not only given his name to candidates but has also lent them his well-oiled campaign apparatus. The most obvious example of this was Oswald Feliz's victory in the special election to succeed Torres in the City Council.
One must also evaluate the potential significance of Adams' message of public safety. Presumably sensible and just public safety enforcement is a message that resonates with Latinos more than acknowledged. Since much of the violent crime occurs in Black and Brown neighborhoods, increasingly in the Bronx, this is hardly surprising. Adams also spoke clearly to key issues like the struggles for small business owners and the quality of the city's public schools, which are both high on the list for many Latino voters, and pledged to address them.
There are many reasons why Eric Adams earned the biggest chunk of the Latino vote, the largest share coming from the Bronx. Latinos formed an essential part of the coalition Adams needed to move him past the Democratic primary and into the general election in November.
***
Eli Valentin is a political analyst and author of the forthcoming book, Reinhold Niebuhr: A Political Life. On Twitter @EliValentinNY.
***
Have an op-ed idea or submission for Gotham Gazette? Email This email address is being protected from spambots. You need JavaScript enabled to view it.