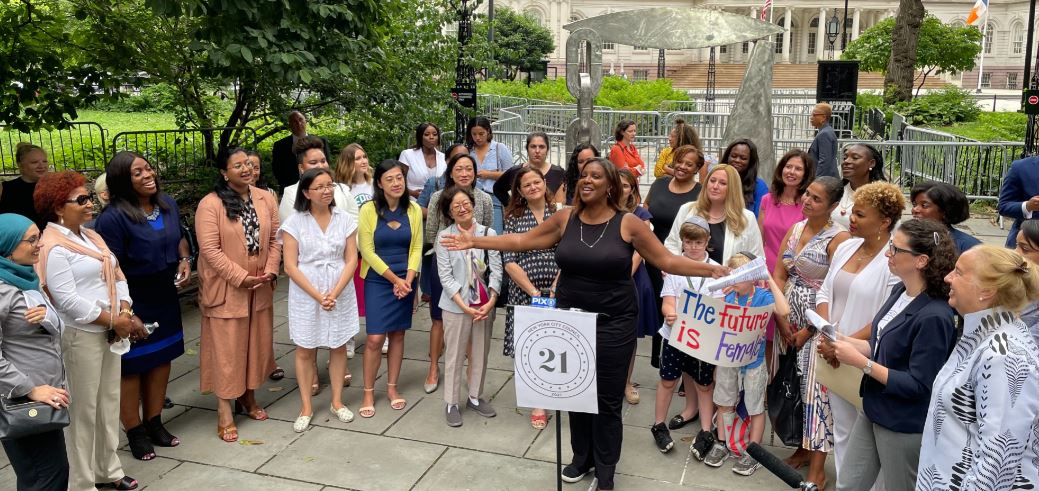 Letitia James, the author, celebrating the likely women's Council majority (photo: @21in21NYC)
---
New York's biggest strength – by far – is its diversity. New Yorkers speak more than 700 languages, represent hundreds of countries, and span every level of socio-economic status. We're every color, every religion, and every identity. Our communities thrive when we lean into our diverse cultures, ensuring voices from all corners of our city are heard and represented. Unfortunately, our City Council has historically failed to achieve that.
For a city with a population that is more than 50% women, there is no excuse for not having that same proportion represented in local government. Inclusive leadership leads to inclusive policies, and the most diverse city in the world needs a government that reflects all that we are and represent.
We are finally poised to achieve that goal, with a majority of women well-positioned to take over the New York City Council for the first time in history. If elected in November, this new class of City Council members will take office in January and finally mirror the pluralism and diverse cultures of the city it will represent.
Over the past two decades, the number of women in the City Council decreased dramatically. Out of 51 Council seats, only five women were non-term-limited incumbents set to remain in office in 2022. Our city government was failing to reflect the heterogeneity of the five boroughs. Yet, when faced with higher stakes than ever before, New Yorkers responded resolutely, voting for women across the board.
This election reaffirms what we already knew: it is in everyone's best interest to direct attention, assistance, and support to female candidates, and increase the representation of women in local government. The work of organizations like 21 in '21, co-founded by ­­former City Council Speaker Melissa Mark-Viverito and former City Council Member Elizabeth Crowley, is vital in this effort. As we now know, when given proper resources, these organizations, and the candidates they support, are overwhelmingly successful.
Now, after years of organizing and advocacy, our City Council will look more like New York.
We are set to see the first Muslim woman, the first South Asians, the first openly gay Black woman, the first Korean woman, and the first queer Jewish woman elected this November to the City Council. What's more, we will see more Council members who are mothers than in years past, and a historic increase in the number of Latino/Afro-Latino, Black, and Asian City Council members. More historically oppressed individuals and communities are claiming their seats at the decision-making table, and New York is all the better for it.
We are watching transformative change in action. This past year shined a new light on the deep-rooted injustices in our city, state, and nation, and the experiences of these new, diverse Council members will provide us with fresh perspectives that will help us tackle the most pressing issues. From COVID-19 to safer streets to small business recovery, creating a stronger and more sustainable economy, and more, every issue is a woman's issue, and deserves a woman's focus.
As I witness this historic shift, I am filled with admiration and respect for those who saw the problems of the city and have dedicated themselves to fixing them through public service. As a former City Council member, the first female Attorney General of New York, and the first Black woman elected statewide here, I am intimately familiar with the hurdles that these women have overcome and will continue to face throughout their careers.
Win or lose, running for office is an incredible feat, and I encourage all of those who were not victorious this time to keep trying. Although we have yet to elect a woman mayor, it is an achievement in-and-of-itself that two of the three leading candidates in the Democratic mayoral primary were women. It's the first time that's happened for New York City, but it certainly won't be the last.
Our City Council may soon reflect the diversity and multiculturalism of New York City, but our fight is not yet finished. Let this be a stepping-stone on which we base our future efforts for representation and justice for all.
This year, New Yorkers reaffirmed their support for strong and diverse female candidates. The slogans we've chanted for years are finally becoming our reality. When women run, women do win, and so do all of our communities.
***
Letitia James is the Attorney General of New York. On Twitter @TishJames.
***
Have an op-ed idea or submission for Gotham Gazette? Email This email address is being protected from spambots. You need JavaScript enabled to view it.