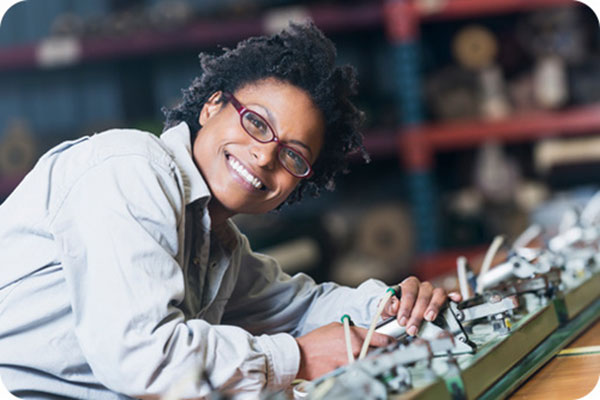 At work (photo: icdnyc.org)
---
Even before the COVID-19 pandemic struck, the U.S. unemployment rate for people with disabilities was 2.5 times higher than for those without. The pandemic has had a devastating effect on the employment and job prospects for people with disabilities, but New York's business and nonprofit communities can play a vital role in the economic recovery of people with disabilities by reaching out for job candidates and by providing internships.
For people entering the job market for the first time or at a new level, internships are especially important. They provide individuals with disabilities an opportunity to show how skilled they are, and they provide the organization offering the internship a chance to see how valuable that person can be. But, more than that, they give the intern a chance to gain relevant work experience and a credential that can be parlayed into a permanent position.
Internships all but disappeared during the pandemic. Some businesses or nonprofit organizations that historically offered internships went out of business. Some closed temporarily or switched to remote working. Even those that remained open and operating on-site often could not permit additional people on the property due to COVID-19 protocols.
One important opportunity that emerged through the City of New York's Department of Social Services (DSS) underscores the vital role of internships. In 2019, DSS launched its Partnership for Inclusive Internships program, an initiative designed to provide job opportunities and valuable work experience for people with disabilities. In 2020, while seeking to preserve the internship program amid the pandemic, DSS was interested in securing additional tech support for employees who were working remotely and had computer problems to be addressed. DSS, therefore, partnered with the Institute for Career Development (ICD) to simultaneously address this need and provide an opportunity to technology-trained interns.
For several months earlier this year, 12 recent graduates of ICD's AbilITy Cisco Academy, the first fully-accessible computer networking certification program for New Yorkers with disabilities, served as DSS interns, providing help desk support to DSS staff, developing technical tickets for the IT department, and assisting in problem-solving alongside agency employees. The interns – who were paid but at no cost to city government – thus provided much-needed support to a city agency that has been a lifeline to more than 3 million New Yorkers throughout the pandemic, connecting individuals in need with vital benefits and services, such as food stamps/SNAP and cash assistance.
This example is especially relevant, as New York seeks to expand tech sector further. A recent study by ICD and New York Institute of Technology – "Opportunities for Pathways & Collaborations" – recommends steps to widen the pool of people with disabilities with tech skills.
But internships are vital across a wide range of industries and job categories, and need to be pursued broadly, as different industries recover economically at different paces.
The real estate community, for instance, can benefit from existing programs that provide training for building repair technicians and office technology support. These are vital roles, as property owners seek to entice tenants back to the office.
Human services functions across all industries may have greater challenges than ever, as they seek to re-establish office culture with workers in the office, at home, or in hybrid arrangements. Interns serving as human services assistants can be crucial in that context.
Care-providing industries, such as childcare, may be in more demand than ever. They can benefit from trained interns, too, as New Yorkers adjust to new work schedules and the resulting care-providing arrangements needed.
People with disabilities have a history of overcoming obstacles, and their perspectives and determination can benefit any organization. They value the chance to demonstrate their skills and appreciate those who offer that chance.
Research shows that companies that are inclusive of people with disabilities are more financially successful. What better opportunity than to improve a company's financial success, while giving back to the community in ways that open entire careers for people with disabilities?
***
Brent Gallenberger is Manager of Workforce Readiness at the Institute for Career Development in New York City. On Twitter @icd_nyc.
***
Have an op-ed idea or submission for Gotham Gazette? Email This email address is being protected from spambots. You need JavaScript enabled to view it.