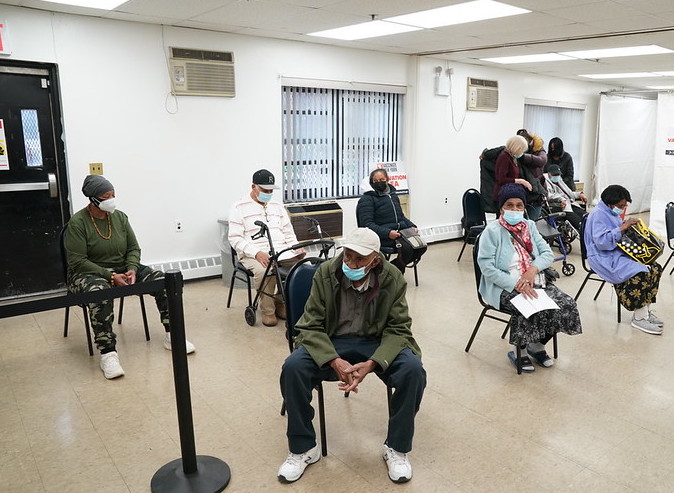 New Yorkers
---
As most New Yorkers adjust to enjoy newly vaccinated and unmasked social lives, many of the city's most medically vulnerable – homeless individuals who through painstaking work by many advocates were able to secure safe, secure hotel rooms for the duration of the COVID-19 pandemic – remain in unnecessary peril. At City Hall's whim, they are being sent back en masse to congregate living facilities that, with the rise of the much more transmissible Delta variant, may become hotbeds of viral transmission even among the fully vaccinated (see the example of the Yankees pitching staff).
Knowingly forcing congregation (even if vaccinated) is not recommended for the general public and should not be applied for those seeking shelter. Health workers now call for the immediate halt of such actions happening this week, alarmed by the immediate danger this poses to individuals in the shelter system.
Ask any health-care professional across the city and you will hear that we entered the pandemic in March 2020 struggling to address an acute housing crisis. COVID-19 made things exponentially worse, and the mobilization of resources for homeless individuals by the City was slow, inadequate, and confusing, prompting concern and questions by April 2020. Eventually, by dint of forceful advocacy, vital resources – namely hotel beds – did come for many. Hotels have been used by the City throughout its history and in recent pre-pandemic times (which is to say this is not a new idea or radical strategy).
Absent from much public discussion is that these hotels will be paid for by FEMA funding through this September. Of historic note, mobilization of the hotel shelter system at the start of the pandemic was slow, and grassroots organizations were forced to step up and use donor funding to help save lives when the City lagged, through crowdfunding campaigns such as "The Homeless Can't Stay Home" and other non-profits.
The effect of these hotel placements has been profound. We heard from our patients who were newly placed how having the hotel room offered a haven from sleep-deprived nights, an ability to lay flat to sleep, a safe place to stay during the day, access to hygienic facilities, and most importantly some ease from the stress of worrying about coronavirus exposure in the alternative: a congregate shelter.
Throughout the past year-and-a-half, we and other health-care providers have borne witness to many slow responses that harmed our patients — from early lack of testing capacity to continued absence of transparent processes for collaborative strategic planning across public and private health-care providers — as well as policies that actively caused harm despite numerous warnings by public health officials, such as the nightly subway shutdown and frequent street sweeps (all of which were against CDC guidance and had little measurable effect on citywide COVID-19 transmission rates).
Calls to return our patients to congregate living environments must at least acknowledge the fact that there is inadequate data regarding the protection offered by partial or full vaccination rates against new variants, particularly the more transmissible Delta strain, to pass scientific judgment about whether it is safe to do so. Although a judge ruled earlier this month to temporarily halt these transfers and ensure reasonable accommodations for those living with disabilities as protected by law, transfers are now resuming again. As health-care professionals, we say that every human being needs a reasonable accommodation to safely isolate themselves and their families in the midst of what is increasingly recognized as a not-yet-finished pandemic. Shelter in the temporary form of hotel rooms has meant health, safety, peace of mind, and much-needed rest for this critical population of our patients in their most trying hour. With case rates once again rising, Mayor de Blasio's decision to return people to congregate shelters is therefore, in our view, misguided, premature, and potentially dangerous.
And while we speak of temporary transfers to and from congregate settings, we know that the ultimate goal should be safe and affordable housing for all New Yorkers. The current acute crisis of displacement should not detract from the achievable ideal of securing more permanent housing under a new city administration.
At this historic moment, we urge the mayor to accelerate emergency implementation of the recently passed law (Intro. 146) that raises CityFHEPS voucher amounts. Once it takes effect, it will make thousands more apartments within reach to New Yorkers experiencing homelessness. Moving individuals from hotels directly into affordable permanent housing is possible even during a pandemic via several mechanisms — we have seen it happen to some of our more fortunate patients.
After the trauma of COVID-19, signs of citywide recovery have given us many reasons for hope in the face of adversity; our care and support for the historically outsized population of our fellow city residents who are experiencing homelessness could and should be one shining example of that care.
***
Nathaniel Hupert, MD MPH FACP, is a physician on the internal medicine service at Lower Manhattan Hospital and is co-director of the Cornell Institute for Disease and Disaster Preparedness. Amanda Ramsdell, MD, is an Internal Medicine Physician at New York Presbyterian in New York City and Assistant Professor of Clinical Medicine at Weill Cornell Medical College. On Twitter @​​ARamsdell3.
***
Have an op-ed idea or submission for Gotham Gazette? Email This email address is being protected from spambots. You need JavaScript enabled to view it.