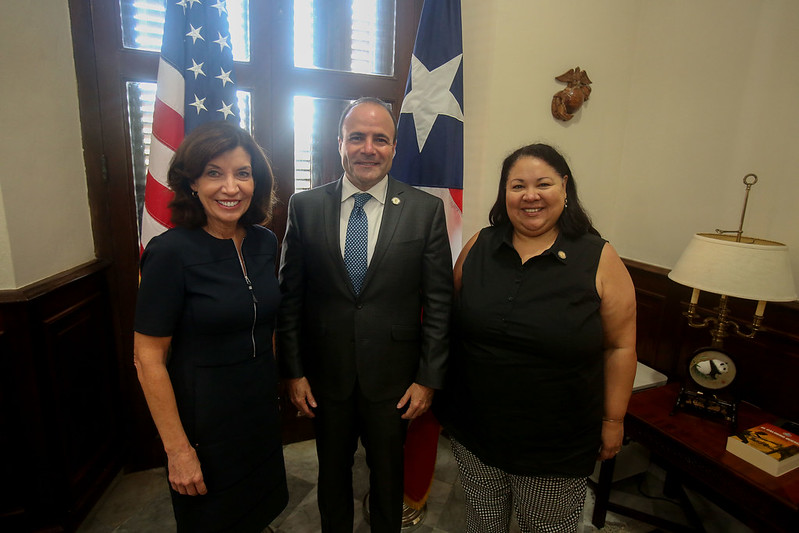 Lt. Gov. Kathy Hochul, left, & Secretary of State Rossana Rosado, right, in Puerto Rico (photo: Gabriel López Albarrán/Governor's office)
---
Andrew Cuomo's resignation has historical import in potentially numerous ways. When the current Lieutenant Governor, Kathy Hochul, becomes Governor of New York in just under two weeks, she will become the first woman to occupy the executive chamber in Albany. History will also be made if Hochul decides to appoint a Latino as her Lieutenant Governor.
I suggest that is exactly what she should do. Why?
First, Latinos now make up the largest ethnic voting bloc in the entire state. Yet there is no Latino representation within leadership at the state executive and legislative levels. Hochul is a white woman from the Buffalo area. The current Senate Majority Leader is Andrea Stewart-Cousins, an African-American woman from Westchester. The Speaker of the Assembly is Carl Heastie, an African-American man from the Bronx. Our current State Attorney General is Letitia James, an African-American woman from Brooklyn, and State Comptroller is Thomas DiNapoli, a white man from Long Island.
Even among the leaders of the respective county political organizations in New York City, there is no longer any Latino representation. And this includes the Bronx, which is the only Latino-majority borough in the city. Four of the five Democratic organizations in the city are represented by African-Americans. Furthermore, Brooklyn Borough President Eric Adams, also African-American, is likely to be our next Mayor. The current and likely continuing Public Advocate, Jumaane Williams, is also African-American and of Brooklyn. The likely next City Comptroller, another Brooklynite, is Brad Lander, a white man.
Truly, the above list shows a major feat for our African-American sisters and brothers who have fought so hard for proper and due representation at all levels of government and political party organizations. Yet, based on sheer numbers and proven ability, it would seem that Latinos should also be recognized with high-level appointments and elections.
Second, there are several highly-qualified Latino elected officials and non-elected individuals who could serve the next Governor and the people of New York well. Among the Latinos that have great public policy chops, are thoughtful, articulate, and charismatic, and could potentially inhabit this position well are the following:
Ruben Diaz, Jr.
Diaz, Jr. is term-limited out of his position as Bronx Borough President and decided not to run for mayor. He has extensive Albany experience, having served as an Assemblymember for over a decade. Diaz, Jr. has served as borough president for the last 12 years and during this time he has helped oversee and usher in advancements for Bronxites and growth in his beloved borough. He is generally well-liked and well-respected. I would not be surprised if other Latinos inside and outside government lobby hard for his selection.
Fernando Ferrer
One cannot discount Fernando Ferrer as a potential consideration. He was Bronx Borough President for 14 years, and most recently served as acting chair of the MTA. There is no doubt that Ferrer is a widely respected figure with vast experience and would serve the new governor well.
Latinas in the Mix?
There are a number of Latinas that deserve Hochul's attention too. Some are already in elected office, and others no longer in office could also be formidable candidates for the position of Lieutenant Governor. Some that could be in the mix are the former Speaker of the City Council, Melissa Mark-Viverito, and former Council Member Margarita Lopez, among others.
There are other Latino leaders, like State Senators Jessica Ramos and Gustavo Rivera, who could be considered by Hochul but do not appear to match her politics as well as other possible appointees. While unlikely, she could look to appoint one of them as a way to reach out to not only Latinos but the left wing of the Democratic Party.
Among the appointed Latino officials who could be under consideration: New York Secretary of State Rossana Rosado.
What of the Congressional Representatives?
New York City currently has four Democratic Latino congressional representatives: Adriano Espaillat, Alexandria Ocasio-Cortez, Ritchie Torres, and Nydia Velazquez. With a House majority, and these representatives playing important roles in Congress, I don't expect any of them to accept a position with virtually no power, other than being a heartbeat away from the executive chamber…or a resignation away from being Governor. There is also the uncertainty of the future given Hochul and her Lieutenant Governor will have to run for a full term next year.
The makings are there for Latinos to have a representative at the statewide level. Will Hochul herself quickly make history again with her first major appointment? Let's hope so.
***
Eli Valentin is an adjunct lecturer at Union Theological Seminary, a frequent guest political analyst at Univision NY, and author of the forthcoming, Reinhold Niebuhr: A Political Life. On Twitter @EliValentinNY.
***
Have an op-ed idea or submission for Gotham Gazette? Email This email address is being protected from spambots. You need JavaScript enabled to view it.