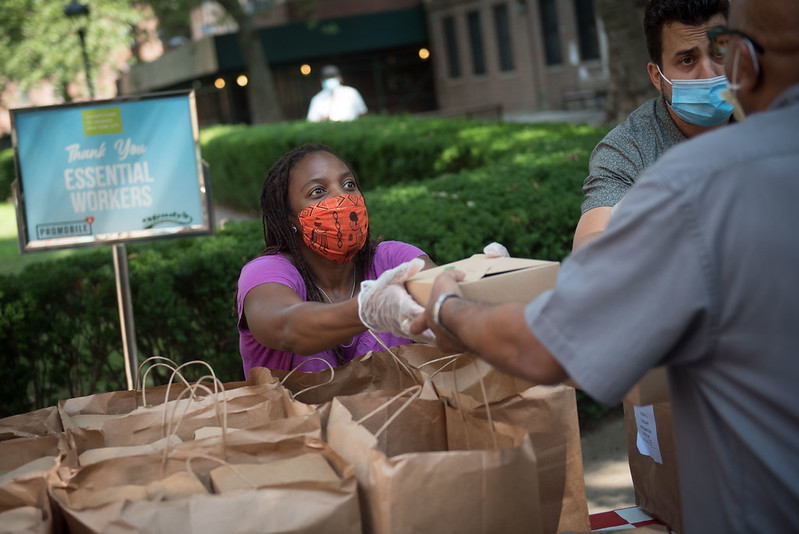 New York nonprofits do it all (photo: Michael Appleton/Mayoral Photography Office)
---
You've probably never heard of "National Nonprofit Day." The date, August 17, is pegged to the anniversary of a tariff bill passed in 1894 that outlined foundational requirements for tax-exempt status. A holiday based on the tax code has not exactly caught the public's imagination. There aren't even greeting cards.
But most New Yorkers rely on nonprofits every single day without really thinking about it. So this year, let's use this obscure holiday to appreciate and celebrate the crucial work nonprofits do – and to rethink their role in our city.
If you or a loved one was saved by a trip to the hospital, you relied on a nonprofit.
If a family on your block needed food from a food pantry, they relied on a nonprofit.
If a sports or arts or camp program is what helped your kid through the pandemic, your family relied on a nonprofit.
If you spent time in a park, attended an outdoor concert, or visited a museum last weekend, you relied on a nonprofit.
We know that nonprofits make New York vibrant, fun, healthy, diverse, and safe.
As we look to the fall and focus on what our kids and families need, nonprofits will step up to provide childcare; eldercare; afterschool programs; mental health support; food security; swim lessons; library story hours; student sports teams; girl scout troops; dance instruction; museum and theater visits; music and art classes; and more.
While we contemplate rebuilding our economy, we need to recognize that as a sector, nonprofits employ 18% of New York City's private sector workforce, and the majority of these employees are women and people of color. We are responsible for 9.4% of the city's GDP and contribute $77 billion annually. Our city's recovery will depend on affordable and supportive housing, small business loan programs, community development efforts, and so much other programming run by nonprofits.
Nonprofits play a critical role every day, in every neighborhood, for every New Yorker. But they are especially critical for communities where the market fails to provide for so many of people's basic needs. So much of the mutual aid and social justice activism that has propelled us through this crisis won new forms of relief and support and can mobilize us to confront urgent issues of racism, violence, inequality, and climate change are driven by nonprofits.
Despite all that nonprofits do for our city, we often fail to recognize their critical work, include them in decision-making, or provide them the support they need to thrive. Nonprofit leaders are rarely included by government decision-makers in shaping the "requests for proposals" for the very services they lead the way to provide. Business leaders rely on workforce development, childcare, and eldercare, but they don't pay for it. Nonprofits provide critical services and too often have to wait months to get paid for what they already did.
Today, on National Nonprofit Day, and tomorrow and the next day, Nonprofit New York and our partners will be working for changes that enable our nonprofits to help communities thrive.
We'll fight for changes in the way that the City of New York (and other government and philanthropic funders) contract with nonprofits. When the city and other funders negotiate with their own employees, they are expected to cover health benefits, retirement, and cost of living increases. Our nonprofit workers need and deserve no less.
Nonprofits need to get paid on time and with enough to cover rent, insurance, technology, and operational expenses.
One of the great features of nonprofits is that we are close to the communities we serve. Because we understand community needs and strengths, nonprofits need to be included in policy, program, and funding decisions from the beginning. Together, we can set shared definitions and metrics for success and make sure we get there.
You don't need to buy a greeting card for every nonprofit you rely on. But if you want them to be able to continue their work and thrive into the future, you should observe National Nonprofit Day this year by joining our call to make sure nonprofits get the respect and resources they deserve for the critical work they do for our city.
***
Meg Barnette is President & CEO of Nonprofit New York. Maria Torres-Springer is Vice President for US Programs at the Ford Foundation. On Twitter @barnettem & @MTorresSpringer.
***
Have an op-ed idea or submission for Gotham Gazette? Email This email address is being protected from spambots. You need JavaScript enabled to view it.