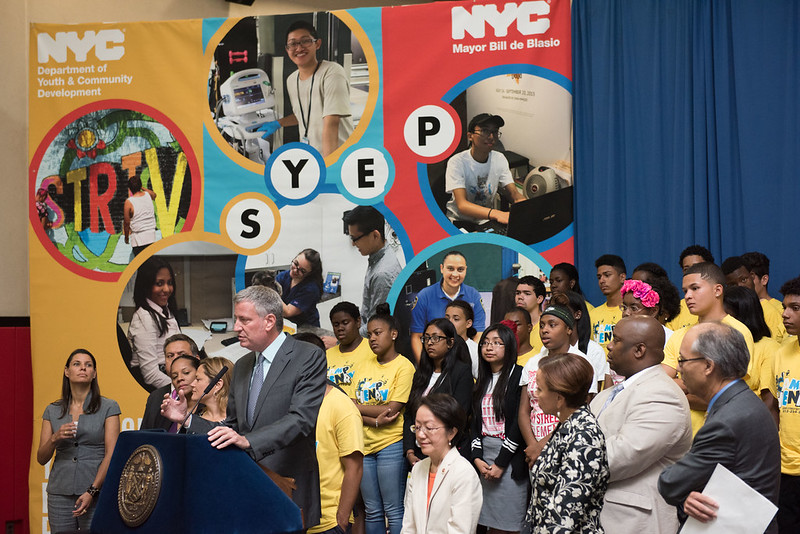 Mayor de Blasio makes an SYEP announcement (photo: Michael Appleton/Mayor's Office)
---
On August 21, the New York City Summer Youth Employment Program concluded its 59th year of operation after placing 74,884 New Yorkers into paid opportunities for six weeks. This was a record number of participants served (at a record 14,465 worksites), receiving life-changing paid career exploration and work experiences, with benefits extending well beyond the youth themselves.
As part of New York City's Recovery for All, SYEP this summer launched innovative and timely new components such as the CUNY Recovery Corps, which served more than 4,000 CUNY students supporting small businesses, nonprofits, and other groups involved with our comeback from covid. The Clean-up Corps, another new program model this year, focused on neighborhood beautification. In keeping with ongoing public health concerns, SYEP opportunities this summer were available in-person, fully remote, or a hybrid of the two.
These successes also put an exclamation mark on eight years of extraordinary growth and evolution for SYEP under the de Blasio administration.
In 2013, the last year of the Bloomberg administration, SYEP served 35,997 participants. This was roughly in line with the average over the previous decade: the size of SYEP grew and shrank by the year under Mayor Bloomberg, subject to the outcome of his annual budget battles with City Council. Program services themselves were largely undifferentiated between different groups of youth: participants applied and were selected through a series of lotteries, and placed into jobs developed by neighborhood providers.
All this changed under Mayor de Blasio, who steadily grew SYEP between 2014 and 2019 until it was more than twice the size of the last Bloomberg-era cohort. This growth was driven by New York City's direct investment in the program, which skyrocketed from around $21 million in 2013 to $134 million six years later. The funding increase covered the expansion of the program, the boost to New York State's minimum wage up to $15 per hour, and the development of new service options within SYEP.
Crucially, city budgets invested in the system infrastructure necessary to operate a great summer jobs program. The mayor empowered and invested in the Department of Youth and Community Development, which administers SYEP. He also created the Center for Youth Employment, which works to support the full ecosystem of career readiness by aligning K-12 schooling, higher education, and youth workforce programs such as SYEP.
Maybe most important, Mayor de Blasio and the City Council agreed to baseline SYEP into the annual budget in June of 2016, removing it as a political football and setting the stage for significant gains in program quality.
These improvements to SYEP—making the program not just bigger, but tangibly better—are a proud legacy for this administration. They include:
-Greater targeting of high-need youth, by reallocating a number of slots from the lottery to defined eligibility programs such as Emerging Leaders (serving youth in the foster care, homelessness, and juvenile justice systems) and program options for NYCHA residents.
-Creation of CareerReady SYEP, a defined-eligibility school-based program option that links summer work experience to year-round learning for high schools serving student populations with significant economic need.
-More intentional sequencing of the program by implementing a project-based learning model for "Younger Youth" ages 14-15.
-Financial empowerment for young people resulting in more youth signing up for direct deposit (from 7% in 2014 to 59% in 2020).
-Significant growth in the number of private sector job placements over the course of this administration.
As with so much else in New York City, the administration's support for SYEP was severely tested when COVID-19 struck in 2020. The public health crisis and ensuing recession rendered the traditional program model impossible to run. The Department of Youth and Community Development and Center for Youth Employment worked closely with the provider community and grassroots advocates to quickly develop a remote program. Thanks to their efforts, and with generous support from private funders and participating employers, SYEP Summer Bridge ultimately served more than 35,000 participants with career exploration and project-based learning.
Then, like so much else in New York City, SYEP bounced back this year, with nearly 75,000 participants.
SYEP shows the power of the public sector to improve people's lives in both the immediate and long-term. The new administration set to take office on January 1 will inherit a precious asset in SYEP—one that we have made great efforts to grow and nourish. Supported well, it will offer a robust return on investment, not only in wages earned and taxes paid, but in an even more important measure: helping youth fulfill their highest aspirations.
***
Bill Chong is the Commissioner of the New York City Department of Youth and Community Development. David Fischer is the Executive Director of the NYC Center for Youth Employment. On Twitter @NYCYouth & @cyenyc.
***
Have an op-ed idea or submission for Gotham Gazette? Email This email address is being protected from spambots. You need JavaScript enabled to view it.