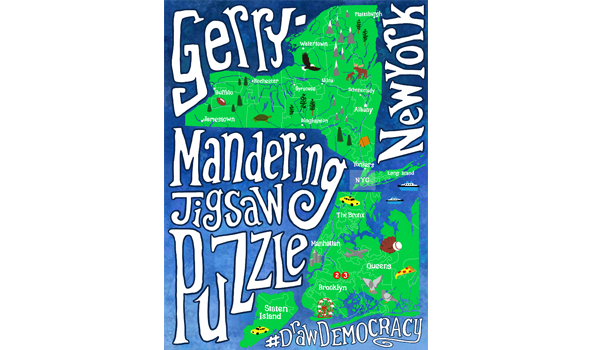 The #DrawDemocracy NY gerrymandering jigsaw puzzle
---
The 2020 Census data is out, and redistricting of legislative boundaries has officially begun. While state leaders should see the new data as a chance to understand how New York's changing communities can be better represented, historically, our elected officials have used redistricting to favor themselves and special interests. It's time for this tradition to end -- New Yorkers cannot wait another decade for fair representation.
To show New Yorkers just how ugly our state's gerrymandering is, the #DrawDemocracy campaign has developed what we believe to be the first-ever Gerrymandering Jigsaw Puzzle based on electoral districts – in this case, the New York State Senate (yes, you can get one for yourself).
The New York State Senate's lines were drawn by Republicans as part of a power-sharing agreement with Democrats, who were allowed to draw their own Assembly districts. One reason both parties maintained such strong grips on their respective chambers for so long is gerrymandering.
Since the Democrats now have a supermajority in both houses, the power-sharing agreement no longer exists. That means that this year's redistricting, occurring under several new parameters for the first time, is an opportunity to win lines that are more representative of actual communities. During this summer's hearings, many advocacy groups like APA-VOICE and the League of Women Voters have powerfully demonstrated how gerrymandering has impacted communities around the state.
A prime example of this is South Brooklyn's State Senate District 19, which is so badly gerrymandered that we had to change the shape of its puzzle piece, making the district look less gerrymandered than it actually is. This happened with one district after another -- it was impossible to create a puzzle that was an exact replica with so many districts where certain areas are the size of a single city block.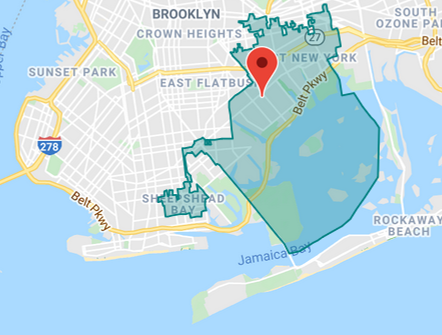 The little chunk on the bottom left of District 19 above – which looks like a puddle of tea spilled from a pitcher – was once part of District 27, just west. Lew Fidler, a popular Democratic City Council member, ran for State Senate in a special election there, losing by just a hair. Rumor had it that he planned to run again.
But the GOP – which then controlled the State Senate – wanted to create a district for conservative Democrat Simcha Felder. So they drew a district that in the northwest had Borough Park, which had more of Felder's likely voters. Then, to keep Fidler from running in District 27 as he'd planned, they expanded the new District 19 lines so that he was now a resident. Fidler now lived in a district where he had no base – knowing he didn't have a chance, he declined to run.
Fidler died a few years later, never holding office again despite his wide popularity, being an inspiration for local figures from Jumaane Williams to Justin Brannan (he recently had a street named after him). It's another tragic story of how gerrymandering lets politicians choose their voters, instead of the other way around.
This year, elected officials have an opportunity to not repeat the wrongs of the past. They can draw districts that serve those in power or draw districts that allow communities to have the representation they serve. We hope they choose the latter – the last thing we want is to have to make another Gerrymandering Jigsaw Puzzle in 2031.
***
by Karen Young of the #DrawDemocracy Campaign, a partnership between True Democracy NY and RepresentUS NYC to educate New Yorkers about the anti-democratic practice of partisan gerrymandering and organize them to advocate for fair district maps. On Twitter @drawdemocracyny.
***
Have an op-ed idea or submission for Gotham Gazette? Email This email address is being protected from spambots. You need JavaScript enabled to view it.