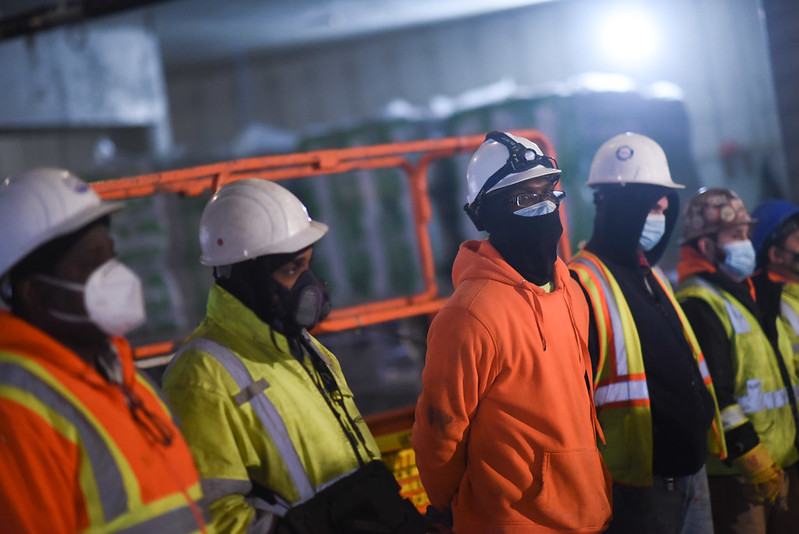 Workers (photo: Michael Appleton/Mayoral Photography Office)
---
For the past 18 months, essential workers have heroically worked in hospitals, driven buses and subways, and kept grocery stores stocked as the deadly pandemic ebbed and flowed.
It is not an overstatement to say that our city and state could not have functioned without these heroes. The toll on these men and women and their families was devastating, with thousands of frontline workers dying from COVID-19 or losing their jobs while many others were able to stay home and work safely.
Unsurprisingly, Black, Latino, and immigrant workers were hit the hardest, once again revealing long-standing inequalities in our society.
While the city rightfully lauded essential workers as heroes, with nightly applause and a parade, words don't save lives or jobs. As we reflect on Labor Day this year, we must remember that it takes real action on both the federal and state level to prevent significant, deadly disparities between workers.
The pandemic highlighted the importance of strong federal worker safety rules -- and what can go wrong when the government falls down on the job. All across the country there were cases of big corporations putting their employees in incredibly dangerous situations that led to unnecessary deaths, such as at meatpacking plants, where work often continued even on the deadliest days.
These are the exact types of issues that the Occupational Safety and Health Administration (OSHA) was created to address, but during the Trump years it was gutted and underfunded, with record low levels of inspectors. The agency also failed to issue any robust guidelines to protect workers during the pandemic.
But even with an expanded OSHA under the Biden administration, we cannot rely solely on the federal government to step in and protect New Yorkers. We must have strong state laws backed by an open and accessible civil justice system.
The New York HERO Act, which was signed into law but is still awaiting full implementation, mandates safety protocols in workplaces in response to the pandemic, including PPE and social distancing measures. These types of rules set a clear standard that other states, and the federal government, can follow.
Beyond pandemic protections, New York's scaffold safety law is another example of how New York supports workers. This law makes those who control a construction site liable for fall-related injuries that occur when they fail to provide the proper safety equipment. This ensures that men and women who work in construction can hold their employers accountable if they fail to maintain a safe worksite.
The civil justice system offers a powerful way to hold negligent actors accountable. The threat of financial and legal penalties often forces change when employers refuse to do the right thing.
The Legislature has passed other important laws that strengthen the civil justice system, such as a bill that would make it easier to bring cases against companies that harm New Yorkers, even if the wrongdoing happens outside the state. That bill will be sent to the Governor at some point later this year to be signed into law.
These laws are essential to providing a civil justice system that is open and accessible – no matter your age, income, or background. We must continue to examine similar legislation that closes the loopholes that prevent New Yorkers from having their day in court.
In the wake of the pandemic's destruction, we need to make sure we are passing laws that protect working men and women as well as the civil justice system that allows them to hold powerful employers accountable.
***
Halina Radchenko is president of the New York State Trial Lawyers Association. Charlene Obernauer is executive director of New York Committee for Occupational Safety and Health.
***
Have an op-ed idea or submission for Gotham Gazette? Email This email address is being protected from spambots. You need JavaScript enabled to view it.