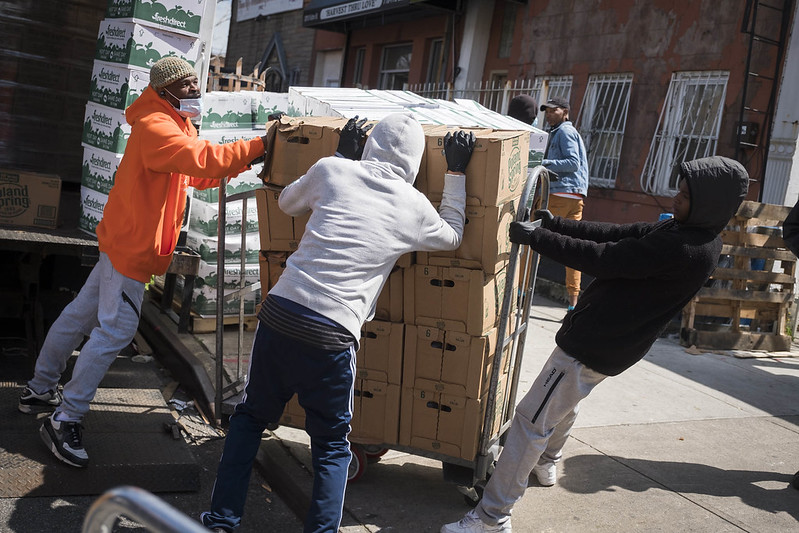 Nonprofit New York at work (photo: Ed Reed/Mayoral Photography Office)
---
In an effort to increase and enhance social responsibility worldwide, the United Nations General Assembly marked September 5 as the International Day of Charity. This day serves to encourage community members everywhere to show support for charitable causes including the efforts of local nonprofit organizations.
From climate change and systemic racism to poverty and homelessness, nonprofits are tasked with some of the most difficult and ingrained challenges of our time. Yet nonprofits in the human services sector are historically underfunded and undervalued. On this International Day of Charity, Westhab — the nonprofit I'm honored to lead as president and CEO — calls for a future where communities support and value nonprofits as an equitable partner to government and the business community. It is essential that organizations such as ours are shown the support that is commensurate with the critical impact we are making.
The devaluation of the nonprofit sector isn't the work of any one unit of government or really a deliberate strategy at all. Westhab is fortunate to have strong partnerships with the County of Westchester, New York City, New York State, and many local governments and businesses that see great value in public-private partnerships to meet pressing needs. Unfortunately, in our society, the nonprofit sector is not valued in line with its importance.
Charitable giving provides an opportunity for society to alleviate the pain and suffering of humanitarian crises such as homelessness. Through charitable giving, nonprofits across the country can work towards making a difference in marginalized and underprivileged communities every day. If people take today to recognize the difference even one small action can make, and how that action can be compounded by others, we can make a real difference in creating a more inclusive, resilient, and healthy society.
Intertwined in the nonprofit sector's history of being undervalued are issues of race and gender equity. The nonprofit sector is dominated by women and people of color, because much of the work we tackle came out of settlement houses, orphanages, and other charitable work—admirable things for women to do, often as volunteers, at a time when men were the sole breadwinners. Women are the backbone of the social work profession, often women of color who themselves have faced economic exclusion and systemic obstacles to success. By undervaluing the importance of the nonprofit human services sector, we also do a disservice to the essential contributions of historically marginalized groups.
Westhab's staff on the front lines, such as our security professionals and our janitorial staff, form the essential team that admirably staffed homeless shelters and supportive housing residences in the height of the COVID-19 pandemic. Even so, they are often ascribed the label of "unskilled" and valued as such. However, I see the work that these people do every day. It takes incredible skill, in addition to fortitude and passion, to deliver on Westhab's promise.
The systemic austerity of the sector has been recently dubbed the "nonprofit starvation cycle." Public and private funders of nonprofits provide insufficient administrative support to operate organizations. Nonprofits often undercut each other with lowball budgets to win the precious few grants and contracts that are available. Our sector has often taken great pride in "doing more with less." However, this is not the way forward. We are at a place where we need more.
The results of the starvation cycle include overtasked employees, lower wages, and high employee turnover, none of which exemplify the values of our sector or help organizations (or governments) achieve their mission. It is also incredibly inefficient, and we spend far too much time scrambling to fill gaps when we should be building systems and infrastructure. It is past time to create a new and more equitable sector.
Fortunately, there is reason for hope. Westhab is a member of the Human Services Council, which has fought admirably and successfully for New York City to increase indirect cost rates to nonprofits to account for the true cost of operations. Westhab is also a member of Nonprofit Westchester, which is working on the same path and building great momentum around nonprofit employee wages. Overall, our government partners and private funders have been supportive and understand the need for change.
I am extremely proud of Westhab, which has grown and evolved in recent years to meet the community's urgent needs and widen the pathway from homelessness to permanent housing. However, I long for the day when every member of our team is paid a living wage and is valued at the true level of their contributions to our community. I know this is possible. Our sector does incredible things with less. Imagine what we could do with more.
***
Richard Nightingale is President and CEO of Westhab, Inc. On Twitter @RichWesthab.
***
Have an op-ed idea or submission for Gotham Gazette? Email This email address is being protected from spambots. You need JavaScript enabled to view it.