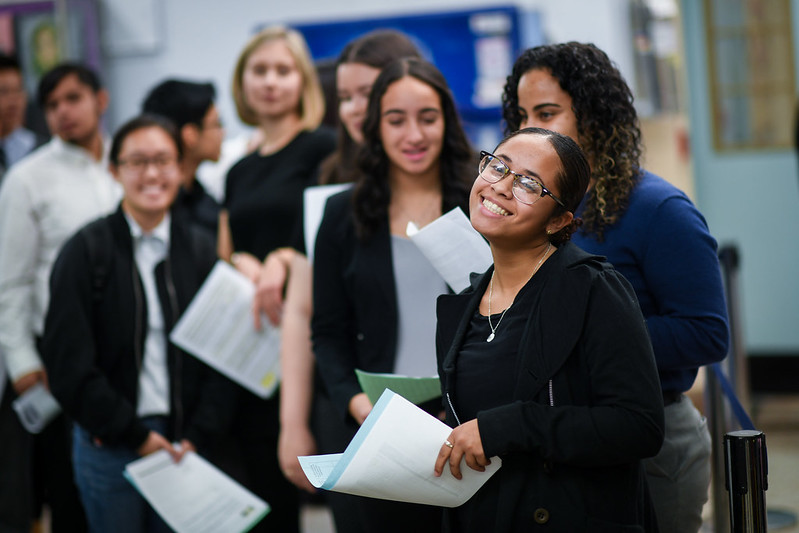 NYC Youth (photo: Michael Appleton/Mayoral Photography Office)
---
As New York City emerges from the pandemic and prepares for a new Mayor and City Council, elected officials must pursue policies that will make our city more equitable and prosperous. This is the moment to collectively invest in the talent and professional skills of New York City's home-grown, diverse, and dynamic young people and to shift how we think about the relationship between schooling and workforce development.
Let's cultivate our best resources -- New York City youth -- to compete in today's jobs marketplace and expand our city's competitive advantage in job talent by devoting attention to those who have been historically left behind.
COVID-19 unmasked pre-existing disparities in New York, where our bustling economy disproportionately benefited the highest earners. A deeper trend is that individuals born and schooled in New York, particularly people of color, have not been able to compete for the best jobs in the city against U.S.-born workers from out of state.
New York is missing out by not having a strategy to develop the talent of these young people and to create pathways to meaningful careers for the 1.6 million students who attend New York City Department of Education schools and the City University of New York, CUNY. At the same time, employers, including those in high-paying industries like tech and finance, report struggling to find entry-level candidates with the relevant and "soft" skills today's workplaces require.
As a Bronx business owner and recent graduate of New York City public schools, respectively, we see the exposure of these deep inequities and the skills gap as both a challenge and an opportunity. New York businesses want to hire more diverse local talent and students want better pathways to successful careers. We must first move away from our outdated, binary way of thinking about school and work, and discard conventional notions about technical/vocational education. Both educators and employers, together, need to support students to prepare for the workforce and access pathways to pursue their career goals.
There is a growing movement in New York City—supported by employers, schools, nonprofits, researchers, students, and parents—who understand that the typically envisioned linear system of "high school, then college, then a good career" is not a given in today's economy and doesn't work for many students. That's why New York's leading companies are beginning to work with the DOE and CUNY to design rigorous, college accredited, paid internships and apprenticeships that equip high school and community college students with real-world professional skills needed to land in-demand, well-paying 21st-century jobs.
For me, Jessica, as a local employer leading a company based in the Bronx for 60 years, investing time and resources into young people is a way to have a tremendous impact on the future workforce. My grandparents founded the company and my grandmother, a public school guidance counselor, was a believer in pairing work with education. I aim to continue that tradition by bringing in young people as paid interns while they are still in school and introducing them to the skills necessary to succeed in business.
New York City businesses, like mine, can join the movement and build a system of work-based learning that includes co-op and internship opportunities for academic credit and for pay. It's a win-win strategy that enables students to earn and learn, while developing social capital that leads to gainful employment as they embark on adulthood.
While higher income families rely on their networks and connections, many Black and Latino students often miss out on the high-quality internships, apprenticeships, and mentoring that lead to career success. These experiences are vital. New York City public school students like me, Naseem, need work opportunities that connect back to the classroom.
For me, it only took one internship with Madison Square Garden during high school to change my life. From there I took advantage of every opportunity to explore different career paths so that when I arrived at college I knew what I wanted to major in. I graduated this spring from George Washington University and am headed to law school, and having internships helped give me direction and mentors that I needed. All students should have access to these opportunities, not only a select few.
New York City has long attracted talent from across the world. However, by failing to nurture the potential in the young people who are born and schooled here, our city is wasting a tremendous opportunity.
We need our next Mayor and City Council to champion work-based learning models that braid learning from work into traditional academic pathways by providing employers and educators with incentives to participate and invest in collaboration. By transforming our local talent development system and linking relevant skills to education, we can launch our young people into promising careers, ensure our employers have a diverse talent pipeline to draw from, and power a thriving, inclusive economy.
***
Jessica Johnson is CEO & President of Johnson Security Bureau. Naseem Haamid is a recent graduate of George Washington University, a Community Organizer at Youth Ministries for Peace and Justice, and a graduate of Fannie Lou Hamer Freedom High School who will be starting law school at the University of the District of Columbia. On Twitter @msbigjess & @NaseemHaamid.
***
Have an op-ed idea or submission for Gotham Gazette? Email This email address is being protected from spambots. You need JavaScript enabled to view it.