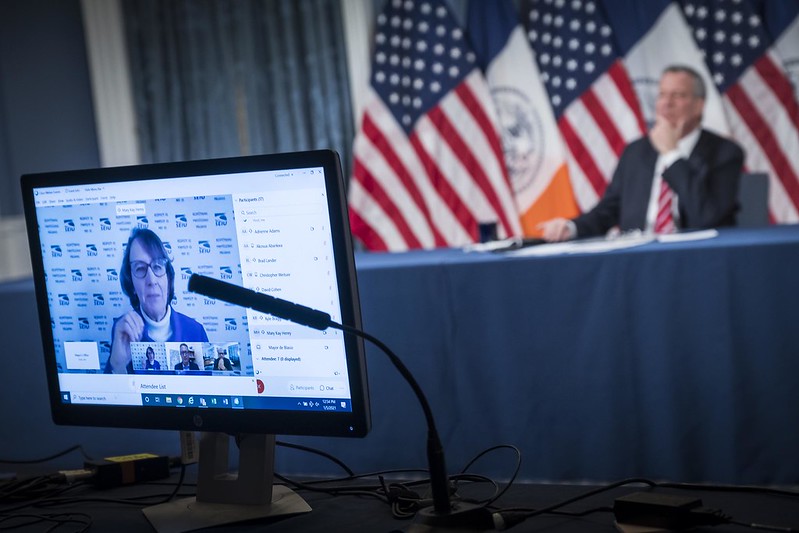 The digital era comes to government meetings (photo: Ed Reed/Mayor's Office)
---
In late June, more than 200 people packed into a church basement for a Manhattan Community Board (CB) meeting on the contentious proposed rezoning of parts of Soho and Noho. Representatives of the New York City Department of City Planning were scheduled to make a presentation, but opponents of the rezoning booed and shouted over the planners.
This kind of scene is all too familiar to those who've attended community board meetings in the past. But it doesn't have to be like this. Just ask anyone who attended these meetings virtually during the pandemic.
As New York City's covid cases spiked in March 2020, Governor Andrew Cuomo suspended aspects of the state's Open Meetings Law, allowing the city's 59 community boards to operate over Zoom or other platforms. Crosstalk and shouting became nearly impossible. Board members were able to stick to the agenda. Some boards say they prefer to meet this way and intend to keep doing so, even if they run afoul of current law.
Many feared that online meetings would be less representative because too many New Yorkers lack high-speed internet connections. This would be a problem for CBs, whose legitimacy is already in question because they attract audiences that are older, whiter, and wealthier than the communities they represent.
But the experiment in online meetings proved to be more inclusive, not less. In interviews Cornell Tech's Urban Tech Hub conducted for its Rebooting New York report, representatives of 13 of 14 CBs reported that virtual meetings increased public turnout and engagement. One board member noted, "We are seeing more parents of young children, more youth, more cross-city interest, and yes, larger numbers of people, since capacity is no longer an issue." Applications to serve on CBs in Brooklyn have surged since the meetings went virtual.
It turns out that many of the factors that have made CBs unrepresentative stem from the way they meet. People with work, school, or caretaking schedules that prevent them from getting to a meeting in person at 6 p.m. on a weeknight don't often join; neither do people with limited mobility. Non-native English speakers, as well as people who are deaf or hard of hearing, can find the proceedings difficult to follow. For countless New Yorkers, a Zoom room is more accessible than a physical one.
That's why we recommend not only that community boards continue meeting virtually or in a hybrid format, but also that they make use of additional features of online meetings, such as automatic closed-captioning and transcription, computerized translation into multiple languages, and alerts for specific topics.
In order to fulfill their promise, virtual or hybrid meetings will need to be modernized and standardized. You can't hold a truly effective virtual meeting from a gym or basement without the right tools. Hybrid meetings require special attention to ensure that people in the room don't drown out those who are attending online.
High-speed internet is essential, along with quality sound and video systems. Community board members need comprehensive training to operate those tools and create new procedures that ensure full participation. And members of the public need access, through broadband connections at home or in venues like libraries that could be set up for virtual participation. It's all going to require experimentation and support from the borough presidents' offices, along with civic and digital literacy groups.
In Manhattan, Borough President Gale Brewer's office funded virtual meeting solutions for the borough's 12 CBs at the cost of almost $1,500 per district. BetaNYC, a civic tech group, worked with these boards and others throughout the city to ensure that the move to virtual platforms was as seamless and equitable as possible.
All that was just a beginning, though. Legislation introduced and later signed by Governor Kathy Hochul extended the ability to meet online through Jan. 15, 2022, but that is only a stopgap. Elected officials must act now to allow this new type of meeting to continue to evolve. While we don't have final answers on what form CB meetings will take in the future, we can build a robust framework for their evolution.
Before January, the New York State Legislature should host hearings on how best to amend the Open Meetings Law to align with the needs of the digital era. New York Assembly Member Yuh-Line Niou is sponsoring a bill that would allow board members to convene virtually and require such meetings to be accessible to the public. With some modifications, Niou's legislation would provide a solid footing for a new, more democratic type of community board meeting. The discussion is crucial for everyone who cares about representation in New York.
The city and state should provide adequate funding and procurement support for the hardware and software needed to run meetings, along with training for board members through grants to community partners with relevant expertise. Packaged into a standard "webcasting kit," these tools could be provided at better rates and with less administrative overhead. Crucially, the city should also press forward with initiatives to guarantee high-speed internet connections for all New Yorkers.
It's likely that an all-virtual world wouldn't be perfect. We need to experiment to get this right. Should there be alternating online and in-person meetings? Can hybrid meetings be truly inclusive? Should immunocompromised people have the option of participating from a separate room? These are all questions that can only be answered in practice.
If we value democracy, we must modernize it for the digital era. The next mayor, City Council members, and borough presidents have the opportunity to lead the city into a more representative post-pandemic future, in collaboration with state lawmakers. Broadening public participation in collective decision-making will drive greater political legitimacy.
We now have a rare opportunity to secure the accessibility gains prompted by this once-in-a-century crisis. Let's not miss it.
***
Rit Aggarwala is a Senior Urban Tech Fellow at the Jacobs Technion-Cornell Institute and a member of Manhattan Community Board 8. Noel Hidalgo is Executive Director of BetaNYC. On Twitter @Rit_Aggarwala, @noneck & @BetaNYC.
***
Have an op-ed idea or submission for Gotham Gazette? Email This email address is being protected from spambots. You need JavaScript enabled to view it.