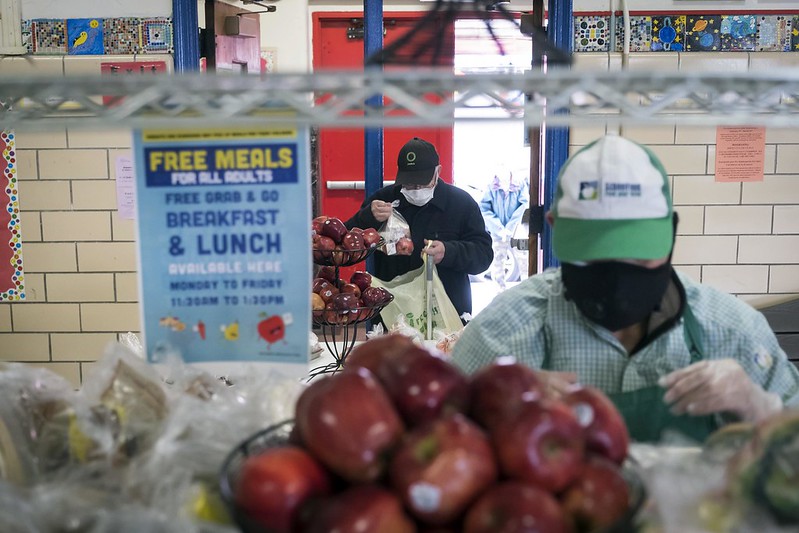 School food (photo: Ed Reed/Mayoral Photography Office)
---
As students have returned to the classrooms, back-to-school jitters are likely to be at an all-time high. Anxiety about everything from vaccination status to social status may be keeping kids and parents up at night, but covering the cost of school meals should not be a cause for concern.
This school year, the Biden administration has temporarily made all school meals free of charge, a change that advocates are pushing to make permanent. Federal legislation would enable public schools to provide every student with the tools they need to learn: not just teachers and textbooks, but also salads and sandwiches. Learning on an empty stomach is hard, but universal free meals could help fix that problem, making it easier for students to learn and thrive.
Permanently providing free school breakfast and lunch for all is fundamental to the promise of educational opportunity across the United States. Students from food-insecure families are less likely to succeed in school, but research shows that free meals improve academic performance and mental wellbeing. Universal meals can also improve health. Students who eat school meals every day have better diets than students who do not—they consume more fruits, vegetables, fiber, and whole grains, which in turn reduces their risk of diet-related diseases. Health care costs can drop, as can the costs schools pay per meal, because when stigma around school lunch decreases, participation increases.
Recognizing the benefits of universal meals, California and Maine recently passed legislation that makes school meals free for all students. If the federal government doesn't make the current free school meal policy a permanent one, New York legislators should consider passing a policy like California's or Maine's.
In a state with such high living costs, many families struggle to cover the cost of school meals and food insecurity rates remain sky high. In practice, sympathetic school food staff often serve hungry kids food regardless of their ability to pay, which results in many families acquiring meal debt.
In August, state legislators took a step to address this issue, passing legislation that shields families from litigation for unpaid school meal fees. This new law keeps the matter of school lunches out of the courtroom, but it still permits schools to chase down parents for payment. It is time for a solution that in one fell swoop eliminates all these problems—school meals free for all students. That is the only way to spare students the shame of meal debt and schools the time spent pursuing the debt in the first place.
We've seen the very real benefits of accessible school meals in New York City, where we secured free breakfast and lunch for all public school students, regardless of income. This local policy change ensured that all students—including those who are homeless, in foster care, or have recently immigrated—do not fall through the cracks. Test scores in both English and math have risen and stigma has decreased. Research released in June shows that all students, regardless of income, reported a reduction in bullying and fighting and an overall better environment after New York City schools started serving meals free of charge.
All students across New York State deserve the benefits that universal school meals provide. With large school districts like New York City, Rochester, Yonkers, and Albany already providing universal meals, the state is well on its way to making free meals available to all.
The longer-term economic crisis stemming from COVID-19 will likely leave millions teetering on the brink of food insecurity for years to come. As students head back to school, lawmakers should think ahead. There should be no shame in needing food to fuel learning. The real shame would be missing the opportunity that covid has provided: to rethink school meals and make it easier for schools to serve students the meals they need to thrive.
***
Liz Accles is Executive Director of Community Food Advocates and successfully led a coalition to secure universal free meals for all 1.1 million New York City public school students. Julia McCarthy is Senior Program Officer at New York State Health Foundation, where she is on the Healthy Food, Healthy Lives team, and is former Deputy Director of the Laurie M. Tisch Center for Food, Education & Policy.
***
Have an op-ed idea or submission for Gotham Gazette? Email This email address is being protected from spambots. You need JavaScript enabled to view it.