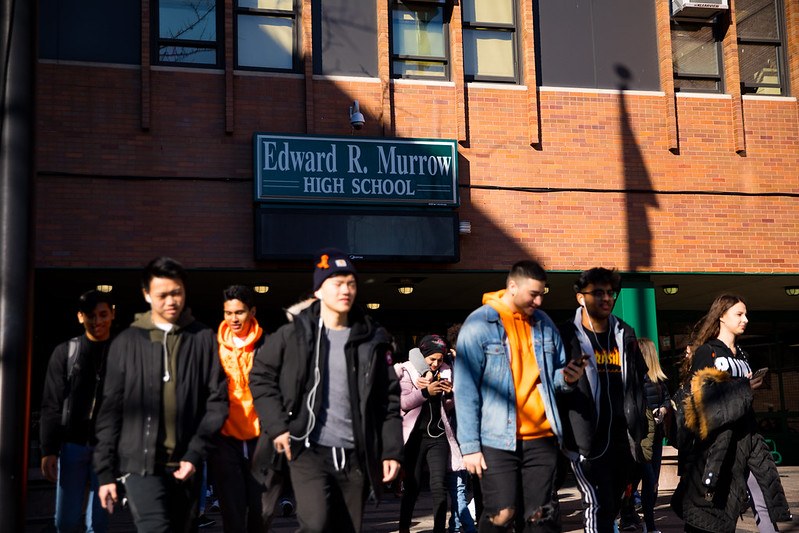 High school students (photo: Benjamin Kanter/Mayoral Photo Office)
---
This month, as our children return for another pandemic school year, there has never been a more important time to have an honest conversation about mental health.
As a member of the New York Assembly Committee on Education, I have heard from countless parents and young people about how the pandemic has exacerbated the pre-existing psychological strains of depression and anxiety. These come on top of the pressures youth have faced for years, from navigating identity issues to combating bullying.
Unfortunately, kids, families, and schools don't always have the training or resources to cope with these challenges or pinpoint when they become dangerously unmanageable. It is long past time to equip our schools with the tools they need to provide appropriate mental health resources, support at-risk populations and, most critically, prevent suicide.
Students today are significantly more likely to report poor mental health compared to previous generations. Between 2007 and 2016, pediatric emergency room visits for mental health concerns rose 60%. Suicide is now the second-leading cause of death among young people ages 10 to 24, and LGBTQ youth are especially at-risk. Of the nearly 40% of transgender Americans who report attempting suicide, 92% have done so before the age of 25.
Preventing youth suicide isn't just an intellectual issue for me. I tried to take my life as a young person. Looking back, I recognize that I was facing profound stress related to identity and isolation. Thankfully, I made it through that dark period and have gone on to lead a meaningful, successful life.
For me, having a support system was key to my mental health recovery. Kids can express vulnerability when surrounded by people they trust. That's why I have introduced the Student Suicide Prevent Act (A7762), which will give schools the support they need to reach students of all experiences and backgrounds. It provides a framework for teacher training, mental health resources, and policies and procedures for suicide prevention, intervention, and postvention. The legislation draws on national models while creating space for schools to tailor information to align with local needs.
Right now, 19 states require suicide prevention training for school personnel, and 13 states specify that this training take place annually. New York is one of 15 states that encourages, but doesn't mandate, such programming. Our lack of leadership has important consequences: a third of our schools do not have suicide prevention policies in place, and only 2% of existing policies specifically address LGBTQ youth.
Teachers are often resources for kids who feel isolated. They spend hours every day with their students and develop deep relationships by offering advice and helping them build self-esteem. As a result, they are often the first, and the ones best able, to see when our kids need extra help.
Their insight is especially important because not everyone who is suffering withdraws or disengages from school activities -- what we commonly associate with signs of struggling. I was the president of my high school class, but I still needed help.
Talking about these issues, from both a policy and personal standpoint, is hard. I've never publicly shared my story before. But I know that open and honest communication is a necessary step to break the cycle and better help our youth. With the right policies in place, we can give youth the support they need to navigate challenging times, recognize their own strength, and see a better future ahead.
***
Assembly Member Danny O'Donnell represents parts of Manhattan. On Twitter @Danny_ODonnell_.
***
Have an op-ed idea or submission for Gotham Gazette? Email This email address is being protected from spambots. You need JavaScript enabled to view it.