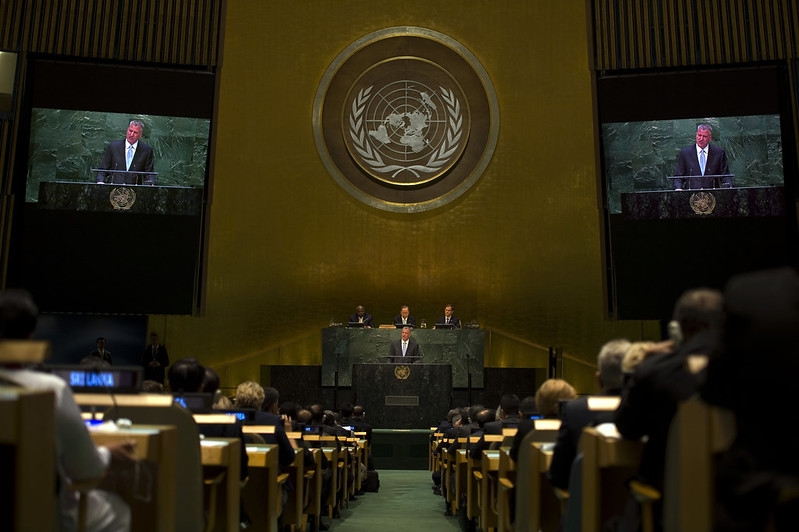 The Mayor at the UN (photo: Rob Bennett/Mayor's Office)
---
This week, New York City is welcoming the return of foreign dignitaries, NGOs, and representatives from all over the world for an in-person United Nations General Assembly (UNGA) high-level week. It's the world's premier global affairs engagement. A combination of ministerials, side events, and of course the General Debate, this year's high-level week will focus heavily on accelerating COVID-19 recovery efforts and aggressively addressing climate change and its ravaging impact.
Notably, world leaders will also come together to address the past year's racial reckoning in the United States and around the world at a timely meeting, "Reparations, racial justice and equality for people of African descent," recognizing the twentieth anniversary of the World Conference against Racism, Racial Discrimination, Xenophobia and Related Intolerance in Durban, South Africa, and the subsequent signing of the Durban Declaration, which calls on countries to take concrete measures to combat racism, racial discrimination, xenophobia, and related intolerance.
Having supported and led planning efforts for several UNGA high-level weeks as a U.S. diplomat at the U.S. Mission to the United Nations, high-level week has always been one of the most exciting, adrenaline-filled weeks of the year, and it is what makes being part of the diplomatic corps in New York so special.
This is a unique opportunity for countries large and small to have their say and shape the outcomes of collective action on the most important challenges we face as global citizens. It is also a crucial opportunity to advance the health, safety, and prosperity of New Yorkers, as hosts, to this significant diplomatic event.
New York Mayor Bill de Blasio and International Affairs Commissioner Penny Abeywardena have already set an important tone for the event by requiring vaccination for all those who wish to enter the United Nations halls and providing the resources to make it happen, a necessary and critical step to ensuring this year's high-level week does not become a super-spreader event.
While the focus this week will be on the parade of presidents and prime ministers in New York City to advance their national and international agendas, we should not forget that New Yorkers have a stake in the success of these diplomatic engagements. There are incredible opportunities to deepen New York's footprint on the world stage and to influence international policy that benefits New York and New Yorkers. In fact, it is high time to elevate the critical role of cities and states in our diplomacy and foreign affairs.
New York City, as host of the United Nations and epicenter of world finance and investment, is uniquely situated to become a leader in city diplomacy in this ever-evolving global arena. As New York engages in pandemic recovery efforts in 2021 and beyond, it will be crucial for the next mayoral administration, City Council, and state leadership to consider expanding engagement in international affairs as a means to support local success and take advantage of the many opportunities for New York to reclaim its leadership on the world stage.
There are several areas where current and incoming leadership for New York City — the Mayor, Comptroller, City Council, Governor, Attorney General, State Legislature, and others — can meaningfully expand New York's global footprint in meaningful ways, while also including local communities and centering equity as a primary part of the effort.
1. Climate Change
Democratic mayoral nominee Eric Adams announced last week a trip to the Netherlands to explore the Dutch experience addressing climate change. This is subnational diplomacy at its best, bringing local leaders and expertise together in one room to share experiences and come up with viable solutions.
New York City has a unique lens and experience to present: mitigating climate change while fighting for climate justice, as it has become clear that the communities hardest hit by climate change have been the most marginalized. The devastating impact of Hurricane Ida on New Yorkers was a serious wake-up call to the acceleration of climate change; New York can advance its expertise and response by engaging globally.
2. Public Safety and Security
Cities can play a critical role in addressing hate and terrorism. The rise in violent white supremacy and anti-government hate, including that which the world witnessed in our nation's capital on January 6, is a local as much as it is an international phenomenon. Moreover, it is exactly the kind of issue that can be addressed via a city diplomacy approach, working with local police, community leaders, and subnational and international actors to share common approaches and lessons. The Strong Cities Network can be a useful arena by which to approach.
3. Public Health
Look no further than the COVID-19 pandemic to understand the need for local responses to global health crises and the role that individuals, countries, cities, and states can play in averting global health challenges. From mask wearing to reopening schools to business practices, subnational diplomacy can improve perspectives and practices on public health.
Long gone are the days of conventional diplomacy that only existed between the foreign ministries of nations. This is because global issues are local issues, and thus, our diplomacy needs to be more people-centered and influenced by events happening on the ground. From equitable vaccine distribution during a once-in-a-generation pandemic to forging bonds with cities around the world in arrangements like C40 Cities, to mitigate the adverse impact of climate change, counties, city and state legislators, mayors and governors now sit at the nexus of global and local policy.
There is no better example to point to than the COVID-19 pandemic to illustrate the impact of city diplomacy on everyday lives. Under the Trump Administration's isolationist policies and its failure to command a federal response, it was up to city and state leaders to step up to the plate, engaging in ways we hadn't before, including with international actors. I was one of them.
As State Committeewoman for the 85th District in the Bronx, I developed a mutual aid group alongside neighbors in the East Bronx and partnered with my local community and elected officials to obtain and distribute PPE, including distributing supplies that were received from abroad. And I was so proud to see our mayor and commissioner for international affairs accept the donation of 250,000 masks from the United Nations to support New York City health workers during the height of the pandemic in March 2020. These efforts had real impact on New Yorkers' lives — in some cases it meant life or death.
Next Steps
Leadership in addressing climate change, local development, domestic terrorism, public safety, and food insecurity are as local as they are global and require the expertise of people on the ground, as well as the expert diplomats who convene and help create national and international policies on these issues. Imagine the collective experience, awareness raising, and impact that New York City could have when these forces are combined?
Specifically, city and state legislators, mayors, governors, and other local officials can level up their contributions to the global dialogue and play meaningful roles in building partnerships, sharing experiences, and making tangible progress on global issues; and Congress and the State Department can help bring this to fruition by establishing a city and state office for subnational diplomacy, and providing the necessary resources and support for cities to take on global engagement more intentionally.
Passing "The City and State Diplomacy Act" introduced by U.S. Congressional Representatives Ted Lieu (D-CA), Gregory Meeks (D-NY), and Joe Wilson (D-SC) would create the Office of Subnational Diplomacy. The new office, within the State Department, would be the connective tissue between the State Department and mayors, governors, and local officials across the country to more effectively address issues of global concern by facilitating local expertise.
City diplomacy is the X-factor for effective 21st century global engagement today. This is because, at its core, subnational diplomatic actors are closest to the challenges and have the local insights and experiences to help solve them. The fact of the matter is this: city diplomacy is happening – local leaders are engaging with their international counterparts in new and innovative ways. The question is how much the State Department and New York will be intentional in their pursuit to best apply those engagements to promote our values and policy priorities. And New York has a unique opportunity to be at the center of this evolving city diplomacy landscape and be a part of this defining moment in our history. Let's not squander it.
***
Emerita Torres is a former U.S. Diplomat (2009-2019), State Committeewoman for the 85th district in the Bronx, and Senior Research Fellow at The Soufan Center. On Twitter @EmeritaTorresNY.
***
Have an op-ed idea or submission for Gotham Gazette? Email This email address is being protected from spambots. You need JavaScript enabled to view it.