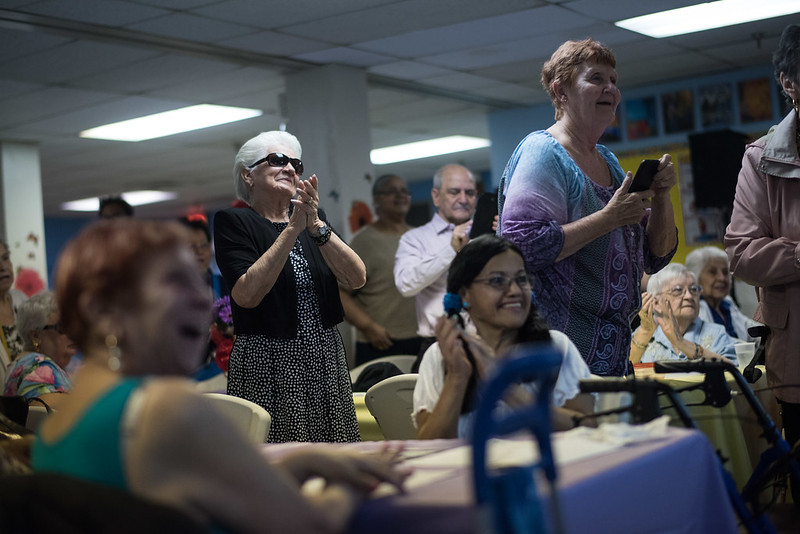 Older New Yorkers (photo: Michael Appleton/Mayoral Photography Office)
---
As we grow older, few things are more essential than feeling safe in our neighborhoods.
For older adults, public safety is more than fighting crime; it's about maintaining independence and a quality of life and dignity. But currently many New York neighborhoods fall short of creating an age friendly environment where older adults can thrive. There's work to do, but fortunately our city is experiencing a moment of unprecedented change that represents our best opportunity to make New York a safer, more equitable place to age.
From adopting age-friendly design principles to supporting neighborhood services as we all age, the incoming mayoral administration and City Council will have the opportunity to reimagine a New York City for all ages. That's why we are proud to support the comprehensive policy agenda released by LiveOn NY and Hunter College's Brookdale Center for Healthy Aging, which provides fresh and innovative ideas for how the next city government can go beyond policing to make all neighborhoods safe and secure places to age.
For older New Yorkers, public safety includes the community-based services that provide a lifeline to core services such as nutrition and health management support. These human services provided by local non-profits like ours have kept older New Yorkers safe throughout the pandemic, making thousands of vaccination appointments, delivering nutritious meals, and fostering socialization. Unfortunately, for too long, the city has fallen short in making meaningful investments in aging services as well as the human services sector at large. It's time the city truly supports and fully funds the organizations and workers who continue to show up everyday to support older New Yorkers.
Beyond increasing support for direct services, a safer city also requires significant work to ensure all New Yorkers have a safe place to call home. Today's tight rental market, old housing stock, and lack of affordable housing conspire to make it difficult for older New Yorkers, particularly those on fixed incomes, to remain housed while making ends meet. We'll need the next city administration to double down on increasing the production of affordable senior housing with services, as well as support housing programs that can accommodate the changing needs of older residents.
Public safety also means remaining safe from falls, which are the fifth highest cause of death among people age 65 and older. Walkable streets with equitably located resources and accessible transit options, all give older adults the freedom to engage and contribute to the surrounding communities. Fall prevention starts with investing in street lighting and sidewalk maintenance to eliminate tripping hazards like cracks, litter, and snow, and making crossing areas safe for pedestrians. Tragically, older New Yorkers are struck and killed by vehicles at nearly three times the rate of younger people. Let's commit to create safer areas for New Yorkers by prioritizing walkability and expanding the city's Vision Zero program.
To build a city for all New Yorkers, our transportation modes must adapt to the needs of people with different levels of physical ability. Currently, only one in four subway stations have key accessibility features. Whether you're an individual with a mobility limitation or a parent with a stroller, accessibility features such as elevators and ramps are critical to not only preventing falls, but to unlocking all that New York has to offer. It's time for the state and the city to work together to make our subway system more accessible.
For those that rely on Access-a-Ride, there are also ready-made improvements to be made. Namely, it's critical for the city to expand its successful e-hail paratransit pilot program across the five boroughs.
Of course, while housing, nutrition, services, and an age-friendly community are key to ensuring New Yorkers can age safely, preventing crime directed towards the older population will remain critical. With the recent attacks on Asian Americans, we see clearly that too often violent crime is perpetrated against older adults and those in marginalized populations in particular. We, as a city, must come together to fight hate and discrimination in all of its forms. From funding local non-profits to build community, to bolstering mental health programs that have proven success, we believe a holistically safe city is possible.
New Yorkers are counting on the next mayoral administration and City Council to make our neighborhoods better and safer places to age. Growing older should build momentum in our lives, rather than slow us down. It's time to invest in the future of aging in our city. Community-based social services organizations like ours with decades of experience working with older adults stand ready to help the incoming city government make the right investments for our communities.
***
Donna Atmore-Dolly is Executive Director of Allen Community Non-Profit Programs. Anderson Torres, PhD, LCSW-R, is President and CEO of R.A.I.N. TOTAL CARE.
***
Have an op-ed idea or submission for Gotham Gazette? Email This email address is being protected from spambots. You need JavaScript enabled to view it.