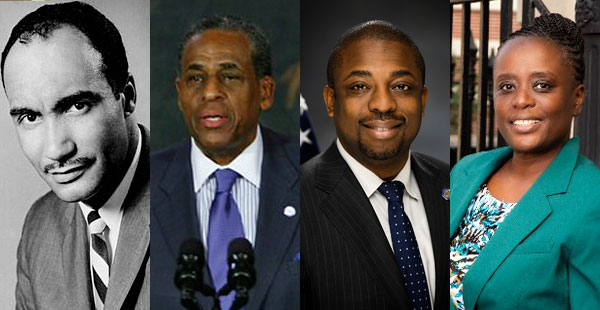 (l-r) Basil Paterson, Carl McCall, Brian Benjamin, Cordell Cleare
---
Cordell Cleare recently received the Democratic nomination to replace Lieutenant Governor Brian Benjamin in the State Senate after his appointment by Governor Hochul. Cleare is almost certain to win the special election that will be held with the general election on November 2.
She will succeed the legacy of Constance Baker Motley, Basil Paterson, Carl McCall, and David Paterson, some of the prominent senators who have represented the district. Combining much of Harlem with the Upper West Side and other adjacent neighborhoods, the district has a rich history of noteworthy senators.
It was not until 1953 when Julius Archibald became the first African-American to serve in the New York State Senate. (Edward Johnson, a former slave, was elected to the New York State Assembly in 1917.) Archibald won a narrow victory in the 1952 primary, a margin of just 207 votes against incumbent Harold Panken, who was backed by the Tammany machine including the African-American Carver Democratic Club led by J. Raymond Jones.
Whites constituted 48% of the district's voters at that time, but Archibald, who was a leader in the NAACP running on a civil rights platform, squeaked to victory with a coalition assembled by the West Side reform leader Robert Blaikie with support from anti-Tammany Congressmen Franklin D. Roosevelt, Jr. and Adam Clayton Powell, Jr.
Archibald's slim victory in the primary sent a clear message to the party leadership: an African-American should represent Harlem in the Senate district it shared with the West Side. That has been the case in every election since that historic breakthrough in 1953.
The Tammany leaders promptly regrouped and easily won the nomination for one of their own, James Lopez Watson, who swamped Archibald in the 1954 primary. Watson served in the State Senate until 1963, when he decided on a judicial career and was elected to the Civil Court — a judicial seat first held by his father, James S. Watson, who in 1930 was the first African-American elected judge in New York. President Lyndon Johnson subsequently appointed the younger Watson as the first African-American on the United States Customs Court, now called the United States Court of International Trade. The courthouse at One Federal Plaza is named in Watson's honor.
Watson's election to the bench created a vacancy to be filled by a special election in February 1964. Like Cordell Cleare's nomination, the district committee of the Democratic County Committee was sharply divided along club lines. The Carver Club of District Leader J. Raymond Jones supported Constance Baker Motley, who was Thurgood Marshall's deputy at the NAACP Legal Defense Fund. To the surprise of many, however, the committee voted to nominate Noel Ellison, the African-American president of the Riverside Democratic Club.
Controversy ensued when it was disclosed that Ellison, whose main support came from the white members of the committee, had been convicted of running numbers from his dry cleaning store. Democratic County Leader Edward Costikyan intervened when he learned that there were irregularities at the nomination meeting and persuaded Ellison to decline so the committee to fill vacancies could nominate Motley.
Constance Baker Motley already had a distinguished career bringing desegregation cases in the federal courts, including ten arguments before the United States Supreme Court. She became the first African-American woman in the State Senate, but her Senate service was cut short by her election as Manhattan Borough President in 1965, the first woman elected to that post.
Her term as borough president was also short-lived because President Lyndon Johnson appointed her as judge of the United States District Court, the first African-American woman to serve in the federal judiciary. She served in that court, eventually becoming Chief Judge, until her death in 2005.
Basil Paterson was elected to succeed Constance Baker Motley in 1965. As a young lawyer, he became active in the Carver Democratic Club and became a favorite of J. Raymond Jones. Paterson worked hard to protect the interests of Harlem and played a key role in stopping Columbia University from building its gym in Morningside Park.
In 1970, he gave up his Senate seat to run for lieutenant governor on Arthur Goldberg's ticket; Rockefeller won handily. Ed Koch appointed Paterson as deputy mayor in 1978 and Governor Hugh Carey appointed Paterson as the first African-American secretary of state of New York in 1979.
Sidney von Luther, a Harlem union and civil rights leader won the seat with the support of the Riverside Democratic Club in a three-way primary in 1970 and was reelected in 1972. Senator von Luther proudly identified himself as "a gadfly" and once challenged Senator Martin Knorr of Queens to a duel.
The New York Times quoted von Luther, "there are certain sacred principles that have to be defended and somebody has to appoint themselves as the conscience of that goddam bargaining place." His Senate colleagues retaliated in the 1974 redistricting by moving a big chunk of Morningside Heights from the district and replacing it with a larger piece of Harlem.
Carl McCall, a business partner of Percy Sutton, was also a familiar figure in reform circles. McCall received support both from the Harlem leadership as well as West Side reformers and cruised to victory in the 1974 primary. In 1980, President Jimmy Carter appointed him to the United States delegation to the United Nations with the rank of ambassador. In 1993 McCall became the first African-American to serve as state comptroller and was re-elected twice. In 2002, McCall received the Democratic nomination for governor, but lost to George Pataki.
Leon Bogues won the special election to replace Carl McCall in February 1980. Bogues had been the chairman of Community Board 7, which covered the West Side, but he was also successful in gathering support from the Harlem leadership. Bogues was re-elected three times and served until his death in 1985.
David Paterson was elected to the seat held by his father following the death of Leon Bogues in 1985 and served until 2006, when Eliot Spitzer tapped Paterson to run for lieutenant governor. David Paterson became governor on March 17, 2008 following Spitzer's resignation.
Bill Perkins, well known in both the West Side and Harlem parts of the district, was elected in 2006. He had served seven years in the City Council and was a champion of the lead paint laws that addressed that serious housing problem. Perkins was one of the few elected officials to endorse Barack Obama in the 2008 presidential primary and was chairman of Obama's campaign in New York. Perkins returned to the City Council in 2017.
Brian Benjamin was elected in 2017 to succeed Bill Perkins and was reelected twice. Governor Kathy Hochul appointed him lieutenant governor when she became governor following Andrew Cuomo's resignation.
***
Douglas A. Kellner is a partner in the law firm Kellner Herlihy Getty & Friedman LLP. He also serves as Co-Chair of the New York State Board of Elections. Kellner chaired the Manhattan Democratic Senate District Committee nominating meetings in 1981 and 1985.
***
Have an op-ed idea or submission for Gotham Gazette? Email This email address is being protected from spambots. You need JavaScript enabled to view it.