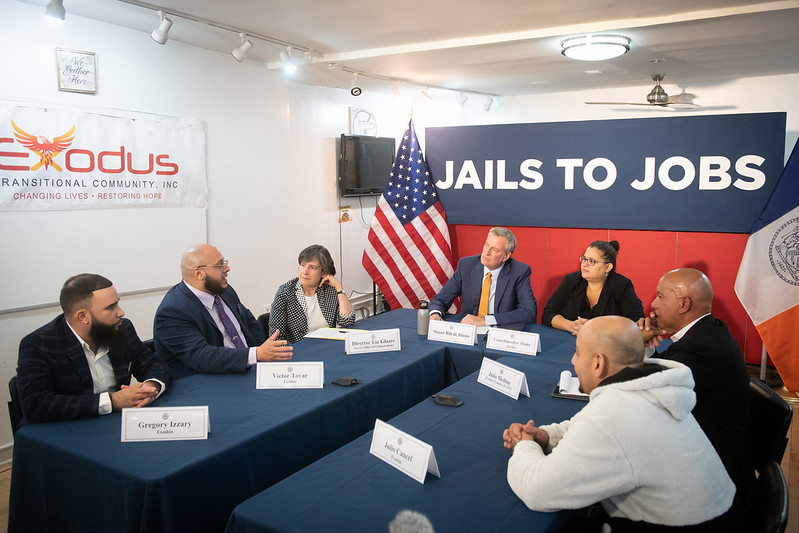 A 'jails to jobs' event (photo: Michael Appleton/Mayoral Photography Office)
---
The humanitarian crisis at Rikers Island is alarming. Criminal justice reform advocates and elected officials are right to demand an end to the violence, death, and chaos. Governor Kathy Hochul deserves praise for ordering the release of nearly 200 detainees.
But what happens to New Yorkers after they leave Rikers and other correctional facilities?
That's a key question few in public life are asking.
Here's the reality: New Yorkers seeking to re-enter our workforce and economy after incarceration often end up in low-wage, dangerous jobs in the construction industry.
Construction is one of few industries where New Yorkers with criminal records can find employment. New York's reentry system relies on unregulated employment agencies to funnel workers from correctional facilities to nonunion construction sites. These firms are known as 'body shops.' They provide physical labor to contractors who want to build projects cheaply.
Reentry workers must "seek and maintain employment" as a condition of their release on parole. That means construction employers can regularly reduce safety standards, cut wages, and eliminate job-site protections – and get away with it. Formerly incarcerated New Yorkers risk re-imprisonment if they speak out against this exploitation and demand better treatment.
Our city's reentry workforce overwhelmingly comes from low-income communities of color – Black and brown communities suffering from the highest death rates and job losses from COVID-19, and the highest crime rates.
Research and common sense tell us that the quality of reentry employment, as measured in job satisfaction and wage levels, leads to reduced recidivism – less crime and violence on our streets. There is no reason to engage in criminal activity when you are on a stable career path with economic security. But if the only job you can get after leaving Rikers or another correctional facility is a low-wage survival job, you may return to crime to pay your bills or a number of other reasons.
That's why all New Yorkers who want criminal justice reform and a safer city should also support higher employment standards for reentry jobs in construction.
A bill now supported by the majority of the New York City Council will help reform our broken reentry system and protect our communities, while helping to improve job quality for formerly incarcerated New Yorkers.
It would require construction 'body shops' and similar reentry employment agencies to be licensed. This legislation would give reentry workers clear notice of their rights and job assignments, and disclose basic information about the agencies' workforce and labor practices. Crucially, reentry labor brokers and job-placement firms would be required to tell workers what benefits are being offered, what their pay will be, and where they will work. This disclosure requirement is essential for protecting laborers who will build the future of New York, and for incentivizing the construction industry to create safer and better-paying jobs as part of covid recovery.
The path to a safer city requires the creation of more economic opportunities for New Yorkers to be safe and thrive in their jobs. That's what this bill will do, along with initiatives such as Pathways to Apprenticeship, which the City Council has actively supported, in District 21 in Queens and in other communities of color hit hardest by COVID-19.
This smart, pragmatic bill has garnered support from City Council members across the city. Passage of the bill this fall would be a major legacy item for City Council Speaker Corey Johnson. Indeed, it would send a strong and clear message about how our city can advance real reentry in communities ravaged by mass incarceration, where economic opportunity has long been absent.
Plenty of responsible contractors and forward-thinking developers earn strong profits while partnering with trade unions to build and grow our city. They know that lowering construction safety standards, wages, and job quality is a race to the bottom that will drag us all down.
Expanding construction union membership will boost wages and increase economic security for New Yorkers returning home from prison, while reducing recidivism and enhancing public safety for all.
***
Francisco Moya is a New York City Council Member representing District 21 in Queens. On Twitter @FranciscoMoyaNY. John Simmons is a former body shop worker and member of Laborers' Local 79.
***
Have an op-ed idea or submission for Gotham Gazette? Email This email address is being protected from spambots. You need JavaScript enabled to view it.