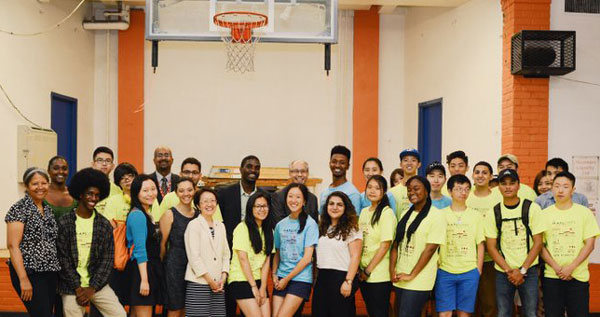 DYCD (photo: @NYCYouth)
---
As New York City recovers from a historic year fighting the COVID-19 pandemic, the Department of Youth and Community Development is marking a very special anniversary: 25 years as a City agency.
Our agency, DYCD, has seen its fair share of challenges over the last quarter-century but has always risen to the occasion. As the largest municipal funder of capacity-building geared toward a healthy network of nonprofits, our funded providers were critical in the city's ability to weather and rebound from 9/11, Superstorm Sandy, and COVID-19.
We have centered the agency around a set of community outcomes and common strategies, and have realigned resources to support priorities in areas such as communications, data, partnerships, and professional development. As a result, we have made great strides in transforming DYCD from our respective "silos" to a unified mission—internally, we call it "Solos to Symphony." That ultimately benefits the agency and the New Yorkers who depend on our funded programs.
DYCD has grown and changed over multiple administrations—from our creation in 1996 under Mayor Giuliani to a renewed focus on afterschool, literacy, and Cornerstone Community Centers at NYCHA complexes during the Bloomberg Administration.
Under Mayor de Blasio, COMPASS/SONYC afterschool was born, making afterschool available to every middle-schooler in the city. Earlier this year, the last of 813 beds for runaway and homeless youth aged 16-24 went online—more than triple the number in 2014. And the agency's initial $77 million budget has reached a billion dollars for the first time ever this fiscal year, a nearly 1200% increase—most of it under this administration.
Since becoming DYCD commissioner in 2014, I have also focused on the adoption of "settlement house" principles within the agency so that we can better meet the needs of our network of community-based organizations and the New Yorkers they serve.
Settlement houses—44 of them under the umbrella organization United Neighborhood Houses—are deeply embedded in the communities they serve and uniquely positioned to provide the programs and services neighborhoods need the most. By taking lessons from the nonprofit sector's ability to seamlessly develop holistic strategies from disparate programs and revenue streams, DYCD is more intentional than ever in streamlining processes and "connecting the dots," making it easier for people who are seeking services to become aware of additional resources that may help them. This has been supported by the development of universal indicators and program applications, strategic planning, greater transparency and efficiency, and more effectively integrated programs.
Looking back at my tenure, I celebrate so many of our shared accomplishments, especially baselined funding for Beacon (the creation of Mayor Dinkins and then-Youth Services Commissioner Richard Murphy in 1991) and the Summer Youth Employment Program. Over the last 20 years, SYEP has become more user-friendly with debit cards, online applications, and direct deposit, and the program now "meets young people where they are" through more concentration on career goals and life skills.
I also am proud of technological innovations such as discoverDYCD, DYCD Connect, and integrated data systems, more focused mission and vision statements, and a redesign and expansion of the Community Needs Assessment to better inform how funding is distributed.
It is bittersweet that I mark our agency's silver anniversary in my final weeks as DYCD's fifth commissioner. It has been my privilege of shepherding the agency through a period of unprecedented budget and programming growth. As we prepare to hand the reins over to a new administration, I am confident that DYCD has a solid foundation to move the agency into the next 25 years and beyond.
***
Bill Chong, Commissioner, NYC Department of Youth and Community Development. On Twitter @NYCYouth.
***
Have an op-ed idea or submission for Gotham Gazette? Email This email address is being protected from spambots. You need JavaScript enabled to view it.