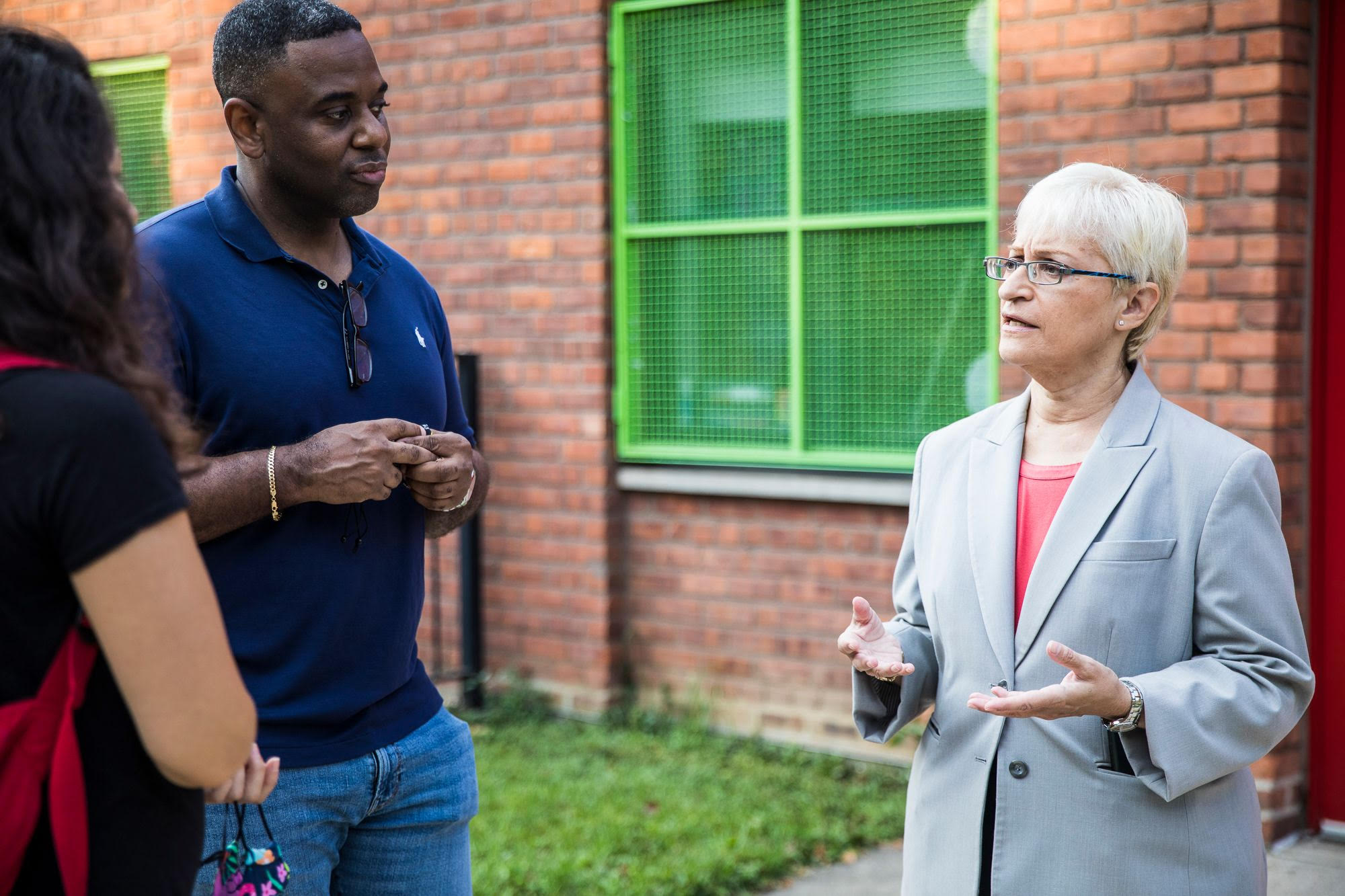 Lynn Schulman, right, the author (photo: Schulman 2021)
---
Last October, I got scary news. It was during an annual screening (and ironically, during Breast Cancer Awareness Month). At first, I was told there was a suspicious spot and it was probably nothing.
But subsequent tests and procedures revealed that the spot was actually a small, malignant tumor.
I was stunned.
But still, I wasn't about to let a diagnosis derail my dream of serving my community as an elected official. As any woman will tell you, our success often means keeping our health concerns private — to suffer in silence — so that men do not think we aren't up for whatever job we pursue.
Breast cancer merged my professional work with my personal life. For decades, I fought to bring health care equity and access to all New Yorkers. That's been true from my time as an AIDS activist to my recent position on the City Council staff where I have focused on health policy.
And now, as a City Council candidate, health care has been the central focus of my campaign.
I had successful surgery and subsequent radiation treatment, and kept working and campaigning. I am now happy to share that I'm cancer free and just passed my six-month check-up with flying colors.
All things considered, I was lucky because I had health insurance. I was able to get an annual screening and access to treatment from great health-care professionals at every level.
During the COVID-19 era, many women were not as fortunate, pushed to the side as the pandemic overtook our public health resources.
Mammograms were down around 84-90% at the height of the pandemic. Then, when women eventually were able to get their screenings as services were restored, several found out the bill was exorbitant instead of free as it is supposed to be under the Affordable Care Act.
Additionally, during my many medical visits, other breast cancer patients shared that their surgeries were considered elective — meaning they were delayed because of covid protocols. As a result, these poor women were given medications to keep their tumors at bay until their surgeries became more accessible.
Like many women with my type of breast cancer diagnosis, I have to take an aromatase inhibitor, a pill the size of a pin, every day for the next five years, to prevent the cancer from returning. The medication has several side effects, some short-term and some long-term.
For me, they are tolerable. But for a lot of women, the side effects are severe, and many of them choose to risk the possibility of getting cancer rather than alter their quality of life. Not having more treatment options is another deficiency of our health-care system, where money is invested in research that is lucrative, not necessarily life-affirming.
We can't be caught again in a position where women's health takes a back seat. That means transforming the citywide health system that makes my experience the one that every woman should expect and have the right to. We need a health-care system that provides equal treatment, especially for women, regardless of who they are or where they live.
Fortunately, the next New York City Council is well-positioned to tackle these issues. In January, the first majority-female Council in history will be sworn in.
It will be incumbent on all of the women Council members to lead and to leverage the unique opportunity we will have as a majority to advance the trajectory of women's health care — and for our male colleagues to join us. Our health is part and parcel with our city's ability to thrive.
COVID-19 revealed the serious racial and economic inequities in our city's health-care system and how isolating the system can be, especially during a pandemic. Our goal must be to make sure each of our city's neighborhoods have the appropriate health-care and mental health facilities.
So while battling breast cancer wasn't part of my plan, it was another stark reminder of the constant struggles many women face and what city government should be doing to make our lives better. Life here is already difficult, access to quality health care shouldn't be an added burden.
***
Lynn Schulman is the Democratic nominee for the New York City Council in Queens' District 29. On Twitter @Schulman2021.
***
Have an op-ed idea or submission for Gotham Gazette? Email This email address is being protected from spambots. You need JavaScript enabled to view it.