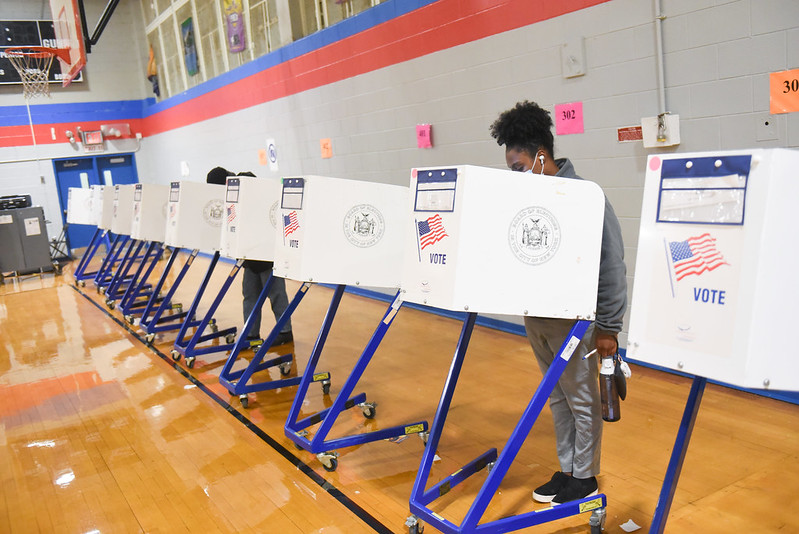 Voting (photo: Michael Appleton/Mayoral Photography Office)
---
Four years ago I participated in a forum on the theme of Latino politics and voting participation in New York hosted by the Rev. Ray Rivera of the Latino Pastoral Action Center in the Bronx. The forum was based largely on two columns I had recently written here at Gotham Gazette — "Latinos and the 2017 New York City Elections" and "The Future of Latino Politics in New York City."
I was the new kid on the block, the "new" Latino political analyst thrust on this panel with two legendary figures: the late Angelo Falcon, the first Puerto Rican political analyst to grace our city, and Juan Cartagena, another pivotal leader and the past head of the renowned LatinoJustice.
I came armed with the most up-to-date political data and the analytical tools gained from years of employing political targeting methods. I came gleeful about the future of Latino politics in New York: Latinos could no longer be taken for granted or ignored. The moment we had predicted decades earlier, of increased Latino electoral participation and increased power, was right around the corner. The sleeping giant had finally awakened.
Falcon, a seasoned observer who had studied Latino voting patterns and trends since I was in elementary school, gently and diplomatically put me in my place. "I am not as optimistic about the future of Latino politics as my colleague Eli," he said.
Falcon was right.
Looking back at this most recent primary in New York City, the consequential June 2021 elections, armed with more data and perspective, it's true that:
The primary attracted the second highest Latino voter turnout rate in any primary in New York City.
This was the largest overall Latino voter turnout in a municipal election.
Latinos were a pivotal voting bloc for Eric Adams' primary victory, with, for example, the Brooklyn borough president garnering close to 50% of the vote in the highest Latino election districts in the Bronx despite the very crowded and competitive field of candidates.
But that's where the good ends and Falcon's past skepticism comes in. My projection that Latinos would make up close to a quarter of the Democratic primary electorate fell well short. True, Latinos compose a quarter of all registered Democratic voters (a total of 3,444,859 Democrats) in New York City, but Latinos were only 15% of the roughly 935,294 Democratic voters in that June primary.
In the June 2020 and September 2018 primaries, Latinos made up a little over 20% of the Democratic electorate. These were potential signs of an awakened Latino electorate. But my hopes for this potential came crashing down this year.
More troubling is the fact that only 17% of the 864,511 registered Democratic Latino voters in New York City went to the polls this past June. The Bronx has the highest number of Latino Democratic voters with 283,573 but had the lowest turnout rate, 14%, among Latinos in all the boroughs.
Meanwhile, 20% of Manhattan Latinos went to the polls, the highest among Latinos in all boroughs, and 17% of Brooklyn, Queens, and Staten Island Latinos went to the polls.
Though this incoming City Council class will have the highest number of Latino representatives at 14 of the 51-seat legislative body, Latinos could have potentially won at least two more seats (in districts 25 and 32) had more Latinos voted. Could a higher turnout among Latinos also have kept a Latino helming Borough Hall in the Bronx, the only borough in the city that is majority Latino? Perhaps.
The biggest hindrance for Latino political representation and power in New York City are Latinos themselves.
What can Latino political and community leaders do about this? Let's begin by taking opportunities like the annual November SOMOS conference in Puerto Rico to strategize how to mobilize Latino voters across the city.
***
Eli Valentin is an adjunct lecturer at Union Theological Seminary. He writes regular columns for Gotham Gazette, largely focused on Latino politics in New York City, and is a frequent guest political analyst at Univision NY. On Twitter @EliValentinNY.
***
Have an op-ed idea or submission for Gotham Gazette? Email This email address is being protected from spambots. You need JavaScript enabled to view it.