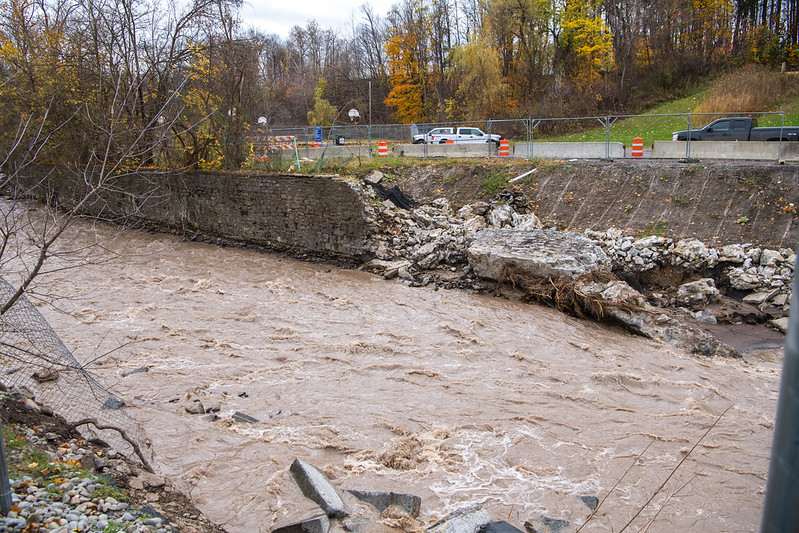 Climate change has many impacts (photo: governor's office)
---
Several weeks ago, when Hurricane Ida devastated New York, one thing became painfully clear: we are still not prepared for the climate crisis. At least 45 people were killed by the storm in the New York area, many of whom were low-income people of color, and the storm caused at least $50 million of physical damage to infrastructure and over 1,200 homes in our state alone.
This disaster happened in the midst of a fight raging in Congress about protecting the American public from the perennial threats posed by climate change. That fight continues right now in the form of the reconciliation bill pending before both houses of Congress. It is my firm belief that we cannot treat these disasters, which occur in every state, as isolated incidents: we need a comprehensive approach to ensure our infrastructure and communities are prepared and that resources for rebuilding are readily available when the next great climate-related disaster inevitably strikes.
To that end, I support the creation of a federal Polluters Pay Climate Fund, a bill that is currently part of the negotiations for upcoming reconciliation legislation in Congress but that needs our support to ensure it passes. We must persuade the Democratic leaders in Washington that this legislation is essential. While the necessary preparations for climate change must be spurred by the work of government, I do not believe that taxpayers should be solely responsible for funding it. Instead, we must look to the companies who have been profiting to the tune of billions of dollars each year from the fossil fuels that first caused, and every day exacerbate, the climate crisis.
A federal Polluters Pay Climate Fund would raise billions of dollars from polluting corporations to fund infrastructure and begin to mitigate the impact of the ever-worsening climate crisis we confront. In New York State, this funding would pay for us to build the physical infrastructure we need to fight disasters like Ida. Forty percent of the fund would go to communities disproportionately affected, which in New York would mean lifesaving efforts like fortifying our massive shoreline, weatherizing mass transit, repairing our antiquated drainage systems, and addressing our most dangerous flood zones.
The need for this funding is not theoretical; it is urgent. Recent research shows that at the current rate, our state will need to spend $10 billion annually to mitigate climate change impacts. Someone is going to pay for the costs of climate change: if it isn't the polluters, it will continue to be the public. Currently, big polluters get to pollute for free while reaping enormous profits. I support a plan that makes them pay for the mess they're making.
I recognize the importance of this fight because I have been involved in these battles for a long time. As a member of the New York City Council, I spearheaded the passage of a forward-thinking and comprehensive rewriting of New York City's residential recycling program. As public advocate for the City of New York, a position that includes membership as a trustee on the city's largest public pension fund, I led the push to divest New York City's pensions from fossil fuels. Today, as the state's attorney general, I have taken on the fossil fuel industry in court and continue to wage other critical environmental justice battles such as holding accountable those responsible for the contamination of PFAS, taking on – and winning against – the Trump administration's EPA over smog pollution and "dirty power," and assisting in the implementation of the Climate Leadership and Community Protection Act (CLCPA) here in New York, the most ambitious clean energy and climate law in the nation.
With every catastrophic natural disaster that occurs, the reality becomes more undeniable: we must do more to prepare for the next weather-related crisis and to prevent future ones. Simply cleaning up after the fact and hoping to avoid future disasters will only make matters worse. We must be proactive and forward thinking in our preparations and planning for our new climate reality.
To fund these endeavors, we cannot allow the companies responsible for the climate crisis – that have profited so much for so long – to avoid responsibility any longer. We have an opportunity in Congress to advance our climate preparedness while holding polluters accountable. Let's let our leaders in Washington know that the Polluters Pay Climate Fund is the right solution at the right time. Our planet depends on it. Our country depends on it. Our future depends on it.
***
Letitia James is the New York State Attorney General. On Twitter @NewYorkStateAG.
***
Have an op-ed idea or submission for Gotham Gazette? Email This email address is being protected from spambots. You need JavaScript enabled to view it.