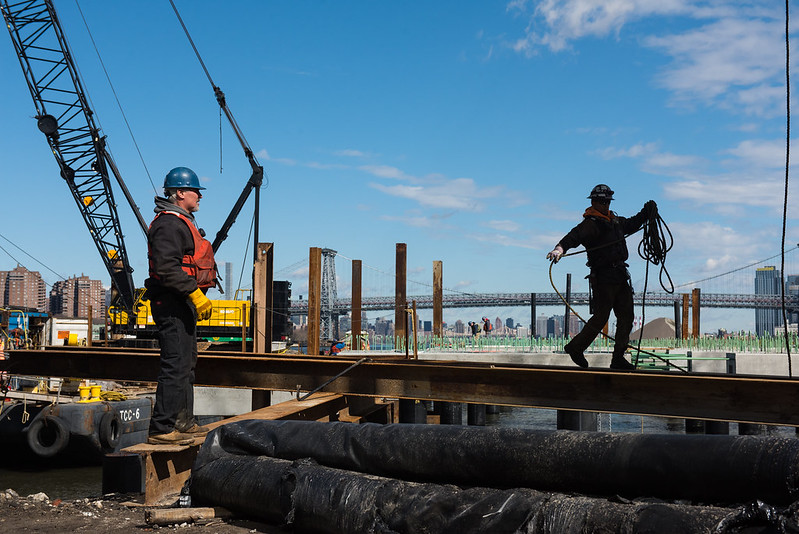 Construction workers (photo: Edwin J. Torres/Mayoral Photo Office)
---
With the federal infrastructure bill now law, New York is primed to receive more than $100 billion in direct investment in public works projects across the state, inclusive of upgrades to mass transit systems, roads, highways, and bridges, and other essential and critical elements of New York's future.
The diverse array of infrastructure projects soon to break ground statewide also comes with a greater demand for skilled work – work that members of the unionized construction industry are equipped and eager to take on. But the unprecedented scale of the work at hand will also require countless new skilled, union workers. Yet again, the federal infrastructure law meets the mark: with tens of billions of dollars worth of investment in workforce development infrastructure and worker protection, along with the creation of 1 to 2 million new registered apprenticeship slots.
These millions of new apprenticeship slots are an excellent way to top off National Apprenticeship Week -- which happens to be this week – as well as a reminder of the importance of pre-apprentice and direct-entry programs to the future of our workforce.
Pre-apprentice, apprentice, and direct-entry programs have become a centerpiece of the unionized construction industry. These programs provide opportunity for entry-level workers to receive job and safety training both on-site and in the classroom that prepare individuals for the worksite and incentivize long-term commitments between employees and employers. Not only that, but these programs elevate the importance of diversity in the workforce and ensure a ready, safe and productive workforce for years to come.
Over the past few decades, the Building and Construction Trades Council of Greater New York has committed itself to connecting tens of thousands of New Yorkers – particularly New Yorkers from historically marginalized communities – to the unionized construction industry through our best-in-class pre-apprenticeship and direct-entry programs, including The Edward J. Malloy Initiative for Construction Skills, NY Helmets to Hardhats, Nontraditional Employment for Women, and Pathways to Apprenticeship. These programs work with distinct populations – from veterans to those who are formerly incarcerated – helping to not only place them in a job but to help them build their own middle-class career.
Just this past year, the New York City Building Trades launched a first-of-its-kind apprenticeship program called the Apprenticeship Readiness Collective (ARC), which is dedicated to connecting individuals from the city's historically marginalized communities to opportunities with our pre-apprenticeship and direct-entry programs. Since its inception, the ARC has been working with city government to lead outreach and recruitment efforts aimed at workers from areas where at least 15% of the neighborhood lives below the federal poverty line.
We know firsthand – and thousands of New Yorkers in the unionized construction industry do as well – the exceptional opportunity generated by pre-apprentice, apprentice, and direct-entry programs. We've seen the lives of countless individuals changed for the better due to the career pathways created by these programs, and with the large-scale investment in apprenticeship programs from the federal government, that's certain to be the case for tens of thousands more – and we'll all be better off for it.
This generational investment in apprenticeships will strengthen the pipeline for more women and people of color to access these workforce development opportunities and ensure the infrastructure we build as a result of the federal infrastructure plan is best-in-class. With the Biden administration's Build Back Better Plan set to create and save more than 15 million jobs over the next decade, and increase the share of infrastructure jobs from 11 to 14% of all jobs nationwide, the opportunity to build and grow the middle class in a historic fashion is at our fingertips.
National Apprenticeship Week is an important reminder of the critical role that these programs play in our economy and in jumpstarting middle-class careers. As we begin to build back New York, and the nation, it'll be the unionized tradesmen and tradeswomen – many of whom were once pre-apprentices and apprentices – leading the way forward.
***
Gary LaBarbera is the President of the 100,000 member Building and Construction Trades Council of Greater New York. On Twitter @NYCBldgTrades.
***
Have an op-ed idea or submission for Gotham Gazette? Email This email address is being protected from spambots. You need JavaScript enabled to view it.