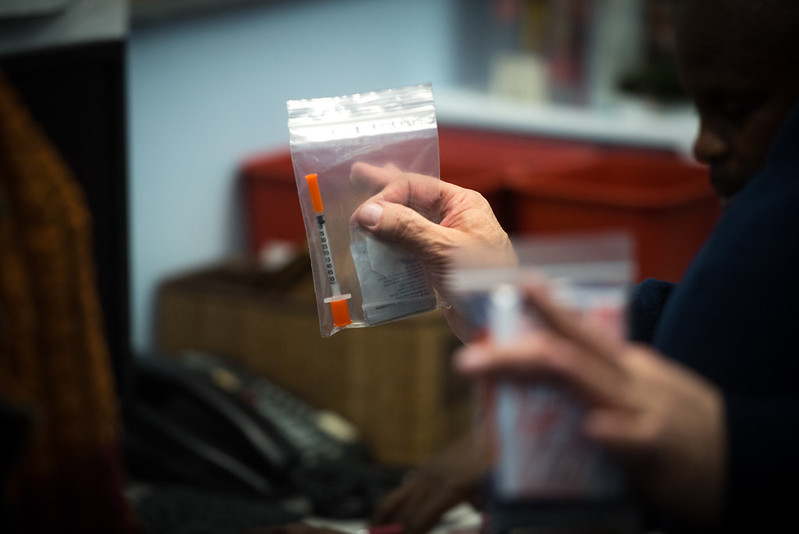 Clean needles (photo: Edwin J. Torres/Mayoral Photo Office)
---
This past summer, local headlines blared about disorder and debauchery in Washington Square Park, raising alarms about drug use, homelessness, and rowdy youth. The city imposed a curfew, conflict and unrest took center stage, and the heart of the highly-visible social and human challenges were largely overlooked and overshadowed.
But from that discord emerged a striking model that has shown promising results at Washington Square Park, and that should be funded and replicated at similar known "hot spots" around our city.
The work was initiated by the Manhattan Borough President's Office, and brought together a coalition of over a dozen local nonprofits – with experience in treating substance use disorder, homeless outreach, and public health. The group formed an informal "Social Service Working Group" that quickly expanded to include representatives for every local elected official, Community Board 2, and the city Departments of Parks, Social Services, and Health.
The group reflected on historic patterns and new challenges brought on by COVID-19, the ongoing opioid crisis, and more. Options were shared, plans developed, and a coordinated approach began to focus on harm reduction and the human toll these local and national crises have exacerbated.
Over the past six months, and without any dedicated funding streams, the organizations were able to deploy social workers and certified peer specialists for outreach several times a day, seven days a week. The teams engaged individuals experiencing substance use disorder, mental illness, and homelessness, helping connect them to harm reduction services, treatments, and shelter options.
The collective efforts have already made thousands of one-on-one contacts resulting in hundreds of New Yorkers receiving supports as they struggle with some of our society's most stubborn social issues: poverty, addiction, and mental illness.
As promising as the effort has been, the work is unsustainable without additional funding to extend services into next spring and beyond. And sadly, the stressors of the times are not restricted to one park in the Village. We know that historically there are several public spaces across Manhattan and every borough in our city that see concentrated human and social service needs. Areas around Penn Station and the 125th Street corridor have concerned public- and private-sector stakeholders for years. But as the Washington Square Park coalition has proven, we can address these multi-layered challenges if we can find the resources to truly advance change.
The good news is that New York State is about to see a windfall of cash from the Sackler opioid settlement. According to Attorney General Letitia James, the State is now in possession of $1.5 billion that will be spent in local communities. It is absolutely critical that we do not waste this money and that we use it to strategically address issues of addiction on our streets.
In the long-term that means public and private investments in affordable housing, supportive housing, detox beds; and in the short-term that means investments in behavioral health programs, mental health professionals, and targeted preventative and intervention services. We have both a moral, and strategic obligation to do so, and we now also have the resources. Let's not squander the opportunity
***
Gale A. Brewer is Manhattan Borough President. Darren Bloch is CEO of the nonprofit Greenwich House. On Twitter @galeabrewer & @darrenbloch.
***
Have an op-ed idea or submission for Gotham Gazette? Email This email address is being protected from spambots. You need JavaScript enabled to view it.