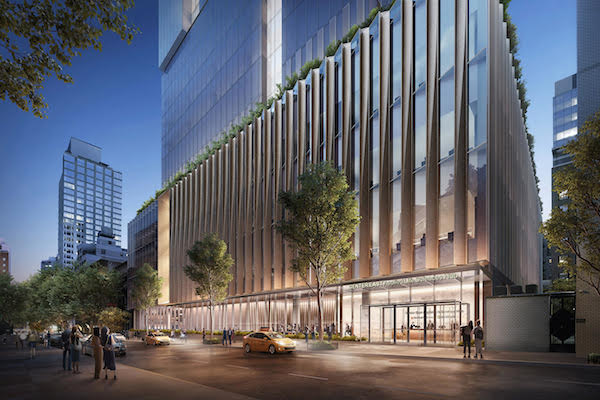 Blood Center project rendering (image: Ennead)
---
As current and future leaders of four of New York City's five boroughs, we strongly urge the full City Council to vote "yes" at the upcoming meeting, Tuesday, November 23, on the New York Blood Center's proposal to modernize and expand its antiquated Upper East Side building to secure the future of a nonprofit that is essential to hospitals across the city and position our city as a global public health capital.
For projects of citywide importance like the Blood Center's, we must balance the needs of the larger city with the important local concerns of the community. We believe the proposal approved by the City Council Land Use Committee last week does strike that balance, with millions of dollars to support local institutions and a building height reduction of more than 100 feet for a facility that supports safe, affordable blood for New Yorkers and lifesaving research.
The Blood Center provides over 90% of New York City's blood supply and nearly 100% of the supply for NYC Health + Hospitals. Before the Blood Center was in place, more than 100 institutions operated in an unreliable environment providing blood at varying levels of safety, availability, and affordability. Today, our city needs the Blood Center more than ever as the United States grapples with a severe national blood shortage exacerbated by the pandemic.
The Blood Center also leads pioneering research in support of cures for blood-related diseases like HIV, Hep C, and sickle cell that impact tens of thousands of New Yorkers. It's internationally recognized research results in over 150 publications per year in prestigious journals, tens of millions in National Institute of Health funds per year, and broad support from New York City universities and researchers who have submitted 25 letters of support for its proposal.
After a pandemic that laid bare the urgency for biomedical research, Center East would strengthen New York City's pandemic-response infrastructure with space for biotech companies and research institutions to accelerate medical research. The Blood Center already makes our city more resilient to pandemics with research that has supported the development of vaccines and treatments for diseases like SARS, ZIKA and most recently COVID-19.
The project not only secures critical health resources for hospitals across the city but creates thousands of union construction jobs and would break down barriers to life science careers for traditionally underrepresented groups in the industry including Black and Latino New Yorkers. The Blood Center is working with local institutions including the City University of New York (CUNY) to create new academic programs to provide a direct pipeline into the life sciences.
In summary, this is the right project at the right time for New York City. We support the Blood Center's proposal for the crucial resources it secures for our city's safety-net providers and blood supply; research that supports New Yorkers underserved by our healthcare system; and good-paying jobs that will help drive an equitable recovery.
We thank our colleagues in the City Council for their leadership and vision on this project to date and once again urge all Council Members to vote in favor of this critical project as it advances to a full vote later this month.
***
Donovan Richards is Queens Borough President and a former City Council member. City Council Member Antonio Reynoso is Brooklyn Borough President-Elect. City Council Member Vanessa Gibson is Bronx Borough President-Elect. City Council Member Mark Levine is Manhattan Borough President-Elect. On Twitter @DRichardsQns, @MarkLevineNYC; @ReynosoBrooklyn, @VanessaLGibson.
***
Have an op-ed idea or submission for Gotham Gazette? Email This email address is being protected from spambots. You need JavaScript enabled to view it.