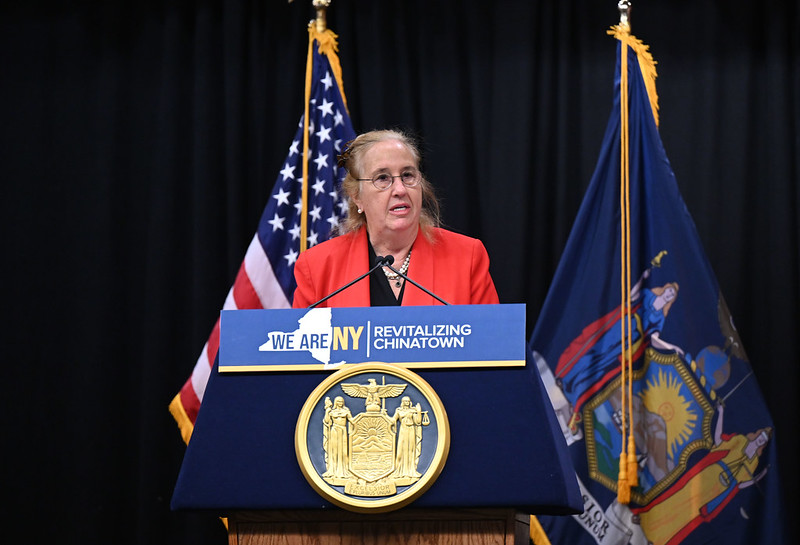 Gale Brewer, the author (photo: (Kevin P. Coughlin / Office of the Governor)
---
As New York City faces the continuing challenges of COVID-19 and new opportunities, the next Speaker of the City Council will need to have the experience, relationships, and know-how to make government work for Council Members and their constituents.

Traditionally, the New York City Council has functioned in a top-down decision-making process. As Speaker, I'll lead a more member-driven body that empowers Council Members to vote their conscience.

I know that from my own experience on the Council, individual members are not always properly supported. That's a primary reason why I'm running to be Speaker. I'll make sure that Council Members have more budget to hire talented staff, are assisted with expenses such as renting a district office (with funds that are separate from personnel budget), and that there are no favorites or needless intrigue with the Council's central staff on issues related to land use, the city budget, and bill drafting.

Should you elect me as your Speaker, I will leverage the significant political capital and goodwill that I have earned over decades of public service. I will collaborate using my working relationships with key leaders and partners in government, the nonprofit sector, and business to position you to succeed in delivering tangible improvement in the lives of your constituents.

As we enter 2022 with an extraordinarily diverse Council, the most diverse in history, we need to make sure that all of our borough delegations, caucus groups, and constituencies are represented in leadership and that they chair significant committees. I would consider broadening the leadership and enhancing the role of the committees to ensure that they are more productive. We need more voices at the table.

My track record, including eight years as Manhattan Borough President and 12 years on the City Council, has proven that I know how to lead in a collaborative way by being receptive to the ideas and needs of my colleagues, labor unions, advocates, and everyday New Yorkers.
That's how we tackled discrimination in hiring by passing the Fair Chance Act, how we successfully took on big business by winning paid sick leave for hourly workers, and how we improved data-sharing in government by passing the Open Data Bill. As Borough President, I strengthened the Manhattan Community Boards by mirroring the demographics of the Community Boards to the districts and, through training, professionalized the work of both the staff and the members. These improvements proved essential as my office and the Community Boards faced and completed 200 ULURPs in the last eight years.
There are many good people running for Speaker, but I believe that I am better prepared to make city government work more efficiently and with greater benefit for all New Yorkers.

As many of you already know, I am low-key. I do not seek the spotlight. I speak my mind, I open my own doors, I carry my own bags and I order my own coffee — no sugar, with half-and-half. My focus will be an open and responsive speakership that delivers results for members. I have no plan or intention to use this position as a stepping-stone, and thus will have no ulterior agenda in my speakership in the kinds of decisions we as a body undertake.

Throughout my career, I have been passionate about cultivating and mentoring the next generation of leaders, including thousands of interns, students at CUNY — where I teach, including current and former staff, some of whom serve or have served at the highest levels of government. If elected Speaker, I commit to serving in the role for only four years, so colleagues will have the opportunity to bring their own perspectives to the Speaker position.
I have long-believed that strong, collaborative leadership within the Council enables it to work productively with and independently from the Mayor. Remember (a tidbit I like to tell my students), the State Constitution requires municipalities to have a legislative body; not a mayor. The Council is supposed to set the policy. The Council must be a strong, independent branch of government – a co-equal branch – but being strong does not mean that the Council and Mayor can't work together.
Policy and budget proposals must be analyzed by the Council, and the Council should be an oversight body while partnering with the Administration to better serve the needs of every New Yorker. That is why I am hopeful and excited to partner with my fellow Council Members to make New York City, the greatest city on this planet, even greater than before.
Thank you for your leadership and partnership.
Gale A. Brewer
Candidate for New York City Council Speaker
Council Member-elect (D-6th Council District)
27th Manhattan Borough President
***
Have an op-ed idea or submission for Gotham Gazette? Email This email address is being protected from spambots. You need JavaScript enabled to view it.