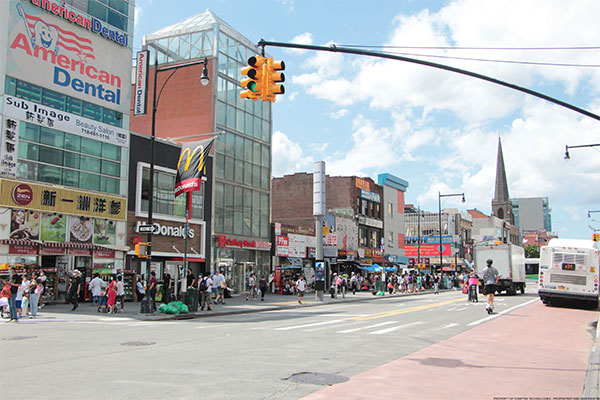 Rendering of proposed Link5G
---
The digital divide has been one of the many disparities laid bare by the COVID-19 pandemic. Countless New Yorkers have been forced to work and learn remotely, yet shifting to online platforms is very challenging for the 1.5 million New Yorkers — mainly low-income people of color — who lack access to both broadband and cellular internet.
This is our digital equity emergency, and the Urban League is very focused on bringing attention to this critical issue. In March, the National Urban League released the Lewis Latimer Plan for Digital Equity and Inclusion, which highlighted the growing costs of digital exclusion.
The plan focused on four key goals, including the expanded deployment of networks everywhere and using those networks to improve how we deliver essential services. New York City has been working on innovative policy programs to increase network deployments, including through the Internet Master Plan, which will hopefully lead to increased broadband access. Another key piece to the digital equity puzzle is the LinkNYC program.
You may know the Link kiosks for their free high speed Wi-Fi, interactive tablets, charging ports, and advertising. However, not enough of these kiosks have been deployed to the communities that need them most, as Links today are concentrated mostly in Manhattan. We now have an opportunity to fix that by extending and improving on this great service through Link5G.
Think of students like those at the Careers in Sports High School in the Bronx that we serve with important programming. Throughout the pandemic, they were forced into remote learning. While New York City schools provided tablets, students often didn't have the benefit of home broadband service and connections through the devices can be choppy. Attending classes and doing homework should not be filled with digital hurdles and disruptions.
LinkNYC's free Wi-Fi was one lifeline in neighborhoods fortunate enough to have one. The deployment of new and improved Link5G structures will begin in neighborhoods left behind from the original LinkNYC deployment, ensuring their access to 5G mobile broadband in addition to the benefit of free Wi-Fi. It will also bring new fiber-optic cable into those communities which can be used to provide home and small businesses with connectivity. These structures aren't a luxury in our communities — they are a necessity.
5G is the next generation mobile network technology that will provide much faster speeds to mobile devices. Experts say 5G will revolutionize mobile networks and can even be used to provide broadband to the home. That is, of course, if you can find a reliable signal in your neighborhood. Thanks to contract requirements put in place by our city government, the new Link5G program will prioritize the equitable deployment of networks in the communities that need them the most.
The new Link5G design is currently being considered by the city's Public Design Commission. I urge the PDC to approve the design of this critical technology infrastructure that our communities need immediately. Our students, our small businesses, and our most vulnerable residents simply cannot survive and thrive in an increasingly digital world without them. This is a unique opportunity to begin addressing our city's digital equity emergency.
The Public Design Commission's mission is to advocate for innovative, sustainable, and equitable design of public spaces, with a goal of improving the public realm and therefore related services for all New Yorkers throughout the five boroughs. Providing an opportunity for 5G in the neighborhoods most impacted by lack of access over time may prove to be the most equitable design of all.
***
Arva Rice is the President and CEO of the New York Urban League. On Twitter @arvarice.
***
Have an op-ed idea or submission for Gotham Gazette? Email This email address is being protected from spambots. You need JavaScript enabled to view it.