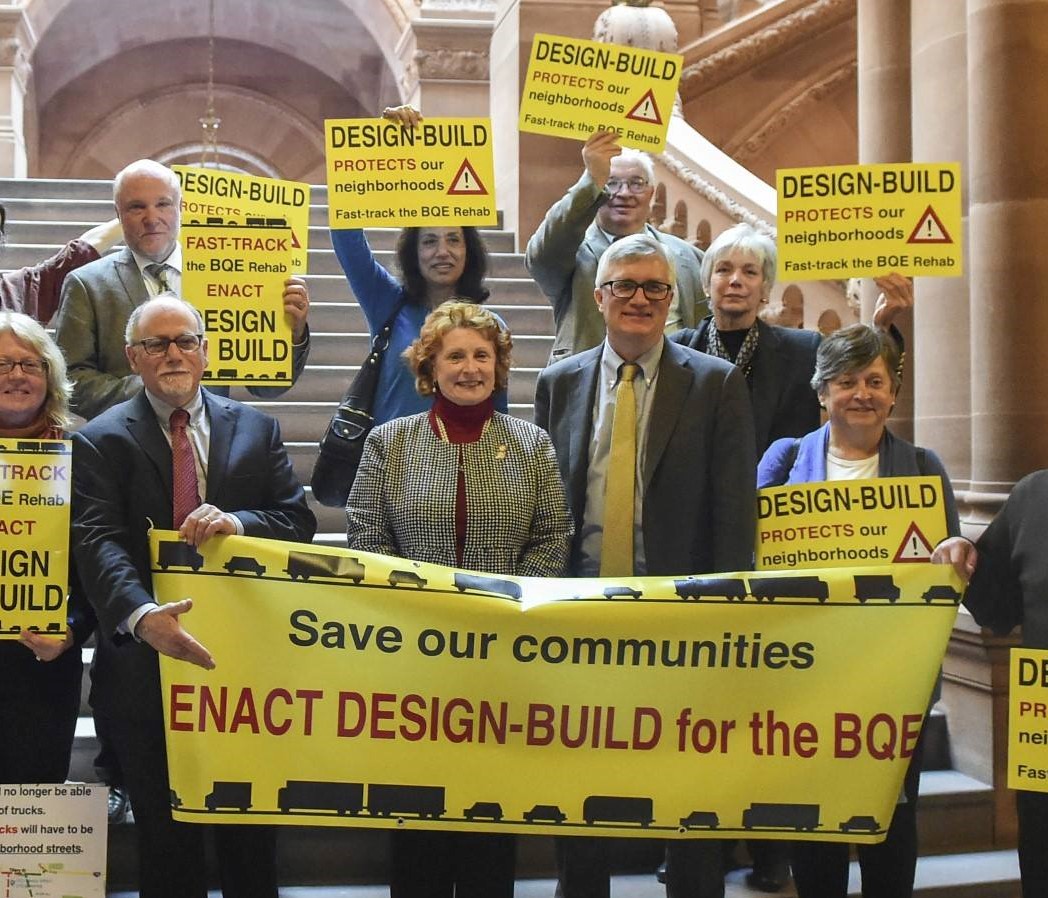 The authors at a press conference related to the BQE
---
For years, residents, motorists, and headlines have screamed about the crumbling triple-cantilever on the Brooklyn-Queens Expressway. Repair plans have been delayed, presented, and rejected. We are not moving forward fast enough to repair the triple-cantilever or to envision and build a coherent 21st Century solution for the entire BQE corridor.
We can fix the BQE—and we must—but we can't do it overnight. We need a solution that's future-focused and environmentally-sustainable along the entire I-278 corridor in Brooklyn. The BQE connects over a dozen neighborhoods throughout western Brooklyn, and it's a key link in the Interstate highway system serving the entire tri-state metropolitan area and beyond. It will take a multi-pronged effort by many people and agencies at the city, state, and federal levels.
Let's start with a good first step. Governor Kathy Hochul can get the ball rolling by signing our "Weigh In Motion" (WIM) bill A2316/S2740. The WIM bill would reduce the number of overweight trucks on the BQE by allowing New York City to issue violations electronically to trucks exceeding the legal weight limits. Overweight trucks are a significant factor in the deterioration of the triple-cantilevered portion of the BQE around Brooklyn Heights. Removing them from the BQE will extend its lifetime and allow us time to plan for a fix. This bill is red-alert critical and is currently on the governor's desk.
To keep illegally heavy trucks off the crumbling triple-cantilever requires the installation of electronic sensors throughout the corridor to capture the offenders before they actually enter onto the triple-cantilever. Law enforcement simply cannot stop and remove enough trucks from the roadway to adequately discourage overweight trucks. More law enforcement agents won't do the trick. In this very dense street environment, there just isn't enough physical space to do it. And installing the sensors throughout the corridor will mean that trucks can't avoid enforcement by exiting to local streets and then quickly reentering just beyond the sensors, ensuring that this approach is unlikely to divert overweight trucks to other routes through our neighborhoods.
Overloaded trucks also cause increased carbon emissions, harming the public's health and advancing climate change. We all need to care about this.
In August, the city released a plan to extend the life of the BQE cantilever for another 20 years to allow for the time necessary to envision a long-term solution for the entire BQE corridor that reduces reliance on polluting long-haul freight trucks and transitions more freight to waterways and rail. Their plan includes getting overweight trucks off the BQE. This will allow us time to examine solutions (including tunnel alternatives) and prioritize climate for a just and sustainable transition from fossil fuels.
In this era of rapidly advancing climate change, we need smart and environmentally-just surface transportation infrastructure. For too long, the state has not been an active partner in this pressing project and it's time for that to change. Governor Hochul's signature on this critical legislation cannot come soon enough.
***
New York State Assemblymember Jo Anne Simon represents District 52 in Brooklyn and New York State Senator Brian Kavanagh represents District 26 spanning parts of Brooklyn and Manhattan. On Twitter @JoAnneSimonBK52 & @BrianKavanaghNY.
***
Have an op-ed idea or submission for Gotham Gazette? Email This email address is being protected from spambots. You need JavaScript enabled to view it.