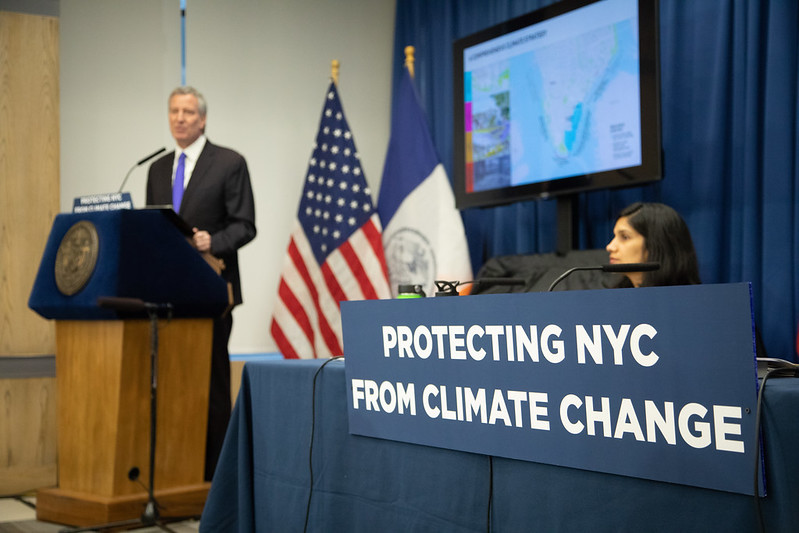 Protecting NYC from climate change (photo: Paige Polk/Mayoral Photography Office)
---
Climate change seriously upped its impact this year in New York City. Hurricane Ida produced historic rainfall and flooding, which triggered flash flood warnings across all five boroughs for the first time ever and caused at least 13 fatalities in the city itself.
In protecting our communities from the consequences of climate change, an important piece of the solution that needs improvement is access to and engagement with user-friendly, hyper-local climate data. This would allow policy-makers and New Yorkers to understand how to better address impacts to their own communities.
Recently, the City Council voted to create a citywide climate resiliency plan, which strives to ensure preparedness for extreme weather across New York City. From the limited information that is publicly available, it appears to take a "top-down" approach, i.e., city agencies will be responsible for its development, implementation, and oversight. While it is possible that it will work to expand direct community engagement in the process, those details are not currently highlighted.
A lesser discussed aspect of climate resilience is the importance of social infrastructure, namely the people, places and institutions that allow communities to respond to climate change. When extreme events upheave daily life, the stronger the local relationships one maintains with their community, the greater their ability to recover. Importantly, incoming Mayor Eric Adams' citywide resiliency plan includes the idea of a neighborhood-specific needs assessment.
There are a number of reasons that it is imperative to consider climate resilience from the "bottom-up," communitywide level, in addition to the focus on citywide planning initiatives. While a portion of the $15 billion in federal funds administered by the city post-Sandy did go to small business and workforce funding, money to build resilience through efforts that better connect people within communities was largely absent. Measures such as generating plans to identify and support vulnerable neighbors likely could have alleviated some of the impacts of stormwater flooding experienced during Hurricane Ida.
Community-focused efforts strive to marry climate justice and social resilience. They work to generally implement effective, quick to install, and/or inexpensive hyperlocal measures. These may include maintaining secular and nonsecular spaces for people to discuss local climate information and educating communities about how they can improve their climate decision making through interactive games. They help highlight nuanced neighborhood needs and recognize that residents are important sources of knowledge about the places where they live.
When community information is not sufficiently utilized, there can be unintended consequences. For example, green infrastructure projects to divert stormwater from Jamaica Bay in New York City through government projects were concentrated in the northern and eastern parts of Brooklyn. Such a focus level left many residents in adjacent neighborhoods with flood reduction projects still in the "design phase" when Hurricane Ida hit.
New York State went down the path of community resilience once but didn't fully see it through. The New York Rising Community Reconstruction Program was launched after Hurricane Sandy to fund proposals submitted by planning committees, each representing a small piece of the state. Reporting by The City said that many of these proposals remain unfunded, hampering the ability of the state to cope with climate impacts since that time.
So how do we support neighborhood-based resiliency efforts in New York City? One of the puzzle pieces relates to the information an interested member of the public, but not a climate expert per se, could extract about neighborhoods across the city.
In our efforts to address this topic, we found two overarching themes.
First, while each neighborhood faces a unique set of climate-related issues, different neighborhoods often face similar challenges that can help direct citywide planning when looked at from a "bottom-up" approach. As mentioned by community members who took part in a 2020 climate outreach initiative, better information sharing across districts and neighborhoods would also help geographically separated communities support each other's planning efforts.
Second, the city does have a variety of sources that contain climate change-connected data. However, the information is spread across a seeming maze of locations that is often incomplete, hard to access and compare, and/or difficult to visualize. While these can be common challenges for state and federal level data too, they seem more pronounced at the local, community-wide level.
Efforts to include stakeholder engagement with city data do exist, for example, in the recent Stormwater Resiliency Plan. However, there does not appear to be a concerted citywide effort to connect the various aspects of the climate picture together for New York City's communities. Bringing in people with expertise in research and analysis to serve as community liaisons, translating city data to the public, could greatly help accelerate that process.
To its credit, NYC Emergency Management produced a valuable, digitized resource in 2019, the NYC Hazard Mitigation – Community Risk Assessment Dashboard. It provides information searchable by addresses and neighborhoods, on a handful of climate-related issues. However, since it broadly focuses on hazards, it requires an additional effort to cross-reference the information with other sources to gain a clearer climate-based picture of a neighborhood. It also does not appear to promote information sharing within and across neighborhoods, or collect knowledge embedded in communities.
Other ideas are also underway to seed information sharing, such as the Climate Knowledge Exchange under the Mayor's Office of Climate Resiliency. While this is more focused on broadening stakeholder input to set research priorities, it represents an important effort in New York City to integrate and support community-led planning efforts.
Improving citywide access to data does require some additional "top-down" work on the government side. That said, a relatively small investment in improving the data quality and the ability to meaningfully engage with it could go a long way toward growing a more sustainable "bottom-up" resiliency.
While limiting greenhouse gas emissions is a global problem that needs global solutions, the impacts will be felt locally, by communities. Providing all New Yorkers, especially those in underserved communities, with the climate-related information they need, will create not just more resilient communities, but also a more collectively resilient New York City.
***
Vaishali Talwar holds an M.Phil. in Physiology and Neuroscience and is a member of Science for New York (Sci4NY), an effort that aims to have policy makers and scientists work more closely together through project-based interaction in NYC. Nancy Holt, Ph.D., leads Sci4NY. She holds a Ph.D. in Physical Chemistry and has worked on climate change issues at various levels of government, including at the U.S. Department of State. On Twitter @Sci4NY.
***
Have an op-ed idea or submission for Gotham Gazette? Email This email address is being protected from spambots. You need JavaScript enabled to view it.