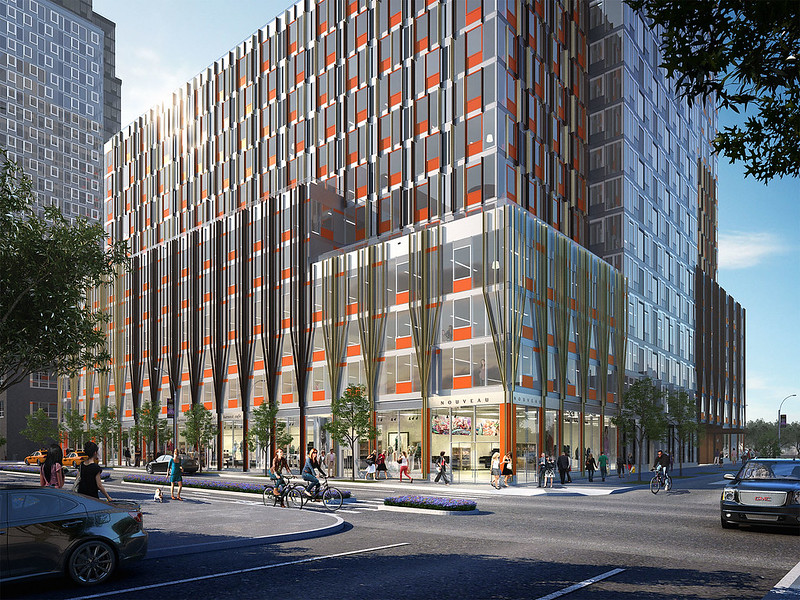 Development rendering (image: NYC mayor's office)
---
Over the past several years, our cityscape has continued to transform before our eyes. Gentrification and displacement have pushed deeper into working class communities, while shiny new towers throughout the five boroughs remain out of reach. At the forefront of this reality is the way our government makes planning and land use decisions. They shape what our city looks like. And equally as important — they shape what communities are served.
The fact is, the way we plan is broken, and far too many are unhappy with how the system works.
Yet despite numerous attempts, systemic change to land use and planning has proven hard to come by. This doesn't need to be the case. We know what's wrong. We know what needs to change. We know who can make the change we all need.
Currently New York City takes a scattered, ad hoc approach to planning — a neighborhood by neighborhood process, untethered from any larger analysis of citywide and local needs or collaborative vision.
This approach replicates and exacerbates existing inequity, causing displacement and exclusion, with each community left to respond with whatever resources and power they can muster.
It has brought us neighborhood rezonings that, until these final months of the de Blasio administration, were solely situated in low-income communities of color, forcing neighborhoods like East New York or along Jerome Avenue in the Bronx to trade new, mostly market-rate density, in exchange for long overdue community investments.
It has disregarded thoughtful, community-created plans like those crafted by Bushwick and Chinatown residents, simply because they didn't meet the city's hidden targets for those neighborhoods.
And it allows whiter and wealthier communities power to say no to more affordable housing.
As a city we must pivot to a different model — one that creates a fairer distribution of resources and development, one that empowers communities to create and move forward their own plans, and ensures all neighborhoods are helping to advance racial and economic equity.
This is why we have long advocated for comprehensive, long-term planning in New York City. While the details of how comprehensive planning would work in our city are not set in stone (nor should they be), its broad outline and goals remain the same.
Comprehensive planning requires the city to holistically look at its current and future needs, alongside existing disparities across neighborhoods and groups. The city then sets transparent goals for how to address these needs and disparities in an equitable fashion.
Most crucially the community (and not developers) creates their own plans to help guide their future. This builds community power and power for their elected officials to fight for those visions moving forward.
Our city will move forward with new leadership — from the City Council to Borough Presidents, the next Mayor, and more — in a matter of days.
This new landscape is an opportunity to reinforce equity-centered, community-based planning as the best way to build consensus for land use decisions that prioritize the needs of New Yorkers.
By aligning our spatial planning with our city budget, the next administration can ensure that growth and investment are working to facilitate a more just and equitable city.
Comprehensive planning is the most efficient strategy to tackle our biggest and longest-standing challenges like housing choice and affordability, climate resilience, and equitable access to opportunity.
We need to redefine what it means to thrive as a city, without leaving any of our neighbors behind. Comprehensive planning is the key to seeing the city as it is, and as it could be.
Such solutions require leadership, and the next administration and City Council must agree this is a problem within their power to fix.
Through new legislation, directives to city agencies, budget priorities, and changes to the City Charter, New York City can chart a course towards comprehensive planning and a brighter future for all.
Imagine what could be possible if we had a real plan.
***
Chris Walters is Land Use Policy Coordinator at Association for Neighborhood and Housing Development, a member organization of the Thriving Communities Coalition. On Twitter @ANHDNYC & @thrivingccnyc.
***
Have an op-ed idea or submission for Gotham Gazette? Email This email address is being protected from spambots. You need JavaScript enabled to view it.