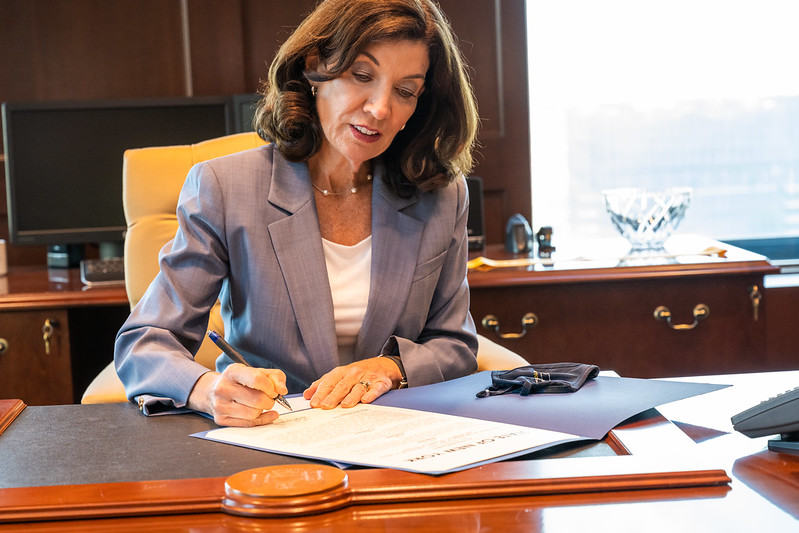 Governor Hochul (photo: Darren McGee/Governor's Office)
---
It is the time of year when calls for charity intensify in number and volume and various 'neediest funds' and targeted events like Giving Tuesday seek to capitalize on holiday sentiments. Yet among the many righteous causes, little is said about one group of people in dire need – the more than 2 million people incarcerated across the country.
The American crisis of mass incarceration is by now universally recognized as the number of people behind bars has grown by 700% since 1970. The myriad causes for the explosion reveal that there is much for the country to reckon with as jails and prisons are overwhelmingly and disproportionately filled with Black and brown people.
Yet it is not enough to merely recognize the existence of mass incarceration or even to try and identify all its many causes. The failure to take decisive corrective action regarding the manifestation of mass incarceration – the more than 2 million human beings behind bars – must, and can, be addressed, and gubernatorial clemency is an immediately available way to begin to repair the harm.
Notably, as it is typically tied to the holidays, support for clemency rings loudly in faith and the need to recognize and value redemption. Some years ago, Pope Francis's call for the Jubilee Year of Mercy emphasized forgiveness and reconciliation. More recently, when speaking to prison staff and chaplains, he declared that we should "[N]ever deprive one of the right to start over."
And countless people in New York prisons merit the opportunity, if not the right, to start over.
The calls for racial justice that motivated cries to "say their names" hope that when individuals and media say and print the names of people of color who have been victimized by the criminal legal system – from policing through sentencing – it will compel people to ask questions and take decisive remedial action. In that spirit, here are but some of the people facing the prospect of death by incarceration here in New York. For them, and countless others, clemency is the only road to freedom.
Paul Leon, Craig Jackson, Ramon Henriquez, Julian Castillo, Rodney Chandler, Robert Webster, Lamar Sanchez, and Frank Pruitt were all sentenced to life terms when they were teenagers, some barely 16 years old. By now, they have served decades behind bars and have grown into mature, thoughtful, and compassionate adults.
Stanley Bellamy, Lance Sessoms, and Jose Medina are among the many elders in prison who have already been incarcerated for close to 40 years. They spend their days serving as counselors and mentors to young people inside and outside prison. Many elders, like Jose Medina, are also gravely ill and at severe risk from COVID-19 and its variants.
Bruce Bryant and David Sell are just two of the people in prison who have somehow managed to achieve remarkable things. They have created anti-gang and anti-violence programs, written op-eds and law review articles, collaborated with social justice organizations like Children of Promise, and have even given impactful TED talks about the children of incarcerated parents.
Joe Gordon, Kassan Messiah, Robert Webster, and Bruce Bryant have powerful claims of innocence. Kassan Messiah, a Black man, was convicted of killing a white man by an all-white jury after the prosecution removed every juror of color. Bruce Bryant's appointed lawyer was suffering from PTSD from an unrelated event, and the trial prosecutor is now in prison for attempting to bribe a witness in a subsequent case.
Darryl Powell and Roger Cole are just two of the thousands of people in prison serving draconian sentences because of the so-called "trial tax" – they rejected a plea offer, pursued their constitutional right to trial, and then were punished for not pleading guilty. Darryl Powell was offered a plea of 9 to 18 years. He is now serving life without parole. Roger Cole was offered a pretrial plea of 20 years to life. He was ultimately sentenced to 125 years to life.
Bryon Russ, Sheldon Johnson, David Irons, Roger Cole, and Randy Jamison are among the many people serving life or de facto life sentences for drug or robbery cases; sentences unheard of in any other western, industrialized country.
Kim Brown is one among many women serving massive sentences who have garnered widespread support for their release from people inside and outside prison.
In similar fashion to charitable giving focused on the end of the year, Governors tend to dole out clemency — this awesome measure of mercy to commute prison sentences — in the spirit of the holidays. As soon as December rolls around, countless people in prison and their families hope and pray that their pleas for clemency will finally be granted. Yet while clemency is a readily available mechanism to redress mass incarceration, few Governors have been willing to wield that power to any significant degree. If past is prologue, many people behind bars will suffer crushing disappointment and struggle to regain and hold on to this slender reed of hope for next year.
For several years, former Governor Andrew Cuomo promised robust use of his clemency power, and as a result applications began to pour in. That promise was never realized and instead became a cruel source of false hope. Governor Hochul now has the chance to right that wrong.
Recognizing and addressing the needs of the needy should not be limited to a few weeks at the end of the year, and the plight of those languishing behind bars similarly demands ongoing attention. However, the urgent moral need to decarcerate demands that Governors with unfettered clemency power act now on the thousands of applications pending in their offices. After all, what better way to celebrate the spirit of the holidays and the aspirations for the new year than by reuniting people with their families.
***
Steven Zeidman is a professor at CUNY Law School. On Twitter @SteveZeidman.
***
Have an op-ed idea or submission for Gotham Gazette? Email This email address is being protected from spambots. You need JavaScript enabled to view it.