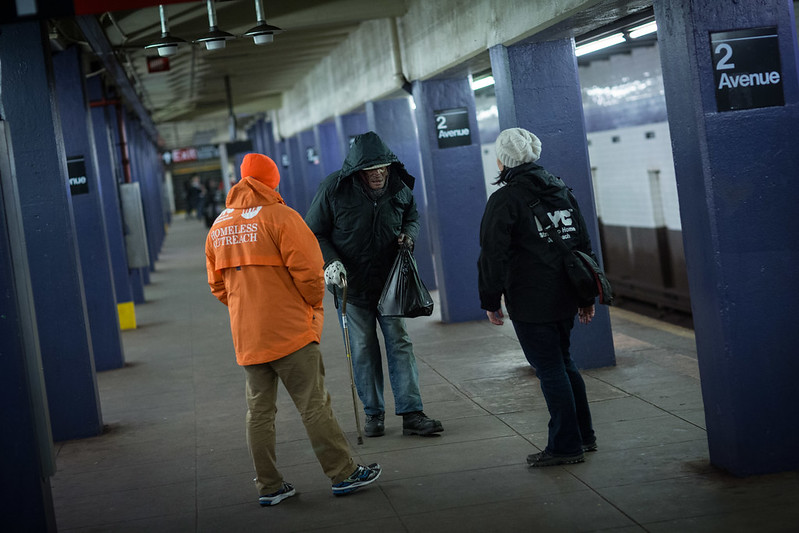 Help in the subways (photo: Michael Appleton/Mayoral Photography Office)
---
As he takes over New York City government, one fact new Mayor Eric Adams seems to know is that it is not OK to allow homeless people living on the streets and in the subway system to vegetate and sleep in filthy conditions. Many people in these situations obviously have serious mental health and physical health issues in dire need of attention.
Several steps must be taken as quickly as possible, to help these individuals and to make the city a safer, cleaner, more livable place for all.
The current standard for when someone can be committed for psychiatric treatment is that the person is a threat to themselves or others. But this has been interpreted too strictly, and there are both tools currently at our disposal, such as better use of Kendra's Law by the city and judiciary to mandate treatment, and an amendment to the civil commitment law.
For the latter, a commonsense approach has been proposed by Dr. Loree Sutton, a former army psychiatrist who served as Commissioner of the New York City Department of Veteran Affairs. She has suggested that the civil commitment law be amended so that seriously mentally ill people can access inpatient services before exhibiting an immediate danger to themselves or others. Of course we also must stop the elimination of psychiatric beds and reverse course to substantially increase the number of those beds given the many thousands that have been removed in recent decades.
Additionally, health services must be improved within shelters and once again we need to increase the number of drop-in centers that allow people to get off the street quickly and receive food, clothing, showers, medical care, and speak to a social worker. A nurse at a drop-in can quickly diagnose an urgent medical problem and call for an ambulance. We now have only three of these centers in Manhattan.
It is estimated that there are 1,600 homeless people living in the subway system. Numerous attempts to convince this population to seek help and shelter elsewhere have been only moderately successful. It is time to think outside the box and set up makeshift drop-in centers in some of the larger and more frequently used subway stations such as Grand Central, Times Square, 34th Street Penn Station, Union Square, Atlantic Avenue, and others — it may also make sense to set some of these up at certain end-of-line stops.
It would not take too much time or money to rope off little-used parts of these cavernous stations and set up chairs and tables, food and water stations, and distribute clean clothing. These centers should also be staffed by nurses who could examine and treat to some degree homeless individuals, possibly including the provision of life-saving covid vaccines.
This doesn't mean we should not continue to try to move homeless individuals into Safe Haven shelters or supportive housing but this could be a first step in getting them to access the system. Besides establishing these subway drop-in centers, we have a perfect opportunity to increase the number of above-ground locations with many commercial spaces being left empty for the past year, especially in hard-hit areas such as midtown and Hell's Kitchen.
Our new mayor should immediately start taking steps to reduce street and subway homelessness by establishing these centers, doing a great deal for people who are ill and struggling and for the whole city.
***
Robert Mascali is a former Deputy Commissioner at the NYC Department of Homeless Services and a Vice President for Supportive Housing at Women in Need.
***
Have an op-ed idea or submission for Gotham Gazette? Email This email address is being protected from spambots. You need JavaScript enabled to view it.