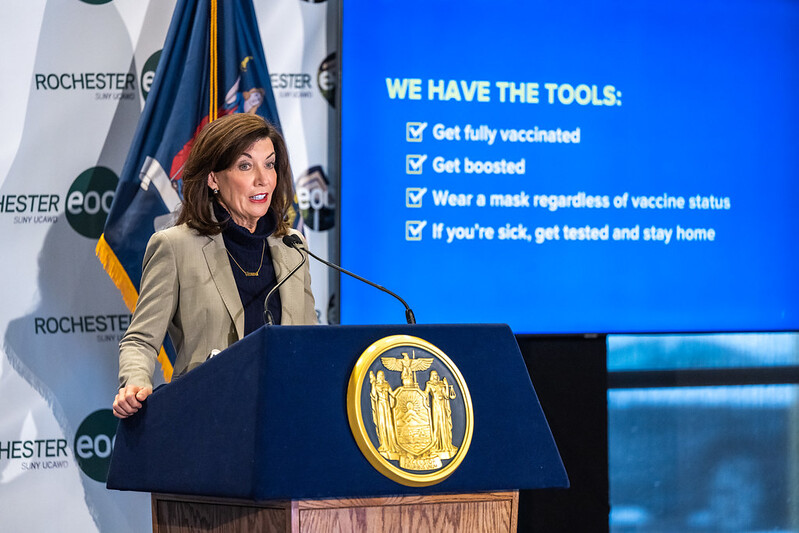 Gov. Hochul (photo: Darren McGee/ Governor's Office)
---
Essential workers have been on the frontlines of the COVID-19 pandemic for two years, risking their lives to keep the rest of us safe and the economy running. These workers don't have the option to work from home—they are your grocers, nurses, delivery workers, transit operators, retail workers, and more—and they are most vulnerable to this deadly virus. They are also overwhelmingly people of color, women, and immigrants, enduring dangerous jobs for the benefit of the many.
And now, we look to essential workers as a lifeline once again, as we face the highly contagious Omicron variant and cases surge across New York State.
On January 5, Governor Hochul delivered her first State of the State address. She outlined a pandemic plan that focuses on keeping businesses open, recruiting and retaining more essential workers to address shortages, and "keeping New Yorkers' lives as normal as possible."
For this plan to be successful, we must first ensure workers' health and safety.
In September, Hochul and the state Department of Health took a critical step in the fight against COVID-19, designating the virus as highly contagious and a threat to public health. This allowed the New York Health and Essential Rights Act, or NY HERO Act, to go into effect, standardizing workplace protections against airborne illnesses like COVID-19. It was designed to keep workers, communities, and small businesses safe by providing clear and enforceable protocols on testing, face masks, PPE, social distancing, hand hygiene, disinfection, and air circulation and ventilation, and establishing penalties for noncompliance.
We know that these standards work and are crucial to minimizing the spread of the virus. But without sufficient resources to implement and enforce them, we are once again leaving workers vulnerable at a pivotal time.
New York's vaccination numbers are encouraging, with 82.9% of adults and 71.8% of all residents vaccinated as of early January. But Omicron's rapid spread has proven that vaccines alone are not enough. According to the CDC, vaccines provide significant protections against severe illness and hospitalization, but vaccinated people can still contract the virus. Masking, distancing, and proper ventilation remain paramount to stopping the spread.
Governor Hochul's plan to combat the ongoing pandemic must center the voices and needs of essential workers, who continue to be at the frontlines of this health crisis. New York must invest in educating workers and small businesses about their rights and ensure adequate enforcement.
As we near the start of the third year of this pandemic, Governor Hochul must take a more comprehensive approach by funding the implementation of the HERO Act and expanding education and enforcement across the state. There is no time to wait. Essential workers continue to be the lifeblood of New York, and we cannot afford to fail them.
At the start of her speech, Governor Hochul said, "This is not a moment of despair but a moment of great opportunity. If we make the right choices right now, it will end." That's true. Governor Hochul must demonstrate her leadership and act now to protect essential workers, because the pandemic is far from over.
***
Maritza Silva-Farrell is executive director of ALIGN, an advocacy organization that leads the New York Essential Workers Coalition. On Twitter @MaritzaSf & @ALIGNny.
***
Have an op-ed idea or submission for Gotham Gazette? Email This email address is being protected from spambots. You need JavaScript enabled to view it.