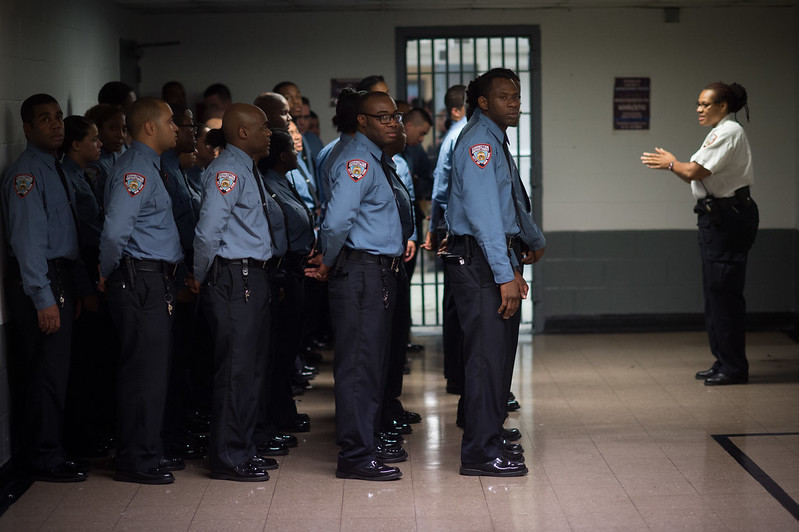 Inside Rikers Island (photo: Michael Appleton/Mayoral Photography Office)
---
In 1894, the framers of New York's most recent constitution created the State Commission of Correction. With eight members, the Commission was empowered to visit and inspect all penal institutions in New York State and to promote their "humane and efficient administration."
Clearly, they are failing: New York's correctional institutions are neither "humane or efficient" today. Rikers Island is a humanitarian crisis. New York City has the best-staffed jail system in the country and spends six times more per incarcerated person than the average in our country's biggest cities. Despite these resources, 16 people died last year in the custody of New York City's Department of Correction.
The spread of COVID-19 has been uncontrolled; staff were unable to ensure detainees made it to their court appearances; individuals went weeks without access to their lawyers; violence increased; basic medical needs went unmet; whole housing units and individuals on suicide watch went unsupervised; and incarcerated people were given plastic bags to defecate and urinate in. I witnessed these conditions firsthand when I inspected the facility in September. While this was happening, where was the State Commission of Correction?
The truth is that the SCOC, our state's correctional watchdog, has abdicated many of its duties. Under the law, the SCOC has the power to inspect any correctional facility in the state and force its compliance with relevant laws and regulations by issuing directives or applying for court orders.
The SCOC is supposed to guarantee the health and safety of all incarcerated people in the state, and close any correctional facility that is unsanitary or unsafe. In a dignified society, unsupervised, crowded cells in the middle of a pandemic without working sewage should be considered unsanitary and unsafe. But despite an increasing death toll and spiraling violence, Rikers Island somehow never made it onto the SCOC's meeting agendas this past fall.
The SCOC currently has three commissioners, each appointed by the Governor. All three members are former sheriffs or career corrections officers. This composition inevitably creates conflicts of interest between commissioners—people formerly in charge of running jails—and the agencies and institutions they are meant to regulate. Because the law makes the SCOC's enforcement powers discretionary instead of mandatory, the SCOC is not guilty of ministerial neglect if it chooses inaction.
Meanwhile, the SCOC's budget has knee-capped its ability to have a meaningful presence at jails and prisons throughout the state. The SCOC has a budget for fewer than 40 staff, while correctional facilities in the state number in the hundreds and the incarcerated population has fluctuated between 47,000 and 77,000 people since 2015. A state comptroller's audit in 2006 found that the SCOC had stopped inspecting prisons in the 1990s, effectively leaving the fox in charge of the henhouse.
So long as our state chooses to have prisons and jails, and until we abolish our racist system of mass incarceration, we must guarantee that those institutions are humane and lawful.
The state owes a constitutional duty of care to every person it detains, a duty that includes guaranteeing health and safety. One necessary element of that task is ensuring that the SCOC does its job. That is why I have introduced legislation (A8461) that will add six new commissioners to the SCOC and distribute their appointments among the Legislature, the Attorney General, and the Correctional Association of New York. It would prohibit more than a third of the commissioners from coming from law enforcement backgrounds. Former corrections officials are useful for their rapport with jail staff and their knowledge of how correctional facilities operate, but they should not dominate the commission.
My bill will also make the SCOC's enforcement duties mandatory instead of discretionary, heighten numerous reporting requirements, and require that the SCOC is funded with 2% of the annual budget of the Department of Corrections and Community Supervision in order to guarantee that the commission always has a budget sufficient to inspect our sprawling and bloated correctional system.
Finally, I have also introduced legislation (A8497), which clarifies that our state's human rights law also applies to correctional facilities. It makes no sense to exempt 50,000 of the most vulnerable New Yorkers from the promise of basic human rights or prohibit the Division of Human Rights from investigating claims of discrimination or abuse in taxpayer-funded facilities. If a jail operates in New York, it should follow the laws of New York.
These bills alone won't fix all the issues in prisons and jails across New York. They will, however, provide a framework for preventing future humanitarian crises from unfolding like the one we're currently witnessing at Rikers Island. No one should have to endure the horrors we're currently inflicting on incarcerated New Yorkers, and not one more person should be allowed to perish in our state's custody. In New York, no detention should be a death sentence.
***
Assemblymember Emily Gallagher represents parts of Brooklyn. On Twitter @EmilyAssembly.
***
Have an op-ed idea or submission for Gotham Gazette? Email This email address is being protected from spambots. You need JavaScript enabled to view it.