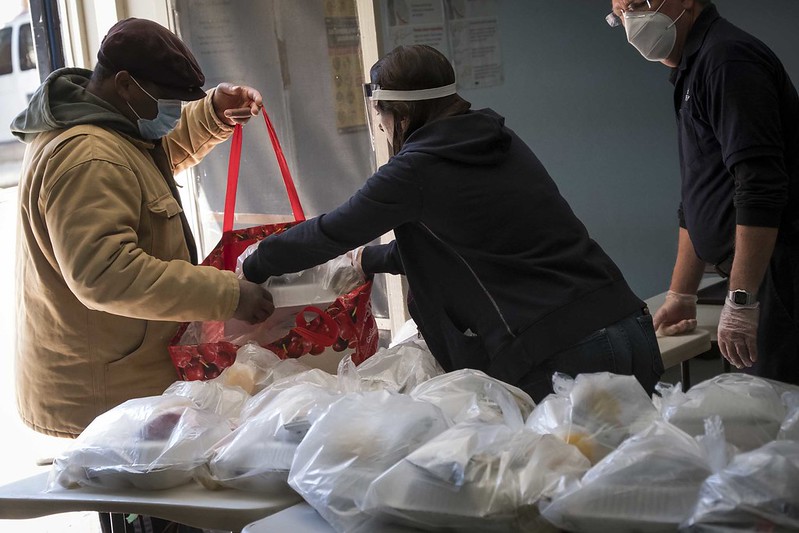 Emergency food distribution (photo: Ed Reed/Mayoral Photography Office)
---
A new year marks the beginning of a new chapter for New York City. With Eric Adams officially sworn in as New York City's 110th mayor, a refreshed City Council and historic new City Council Speaker, 2022 offers a new opportunity to turn the tide on one of the most pressing issues facing New Yorkers: food insecurity.
Right Now, 1.5 million New Yorkers are struggling to put food on the table. The human services sector has long been on the frontlines of battling food insecurity, particularly through ongoing and annual food drives. While food drives are necessary to feed the hungry, they are a short-term solution to a pervasive problem that has plagued New Yorkers for generations, made even worse by a global pandemic. To holistically address this crisis, New York City leaders must work alongside and adequately fund the human services sector.
Since the beginning of the pandemic, the human services workforce answered the call to make sure that no New Yorker went home hungry, even when some workers themselves were struggling to put food on the table. To help address the growing nutritional needs of New Yorkers, human services organizations across our city worked to mitigate record-breaking levels of food insecurity. Our two organizations alone prepared and delivered over 1,500 meals every day to vulnerable residents throughout the pandemic. At the height of the pandemic, about 14% of adult residents reported that their household was experiencing food insecurity.
The pandemic exposed long-standing structural flaws and existing systemic issues. Not only did it exacerbate the everyday issues facing so many New Yorkers, it showed that government functions best when it partners with community-based organizations to deliver services. GetFoodNYC, a program that was launched with a laudable goal—providing food for people impacted by COVID-19—struggled to succeed at first. Meals went missing and some arrived spoiled. It was human service organizations that filled in the gaps and lent their expertise to deliver meals to communities in need.
The $103 billion budget is the largest in our city's history, including the hundreds of millions in public funding spent annually to feed vulnerable New Yorkers. Much of this is contracted out to the nonprofit sector, with little strategic partnership between the city and nonprofits on how to best utilize their combined resources to meet the needs of New Yorkers. Along with the addition of new federal and state pandemic funding, a review of citywide expenditures related to food acquisition, preparation, and distribution is long overdue and could revolutionize the way New York City addresses hunger.
The human services sector has proven time and time again that we have an intrinsic role in meeting the most pressing needs of New Yorkers. An estimated 1.4 million New Yorkers rely on human services food programs, pantries, and soup kitchens. To continue their essential role in combating food insecurity throughout the pandemic and ensuring that the workforce is adequately paid, advocates called on the city to commit $48 million in order to establish a 3% cost of living adjustment for human service workers. Our leaders responded by cutting this request by half.
With historic underfunding, our organizations have joined together in a strategic partnership that will allow us to better serve New Yorkers. But we can't do it alone. At this pivotal moment in our city's history, our next leaders must do more to ensure that human services are included in disaster planning, pay our workforce equitably, and transform the human services program procurement system. What we do now will define how we recover and address food insecurity for generations to come.
As we settle into the new year, a new mayor, and a new City Council, we must double down on the fight against food insecurity. We urge all the newly elected leaders to work alongside the human services sector to ensure that no New Yorker goes hungry this year and beyond.
***
Roderick Jones is the Executive Director of Goddard Riverside. Gregory J. Morris is the President and Executive Director of the Stanley M. Isaacs Neighborhood Center. On Twitter @GoddardRiv and @IsaacsCenterNYC.
***
Have an op-ed idea or submission for Gotham Gazette? Email This email address is being protected from spambots. You need JavaScript enabled to view it.