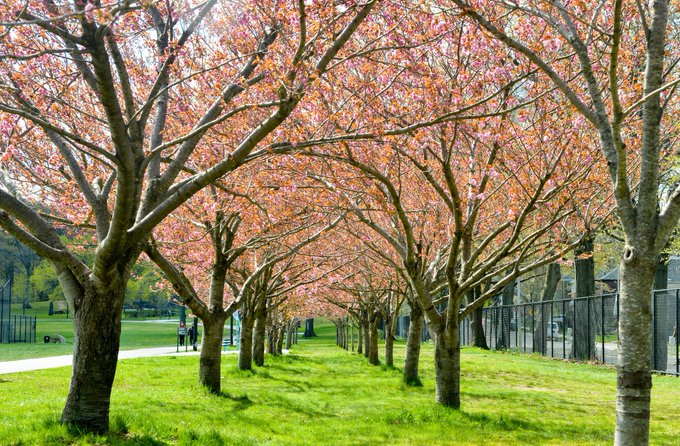 Cunningham Park, Queens (photo: @NYCParks)
---
New York City's parks literally saved lives during the pandemic. In my community of Jackson Heights and Elmhurst, our open spaces allowed us to escape the physical, mental, and social constraints of quarantine into fresh air. Today, our parks, pools, playgrounds, and plazas are places of reconnecting and healing for a community pushing forward from its days as the epicenter of a global crisis.
Across our city, parks and public spaces will be essential to meeting the multiple challenges we face, from health care to climate change and more. We must recognize the extraordinary value of our park system and deepen our investment for all neighborhoods, and for future generations. Every community needs and deserves the space to thrive.
Beautiful, functional parks are not luxuries only for certain neighborhoods to enjoy at the expense of others. They are part of our critical infrastructure. But, like so much other infrastructure, poor communities of color lack access to high-quality parks. On average, neighborhoods of color have 33% less park space per person than predominantly white neighborhoods. In an extreme example, the historic Upper West Side is sandwiched between 840 acres of Central Park and 310 acres of Riverside Park, while NYCHA playgrounds are in disrepair and have been neglected for decades. In my district, the immigrant communities of Jackson Heights and Elmhurst, we have fewer than 12 acres of public parks, some of the least park space per person in all of New York City.
This uneven distribution of park space and playgrounds is no accident. Federal maps of New York City from the 1930s show neighborhoods where the government decided not to invest at all due to the "infiltration" of Black people and immigrants. Now, these same communities are "urban heat islands" where sparse tree cover and exposed asphalt cause temperatures to soar to deadly highs each summer. In so many ways, the lack of green space caused by disinvestment causes real harm to the most vulnerable New Yorkers and exacerbates the impacts of the climate crisis on communities of color.
Our parks are also deeply connected to our city's civic health. From Diversity Plaza in Jackson Heights to Maria Hernandez Park in Bushwick, New York City's parks and public spaces have been focal points of political organizing and mass movements. In 1970, Stonewall activists seized Christopher Street for the first Pride. The occupation of Zuccotti Park mobilized a generation of activists. In 2020, Union Square, Foley Square, and Grand Army Plaza were gathering points for the response to the police murder of George Floyd. To deprive people of public space is to restrict their political power.
And this only scratches the surface of how parks impact our city. Bioswales and planter boxes absorb stormwater to prevent flooding. Street trees reduce temperatures on hot summer days. Open streets, playgrounds, and gardens provide places for social interaction, for our youngest kids to our elders and everyone in between. Pedestrian plazas drive foot traffic to local businesses. Public spaces can help reorient our city towards people and our needs – here in Jackson Heights, we cherish 34th Avenue, the city's "gold standard" Open Street, which we should further transform into a linear park.
In short, our parks and other public spaces are a matter of social justice. As the new Chair of the City Council's Committee on Parks and Recreation, I believe we must use our resources and our vision to create parks where none exist, and systematically invest in green spaces in neighborhoods that have long been ignored. Our parks have the power to heal and transform our city.
***
Shekar Krishnan represents Elmhurst and Jackson Heights in the New York City Council. He is the Chair of the Committee on Parks and Recreation. On Twitter @voteshekar.
***
Have an op-ed idea or submission for Gotham Gazette? Email This email address is being protected from spambots. You need JavaScript enabled to view it.