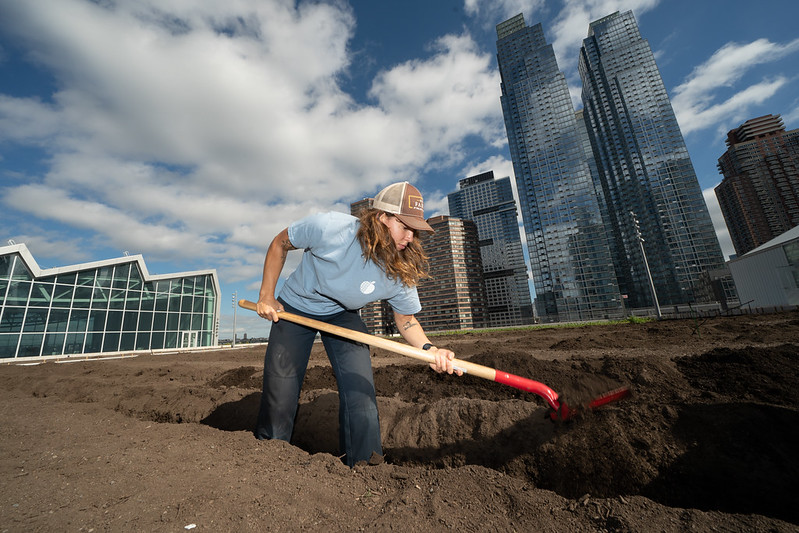 Renewable energy for New York City (photo: Governor's Office)
---
Climate extremes in New York are on the rise, from flooding to excessive heat. The city is experiencing frequent heat waves, including three last year, when temperatures soared to 90 degrees Fahrenheit or higher for three consecutive days. Five of the hottest Julys on record occurred between 2010 and 2020.
Part of how we tackle climate change is by implementing and supporting wise energy policy that brings on more non-carbon-emitting energy. We need to prioritize how we sustain energy security and avert deadly power outages like what Texas experienced almost one year ago. Mitigating against climate change requires a deep energy transition, and for New York, that means looking up to Quebec for hydropower.
The hard reality is decarbonizing the electric grid will require supporting economically viable and socially acceptable clean energy and transmission projects. And to that point, there's a project many in New York may not have heard of but is a critical one for the city's future energy security. The Champlain-Hudson Power Express (CHPE) is a 339-mile permitted and buried transmission line that will bring clean, renewable, and abundant hydropower from Canada into the New York metro area by 2025.
Construction of the transmission line will create 1,400 construction jobs and go a long way in helping New York City and State achieve their clean energy and carbon emissions reduction targets by 2030 and 2050; without this project, the math doesn't add up.
As of today, New York State only has 28% clean energy in its mix. And shockingly 90% of the electricity powering New York City currently comes from the burning of fossil fuels that has direct negative impacts on people's health in frontline and disadvantaged communities.
Hydropower is a viable clean alternative to fossil fuel plants and already plays an important role in the state's energy mix. New York has the opportunity through CHPE to build in more resilience and reliability at a time when energy insecurity is a problem for other states.
The CHPE line represents a vital interconnected and mutually beneficial economic energy relationship between Canada and the United States; an example of cross-border clean electricity transmission with our oldest ally.
Find an energy project, whether fossil-focused or clean, that requires building infrastructure, and there will be pushback and criticism; there's no project that garners 100 percent consensus. But if you want to find a project that has strong political and stakeholder support, the CHPE does it thanks to a decade of extensive community and stakeholder outreach. The process has been long and successfully inclusive. A powerful example is an indigenous leader, Grand Chief Sky-Deer of the Mohawk of Kahnawake, co-owners of the Quebec portion of the line. She calls the project a "game-changer" for her people.
What should be a slam dunk win for New York is like most energy infrastructure projects these days still a target for incumbent energy producers and a small minority of environmentalists who have been actively seeking to derail and slow down clean energy projects in the Northeast. It's critically important for our collective good and public interest that shovel-ready projects like CHPE move forward if we are ever going to hope to address the existential threat of climate change.
Other parts of the country have successfully launched similar projects like the Great Northern Transmission Line, a 224-mile line running from Canada to the U.S. that delivers hydropower from Manitoba, Canada to Grand Rapids, Minnesota to help balance the healthy wind resources in the northern Midwest.
We are almost to the February 7 deadline of the New York State Public Service Commission public comment period to review the CHPE contract with the state. Governor Hochul announced this project as vital to the state reaching its goals and getting people back to work in our economic recovery from covid. CHPE is one of the largest clean energy transmission line projects in New York history and is critical for the city's energy security.
And let's be grateful we are getting this hydropower from friendly Canada, the United States' largest and most reliable trading partner. Look across the Atlantic to Europe and watch the cautionary tale of what happens when energy security is put at risk due to an over-reliance on Russia for natural gas; the residential energy consumer is paying a 4-5 times higher price for gas this year than a year ago. We have clean and abundant hydro from our (friendly and democratic) neighbor to the north; it's a no-brainer.
Without CHPE, we increase our window of vulnerability: offshore wind is projected to come online mid-decade at the earliest, and as important a source and the contribution it will be for New York's power mix, it remains intermittent, so we'll need to make sure we have reliable hydropower to back it up. Moving forward with this critical transmission line for New York is not really optional; yes, this is about moving to clean energy, but it is also about keeping the lights on and ensuring New York's energy resilient future.

***
Carolyn Kissane is the academic director of the graduate programs in Global Affairs and Global Security, Conflict and Cyber at the Center for Global Affairs and a clinical professor, as well as the director of the SPS NYU Energy, Climate Justice and Sustainability Lab. On Twitter @carolynkissane.
***
Have an op-ed idea or submission for Gotham Gazette? Email This email address is being protected from spambots. You need JavaScript enabled to view it.