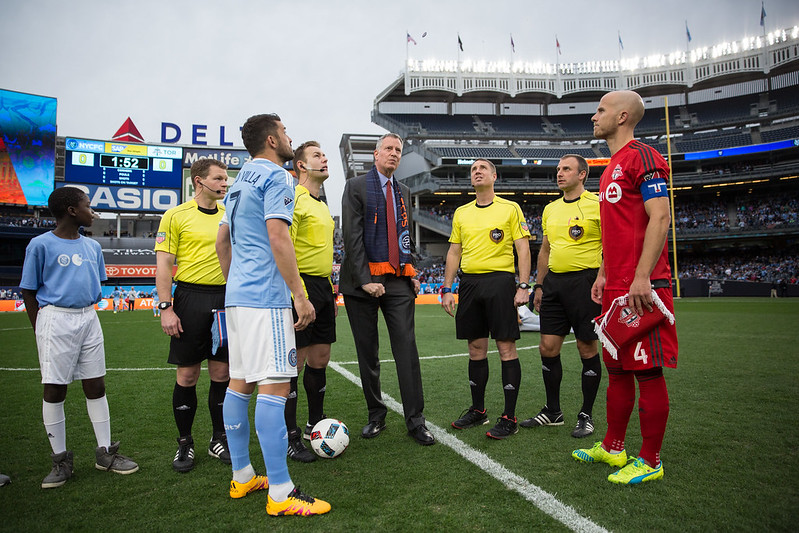 An NYCFC game at Yankee Stadium (photo: Michael Appleton/Mayor's Office)
---
Is it time for a soccer stadium in the South Bronx now that NYCFC is the Major League Soccer champion and the U.S. is (hopefully) on its way to qualifying for the 2022 World Cup?
Maybe.
A stadium built expressly for soccer could serve as a hub for this global sport in our global city. In addition to serving the home team (NYCFC) it could attract clubs from every continent for exhibition games, drawing fans from New York's diverse communities. Imagine: Argentina vs. its former colonial ruler, Spain; France vs. Germany; South vs. North Korea. The match-ups would feed the ethnic pride of neighborhoods from Queens to Brooklyn, Manhattan to Staten Island, and of course in the Bronx.
A gleaming new stadium outfitted with high-tech screens, lounges, interactive consoles for fan engagement, and instant access to color commentators, coaches, and players would be a cathedral for soccer. As Yankee Stadium is to baseball, an NYCFC stadium would be a mecca for American soccer. And the same mass transit-rich hub that serves 50,000 fans of The Bronx Bombers each game would easily accommodate 25,000 fans of the Boys in Blue. There are three subway lines (B, D, and 4 ), a new Metro-North station, and three MTA bus lines. Easy to get to; easy to leave.
A soccer-specific stadium alongside Yankee Stadium, the Universal Hip Hop Museum, The Bronx Children's Museum, and a few blocks from Pregones Theatre, the Hostos Center for Arts and Culture, Andrew Freedman Mansion, and The Bronx Museum could further enrich a diverse cultural corridor second to none in New York City. Sports and Salsa and drama and art and film and dance. All together in one square mile. Activities, events, and joy for people of all ages and inclinations.
Or maybe not.
A new stadium won't work if it ignores the vital needs of its host community, one of the poorest in the country. The South Bronx can't afford to be victimized like it was when the new Yankee Stadium was built. Former Mayor Bloomberg gave then-Yankee owner George Steinbrenner a sweetheart deal: no property taxes and only $1 per year in rent.
Like Steinbrenner, the NYCFC owner, Sheikh Mansour bin Zayed Al Nahyan, is one of the world's wealthiest people, and the community is still plagued by poverty and despair. A new South Bronx soccer stadium won't work if it deprives the neighborhood of the revenue it deserves for housing, health care, and combating hunger and unemployment.
A new stadium can't work if it turns the neighborhood into a mini-Vegas, filled with slot machines, sports betting kiosks, and 24-hour-a-day gambling. The debauchery that accompanies urban betting palaces is at odds with the religious, family-focused nature of South Bronx neighborhoods like Concourse Village, Melrose, and Morrisania. Recently, many major league sports teams and leagues are partnering with gaming companies like Bally's, Resorts International, and Caesars. In Madrid, they are even building a new soccer facility that will be half-soccer stadium and half-casino. But, in a recent survey of residents, business owners, and employees in The South Bronx, only 33% favored a casino-stadium hybrid.
Maybe not. If the arena doesn't have a dome so it can be utilized year-round for concerts, conventions, and convocations. If it isn't accessible for use by local teams. If it doesn't have a professional women's soccer team. If it doesn't include a youth center for those who favor e-sports or need coaching or a refuge from any number of things. If it doesn't provide local businesses with preferential rents in the stadium.
If the stadium is environmentally irresponsible. If it will result in more pollution than it mitigates in the neighborhood. The South Bronx is sadly known as "Asthma Alley" and the borough ranks last in health among New York State's 62 counties. If a stadium results in more traffic jams made up of idling Ubers, Lyfts, and taxis spewing fumes into the lungs of residents and preventing safe passageways for pedestrians and residents, we don't need it.
Or definitely not.
Unless the team owners partner with the neighborhood and offer those who work, live, serve, or own businesses and property a piece of the pie. A New York City soccer stadium will be an enormously valuable asset worth billions of dollars. There'll be naming rights (Facebook Field?), broadcast fees (for MLS games, exhibition games, and World Cup matches), corporate sponsorships, merchandising and ticket sales. The South Bronx deserves to benefit as partners from any and all of these revenue streams. This host community has earned the right to be paid for its nine decades of hospitality and the infrastructure it would provide for a new stadium.
Or definitely.
If Mayor-elect Adams endorses our partnership idea and makes a Neighborhood Ownership Plan a symbol of his administration's commitment to inclusion, diversity, and equity.
***
Dr. Cary Goodman, a sports sociologist, is the executive director of the 161st Street Business Improvement District around Yankee Stadium.
***
Have an op-ed idea or submission for Gotham Gazette? Email This email address is being protected from spambots. You need JavaScript enabled to view it.