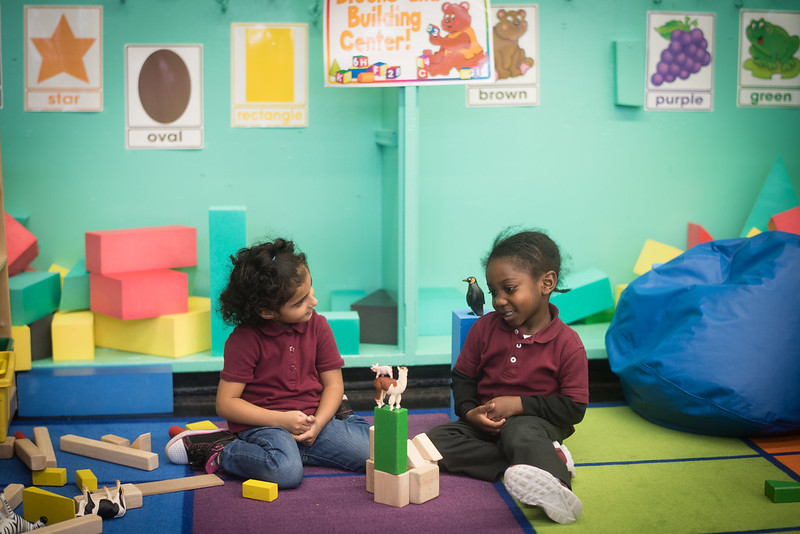 Kids at play (photo: Michael Appleton/Mayoral Photography Office)
---
Prior to the pandemic, countless New York families struggled to put food on the table, pay rent, and access the child care or behavioral health care they desperately needed.
Unacceptably, poverty often resulted in families getting involved in the child welfare system and disproportionately impacted children and families of color. Today, the pandemic has only heightened these needs and exacerbated the risk of child welfare involvement.
We're at an inflection point. Now more than ever, we need to take action to support New York families.
A recent survey of child welfare prevention service providers draws attention to the challenges facing New York's families and service providers. The survey from the Council of Family and Child Caring Agencies (COFCCA) and Citizens' Committee for Children of New York (CCC) found that the pandemic has dramatically increased families' need for cash aid, food, child care, mental health services, internet access, and many other supports.
The survey also found that preventive service providers are running into dire challenges with insufficient funding and staff turnover that limits their capacity to meet families' needs. A significant share of survey respondents reported that their agency does not have the funding necessary to provide appropriate internet and transportation options to enable communication and contact with families. Additionally, close to half of providers reported challenges with retaining and recruiting personnel, such as licensed clinicians, to staff prevention programs.
Through the state budget process, the governor and New York lawmakers have a once-in-a-generation opportunity to reimagine our child welfare system. While the heightened needs of families have not dissipated, the statute underwriting the financing of the entire child welfare system – including protective services, prevention, independent living, foster care, adoption and kinship guardianship – is about to sunset.
Governor Kathy Hochul's recently-released Fiscal Year 2023 Executive Budget fails to go far enough to address increased child and family needs.
We must ensure that the state budget adopted by April 1 heavily invests in supports that can strengthen families and communities to ensure child safety and family stability. We can achieve this by reauthorizing and reforming the child welfare financing statute, investing in primary prevention, and committing to universal child care.
We also must leverage the budget process in a manner that ensures we make strides in addressing the root causes that bring countless children and families into the child welfare system in the first place and to prevent the life-altering trauma that comes with it.
First, we need intentional investments in primary prevention so counties can address and prevent trauma and hardship and ensure access to services that help children and families thrive. We must support community-driven "whole child and whole family" approaches to primary prevention, with neighborhood investments that improve wellbeing and avert child welfare involvement all together.
Second, we have an opportunity to create a universal child care system available in all communities that focuses on supporting the social, emotional, and developmental needs of young children and provides parents with resources critical to accepting and maintaining employment or pursuing educational opportunities.
Lastly, we have an opportunity to reauthorize and strengthen the child welfare financing statute by securing full funding and restoration of the state and local 65/35 match for prevention; by pulling funding for Kinship Guardianship out of the Foster Care Block Grant and ensuring KinGap subsidies mirror adoption subsidies; and by raising the value of the child welfare housing subsidy to promote family reunification and independent living.
Furthermore, the budget must adequately invest in a stable, well-trained workforce, by increasing base salaries for staff and providing regular cost of living adjustments.
The pandemic has laid bare the fragility of our lives and has dramatically heightened the needs of children and families who were already struggling; many of whom were known to the child welfare system or at risk for child welfare involvement. As budgets are statements of what we value, it is incumbent upon us to ensure that the state's adopted budget invests in children and families and ensures they have access to the wide range of services needed to support their safety, well-being, and strengths.
***
State Assemblymember Andrew Hevesi represents parts of Queens and chairs the Assembly's Children and Families Committee. On Twitter @AndrewHevesi.
***
Have an op-ed idea or submission for Gotham Gazette? Email This email address is being protected from spambots. You need JavaScript enabled to view it.