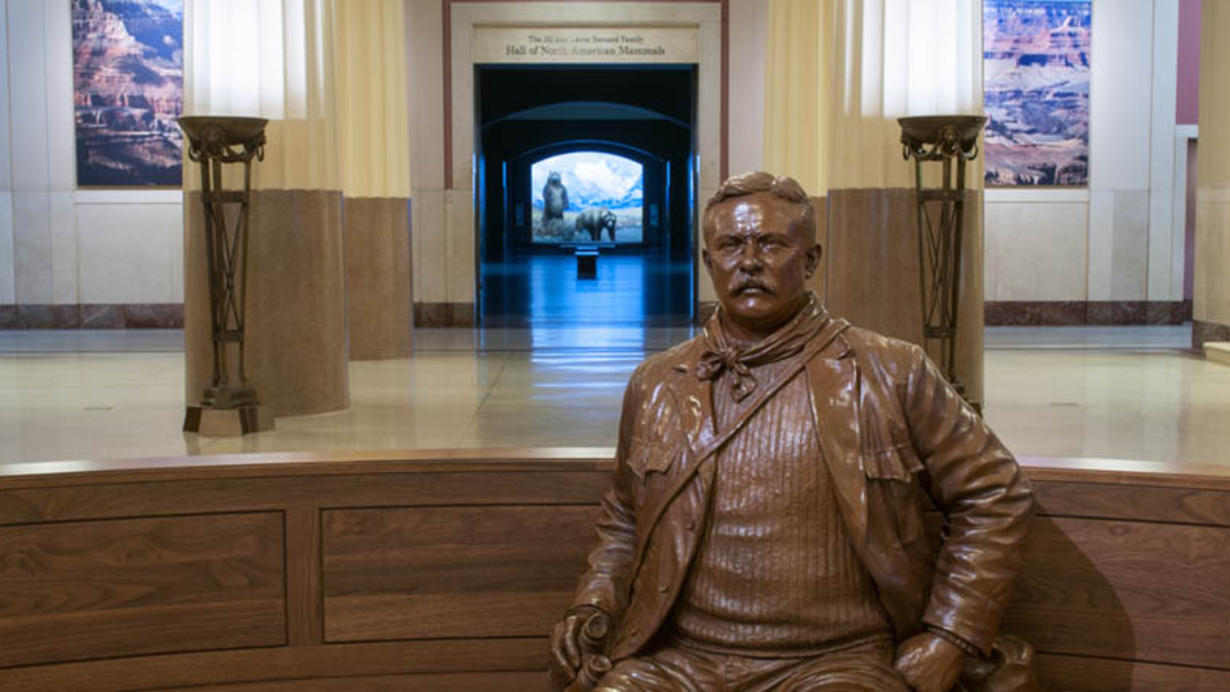 Theodore Roosevelt in the AMNH (photo: amnh.org)
---
The American Museum of Natural History in New York recently arranged for the removal of the controversial equestrian statue of Theodore Roosevelt from the front of the museum, where it had stood since 1940. The decision to remove the statue came about in response to charges that the statue reflects racist and colonial values. Given all the national publicity related to this event, the public could easily conclude that Roosevelt's special connection to the museum is no longer being honored, but such is not the case.
The museum still has a bronze sculpture of Roosevelt on display in its Theodore Roosevelt Memorial Hall. This bronze sculpture depicts Roosevelt as a real person sitting on a bench with room for visitors to sit beside him.
These two statues differ dramatically in how they represent Roosevelt. Designed in 1939 by James Earle Fraser, the equestrian monument depicts Roosevelt as if he were a colonial ruler. He looks larger than life and a bit aloof as he sits astride his horse, flanked by African- and Native-American men walking a step or two behind him.
The bronze sculpture of Roosevelt sitting on a bench is a much more approachable depiction of Roosevelt. Created by Studio EIS in Brooklyn and unveiled in November 2012, this life-sized sculpture is based on photographs that were taken of Roosevelt when he and naturalist John Muir went camping together in Yosemite in 1903. Soon after this camping trip, Roosevelt set into motion a plan that resulted in a tremendous expansion of the land set aside for national forests and new national parks. In this sculpture, he looks like a rugged outdoorsman, which is exactly what he was.
Although the equestrian monument stood at the front of the American Museum of Natural History for more than 80 years, it really has very little to do with Roosevelt's connections to the field of natural history. In contrast, the sculpture of Roosevelt sitting on a bench in the middle of the American Museum of Natural History speaks directly to his long-standing interest in natural history and his support for the American Museum of Natural History.
Roosevelt's interest in natural history is reflected in his reading. One of his favorite books from his childhood was John George Wood's Homes without Hands: Being a Description of the Habitations of Animals, Classed According to Their Principle of Construction, a scientific treatise that originally came out in 1866. He continued to read books about natural history throughout his life. His library at Sagamore Hill, Roosevelt's home in Oyster Bay, New York, is still extant, and it includes hundreds of books that relate to natural history.
His interest in natural history extended into the realm of field work. When he entered Harvard in 1876, his dream was to study the natural sciences in the field and become an ornithologist like his role model John James Audubon. The sculpture of Roosevelt sitting on the bench captures this side of Roosevelt. He is depicted holding the pair of binoculars that he often used when observing wildlife.
Roosevelt's association with the American Museum of Natural History also goes back to his childhood. In fact, his father co-founded the museum in 1871. Even as a boy, Roosevelt donated specimens from his own taxidermy collection to the museum. As an adult, he remained an ardent supporter of the museum, so it is fitting that this sculpture is located just steps away from the museum's exhibits of North American mammals and other wildlife.
Roosevelt is sometimes described as the conservation president, and the sculpture of him sitting in the middle of the American Museum of Natural History celebrates this side of President Roosevelt.
***
Mark I. West, Ph.D., is the Bonnie E. Cone Professor in Civic Engagement and a Professor of English at the University of North Carolina at Charlotte, and author of the forthcoming book, Theodore Roosevelt and His Library at Sagamore Hill.
***
Have an op-ed idea or submission for Gotham Gazette? Email This email address is being protected from spambots. You need JavaScript enabled to view it.