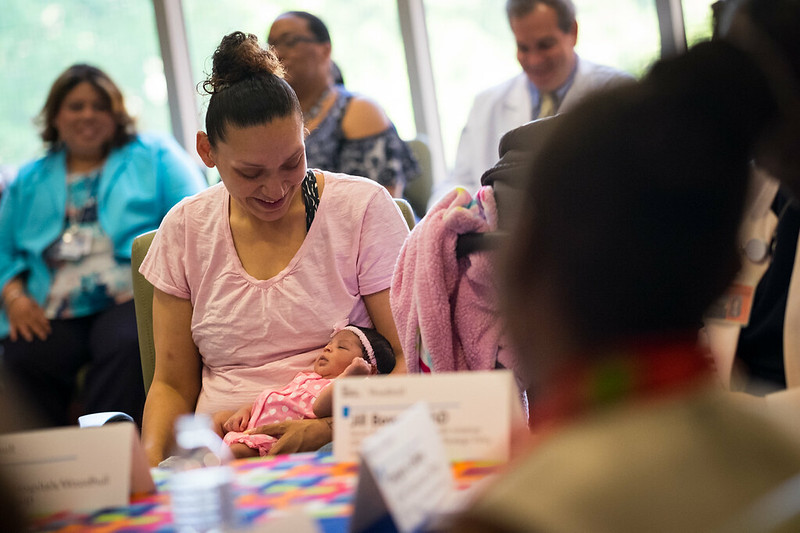 A new mom (photo: Edwin J. Torres/Mayoral Photo Office)
---
When I had my first child, I couldn't believe how expensive it was to give birth. Thankfully, I had no complications, but the bills related to my brief hospital stay added up and compounded the financial strain of caring for my new baby.

Eighteen years later, I was pregnant with my third child and worried that the costs would again be too high for me to afford. But this time, I was able to participate in the SEIU 32BJ Health Fund's Maternity Care Program in partnership with Mt Sinai and my experience was a complete 180 from what had occurred nearly two decades earlier.

Every last dollar of my pre- and post-natal care was covered. I didn't pay a single hospital bill out-of-pocket, which was an enormous relief, both emotionally and financially. My baby and I are happy and healthy, and I can now focus on saving for his future.

Unfortunately, not every New York mom is so lucky.

The Health Fund was spurred to create its Maternity Program in 2020 in response to the alarming statistics about the danger of giving birth in New York. Roughly 20 women die per 100,000 live births in our state every year, a higher rate than the rest of the county, which is already lagging far behind other developed nations in this important category. And it's especially dangerous for women of color. Black women are more than twice as likely to experience life-threatening complications during or after childbirth and eight times as likely to die from pregnancy-related deaths.

Even when a pregnancy is routine and without complications, having a baby is still incredibly expensive – and the cost can vary widely depending on where you live, according to a New York State Health Foundation analysis. This is another reason why 32BJ's no-copay Maternity Program is so important and beneficial to working moms.

It seems logical that a program with a proven track record and the potential to save lives should be expanded and replicated throughout the five boroughs so more mothers like me can benefit.  But NewYork-Presbyterian (NYP), one of the city's largest hospital systems, has threatened the program's very existence. NYP wanted the Fund to either end the program to eliminate competition from other area facilities or allow NYP to offer it without guaranteeing to meet the high-quality standards that make the program so special. 

A new piece of legislation introduced in Albany, the Hospital Equity & Affordability Law (HEAL), will help rein in out-of-control hospital prices and curb the anti-competitive contracting practices employed by hospital executives that block access to innovative care like the Maternity Program. When passed and signed into law, HEAL will enable the Health Fund to expand access to the program and establish a blueprint for other self-insured funds to follow at hospitals across the state. 

At a time when new parents should be celebrating and bonding with their newborns, too many are instead worried about how to pay for their hospital bills. Giving birth and caring for an infant is stressful enough. More moms should be able to enjoy this life-changing experience like I did – without having to pay a single cent toward the highest-possible quality care.   

It is far past time for the state to do everything possible to improve outcomes for moms and babies – especially moms of color, who face unnecessary and life-threatening challenges when giving birth in New York. Making HEAL a law would be a good first step. I hope state lawmakers and the governor act during this legislative session, so more mothers can get the kind of care they both need and deserve.
***
Shaunte Turner is a member of 32BJ SEIU and works in the cleaning division at Madison Square Garden.
***
Have an op-ed idea or submission for Gotham Gazette? Email This email address is being protected from spambots. You need JavaScript enabled to view it.