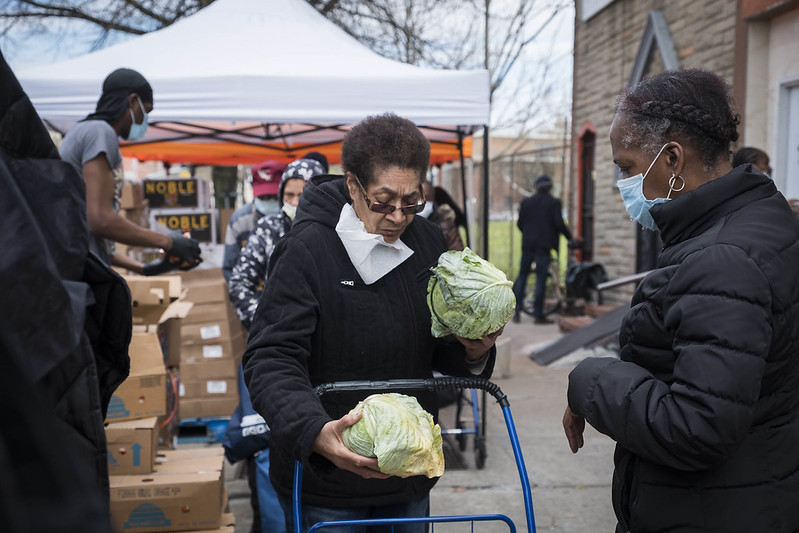 Emergency food (photo: Ed Reed/Mayoral Photography Office)
---
In the beginning of the pandemic, we longed to return to normal. However, after months of lock down, a racial justice reckoning, and a growing realization that concerns about political incivility needed to be replaced with legitimate fears about the stability of our polarized democracy, we started to think about all the reasons that going back to normal was no longer a viable option. It has become abundantly clear that "normal" never worked for everyone, and that this is by design. Our society's definition of normal was built on the fundamentally faulty ideas of white supremacy and individual meritocracy.
"Normal" did not work for nonprofit organizations and their workers, predominantly women of color, who provide essential human services.
Just as the pandemic exposed inequities across our society, it highlighted major longstanding problems in the nonprofit sector. At the peak of the pandemic, nonprofit human services workers -- rightly deemed "essential workers" -- were sent out with inadequate supplies and asked to meet soaring demand with fewer resources.
Nonprofit organizations in New York deliver services to communities on behalf of the city and state through government contracts. Unfortunately, those contracts are underfunded, failing to cover the full cost of providing services. This fact harms nonprofit workers who receive low wages and communities who receive less robust services.
Nonprofits and their workers are essential to New York's pandemic recovery. We're joining forces to uplift and strengthen our sector so we can support all communities on this journey, and it is time for our city and state government partners to step up for the good of all.
The Nonprofits Make New York campaign is highlighting the vital role nonprofits play in every New York City neighborhood, and the Just Pay campaign is working towards fair compensation for our city's hard-working human services employees.
Nonprofits have been disrespected because of who we serve and who we employ – our workforce is predominantly women (66%) and people of color (68%). Nonprofits are too often considered "less than" by our for-profit partners, those who equate a lack of resources with a lack of innovation, capacity, or know-how. We have been taken advantage of by public partners who consistently underestimated (or ignored) our economic contributions, and used our desperation to keep services and programs in place as an excuse to offer contracts with unfair, insufficient terms.
We are ultimately caught in a no-win cycle, in which our work is undercompensated by the market because we are motivated primarily by mission and often at the whim of governments, but then our expertise and abilities are undervalued in large part due to having lower salaries than our for-profit counterparts and the types of services we provide, often helping the New Yorkers who are most in need of support.
Nonprofits need to change. We need to demand that our public partners and private funders provide the respect and support warranted by the multi-faceted work we do and reject the scarcity mindset that justifies and requires us to do more with less.
Nonprofits cannot critique the old normal in the passive voice. We cannot gloss over the inherent contradictions of fighting poverty while paying poverty wages. If we do, we continue to perpetuate the cycle we have vowed to break. While the government is often the primary driver of salaries, we must insist that our ability to provide high-quality services depends on our ability to offer equitable, livable wages to the people who make these programs possible.
Currently, human service workers with a high school education and higher, core human services workers, generally make about $20,000-a-year less than a public sector worker with a comparable education, and 15% of nonprofit human services workers qualified for food stamps in the 2016-2018 period.
We all must move beyond the rhetoric of returning to normal and start accepting that things really truly will not and should not be the same as they were. Leaving normal behind means throwing out the rule book and building something new.
Mayor Eric Adams and Comptroller Brad Lander* took a major step by convening a task force with key stakeholders and recently releasing a series of important recommendations for addressing contract procurement issues in the sector. That's the kind of partnership we need and we look forward to seeing the recommendations like establishing time-frames for contract registration and maintaining the Indirect Cost Rate Initiative through to completion. The government must also pledge to end poverty wages for human services workers starting this budget season with key investments like a cost-of-living adjustment to match the State's investment
Those who dedicate their lives to making New York a better place to live should not have to starve in order to do so. We can, should, and must pay our nonprofit employees a just and fair wage for all of the hard work they do.
The Human Services Council and Nonprofit New York are working together to make these ideas the new nonprofit reality. Nonprofits Make New York. Every day. In every neighborhood. For every New Yorker. It's about time we compensate the people who make that happen.
***
Michelle Jackson is the Executive Director of the Human Services Council of New York. Meg Barnette is the President & CEO of Nonprofit New York (*and Meg is married to Comptroller Lander). On Twitter: @mpjackson of @HSC_NY and @nonprofitnyPREZ of @NonprofitNY.
***
Have an op-ed idea or submission for Gotham Gazette? Email This email address is being protected from spambots. You need JavaScript enabled to view it.