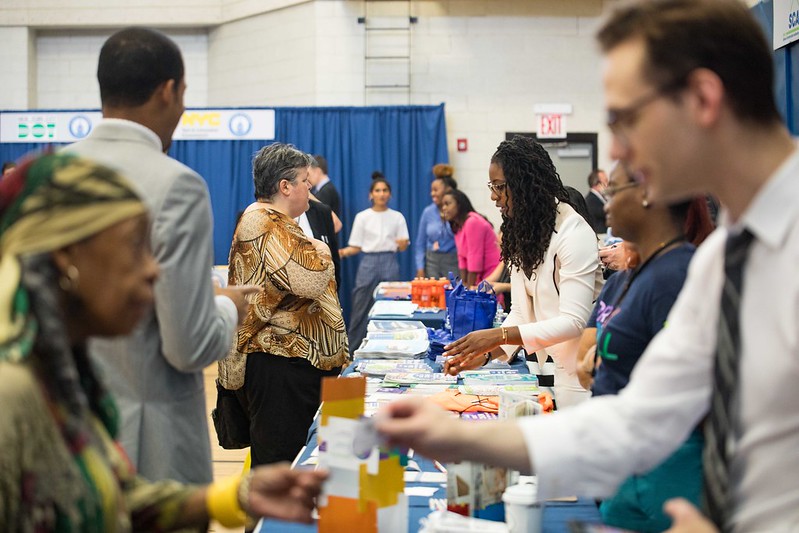 Resource fair (photo: Benjamin Kanter/Mayoral Photo Office)
---
In my work at a community center, I frequently help people who are experiencing homelessness in New York City, and I did that even when I was homeless myself. I am a program director at O'dwyer Gardens Cornerstone, a NYCHA community center in Coney Island, Brooklyn. Many of my clients are under-housed or currently experiencing homelessness, and the work that I do is crucial for the wellbeing of all New Yorkers.
My center offers wraparound services that help our residents transition into greater financial stability, including access to workforce development, health care, youth services, and after-school education. Community centers offer intergenerational support to families to address many of the issues that result from systemic poverty. 
As you can imagine, this job involves many long hours, and was only made more difficult during the pandemic. While many people around the world transitioned to working from home in 2020 and 2021, remote work was not an option for many of New York's human services workers, myself included. I risked my health every day while working in person and providing critical services during the darkest days of the pandemic. My clients needed my help more than ever during this tumultuous period, and this made my already demanding job even more stressful.
Despite working at this facility for four years, and having a role that involves supervising other employees, I do not make enough money to make ends meet. 95% of my paycheck goes towards my rent, which means that I have almost nothing leftover for other necessities like food, transportation, and medical care. New York City sets my rate of pay through government contracts, so my employer cannot pay me more unless the government decides to. I have already been priced out of the community where I work, and commute over two hours each way from the Bronx to Coney Island. I lived in Coney Island for over 20 years, and I love serving my community there. I want to be able to move back.
As recently as November of 2021, I found myself in the same situation as some of my clients. I was homeless. I did not qualify to live in the facility where I work. Meanwhile, the application process for affordable housing can take several years, and when I have applied–several times–I was denied because my income is too high, or never received a response at all. I also make too much money to qualify for food assistance programs, but not enough to actually afford food while also paying New York City's sky-high rent. In this regard, many of my clients are better off than I am, despite my working full-time at a job that I love. 
Unless something changes soon, I could be facing homelessness again in the fall when my current lease is up, and I know some of my coworkers, including other managers, and many other New York human services workers are facing the same difficulties. My organization, like most human services nonprofits, is mostly funded through government contracts, and those contracts do not cover the actual cost of providing services and greatly undervalue the work that I do. My organization tries to fill the gaps, but they can only pay their employees more if the city increases wages on contracts. I am asking that Mayor Adams, City Council members, and our other elected officials help those who help our city so much. They must increase our government contracts so that the people who help those in need don't find themselves in such dire need as well.
I love my job, and I love helping my community. However, in order to keep doing my job that is so essential to our city, I need to be paid a living wage. I am blessed to be given a platform to advocate for the people who are experiencing the same struggles that I am, but many of us don't have the means or courage to speak out about it. New York City must pay my fellow human services workers a fair wage, so that we can continue to provide the services that the city and its people so desperately need.
***
Brian Trezevant is a program director at a supportive housing site in Coney Island, Brooklyn.
***
Have an op-ed idea or submission for Gotham Gazette? Email This email address is being protected from spambots. You need JavaScript enabled to view it.