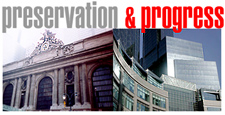 This series, in partnership with Open House New York, looks at the physical city since the birth of the preservation movement.
This year marks the 40th anniversary of the New York City landmarks law.
The legislation was created in response to a growing concern about the loss of historically, culturally, and architecturally significant places. To date, the Landmarks Preservation Commission, the city panel that oversees the implementation of the law, has designated more than 1,100 individual landmarks and 83 historic districts.
This game will test your knowledge of New York City and its history.
And you will play the role of a landmarks commissioner - and decide in five specific cases what is worth preserving for future generations.
See all the articles in the Preservation and Progress series.