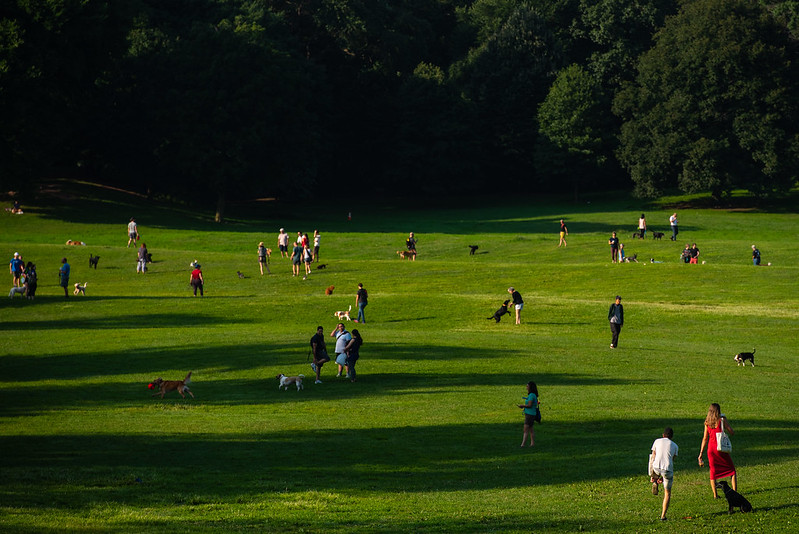 Get out to the park (photo: Michael Appleton/Mayoral Photography Office)
---
Many New Yorkers know that Friday, April 22 marks Earth Day 2022, but few know that this year's celebration has a theme: Invest In Our Planet. Clearly, this city's knack for financial investment is unparalleled, yet when it comes to investing in our planet's future, we continue to lag behind major U.S. cities in key areas such as electric vehicle adoption. And while investments like Mayor Adams' pledge of 1% of the city's budget to the Parks Department are wonderful, they are only just the beginning.
Thankfully, you don't have to be a policymaker, business leader, landowner, or even an adult to invest in New York City's environmental future. In fact, all it takes to invest in our planet is educating yourself – and your family, friends and coworkers – about our natural surroundings and how to protect their beauty for generations to come. Living amidst a sea of concrete and glass, it's easy to forget that the very basis of our city is harbors, islands, peninsulas, and coastlines, and we as New Yorkers are inextricably linked to our waterways and green spaces.
Through my nearly 20 years of teaching environmental science, and in my current role as Director of Education at City Parks Foundation, I've come to understand that to protect the city's environment, we must understand it. It's also clear that educating ourselves and our youth about New York City's ecological systems, including the impact humankind has on its flora, fauna, and water systems, is critical if we hope to identify the source of climate change and address its root causes.
In the spirit of education and action, here are six quick and easy ways New Yorkers can reconnect with and protect their natural surroundings this Earth Day.
1. Advocate for reduced electric lighting at night in New York City.
This simple change would promote the health of all wildlife, but especially birds and pollinators, by reducing stress and boosting reproductivity. And by the way, less artificial light at night is better for human health too. In your own home, you can help by turning off exterior flood lights and closing curtains and blinds during bird migration season (late April through mid-May). On a broader scale, you can support this effort through Project Safe Flight.
2. Find a nearby garden or open green space and volunteer to steward it.
The best learning is through hands-on experience, and New York City's green spaces need more volunteers. Plus, there's no better way to make new friends! If you're looking for ways to dive in and take care of your favorite local park, you can join the It's My Park community volunteer program and organize a neighborhood clean up. Alternatively, if you are looking to give back with your coworkers, City Parks Foundation also offers corporate volunteer projects during which you can transform our city's parks and green spaces by planting, painting, weeding and raking – all while cultivating deeper team bonds. 
3. Learn the basic techniques for promoting wildlife health in your gardens, parks, and even household planters, such as Leave the Leaves.
The basis of any healthy environment is the presence of locally-evolved plants and beneficial insects. Many New Yorkers mistakenly throw away leaf litter and other debris during their Spring cleaning efforts, but most don't realize that these materials are home to thousands of species of plant and insect life – including caterpillars, moths, and other critical insects. Research shows that urban centers can be meccas for plants and animals, and by avoiding these basic mistakes, we can make sure New York City is too!
4. Reduce your plastic consumption and food waste.
Look for products with reduced and non-plastic packaging. You can also help clean up your neighborhood to keep plastic waste out of our green spaces. Learn about local composting efforts and get involved! 
5. Get out and take advantage of the myriad ways to experience the natural world in New York City's parks and waterways. 
Did you know that New Yorkers have access to free rowing, kayaking, canoeing, and hiking in natural areas that are as pristine as any of our state and national parks? It's true! CityParks Learn's Coastal Classroom program offers rowing instruction to middle school youth in Coney Island. There's also free programming to get outside and enjoy sports programming in New York City's parks for free.
6. Support each other to find safe and joyful ways to get outdoors. 
Parks are for everyone, of every race, ethnicity, age, and identity. The more of us that get out and enjoy our parks and green spaces, the more advocacy and stewardship there will be to make them spaces we all enjoy. Getting involved – and urging your neighbors to do so as well – will help sustain our natural world for the next generation of all New Yorkers. 
Clearly, there is no shortage of actions we can all take to protect and enjoy New York City's natural ecology, and this short list marks just the beginning. Earth Day marks the perfect time to recommit yourself to protecting the green spaces and nature in your community, but truly, the battle to make a difference for the environment should be a year-round effort. 
Throughout the year, City Parks Foundation offers education, sports, and arts programming to help thousands of New Yorkers – adults and children alike – reconnect with the city's parks and open spaces. And by keeping the majority of these programs free, we are working to ensure that cost is never a barrier preventing New Yorkers from cultivating a relationship with their natural world. 
As New Yorkers, we know that New York City is one of the greatest cities in the world. This Earth Day, let's keep it that way by taking steps to protect its iconic coastlines, green spaces, and wildlife.
***
Chrissy Word is the Director of Education for City Parks Foundation, a leading nonprofit which runs programming in hundreds of parks, recreation centers and public schools across New York City. On Twitter @CPFNYC.
***
Have an op-ed idea or submission for Gotham Gazette? Email This email address is being protected from spambots. You need JavaScript enabled to view it.