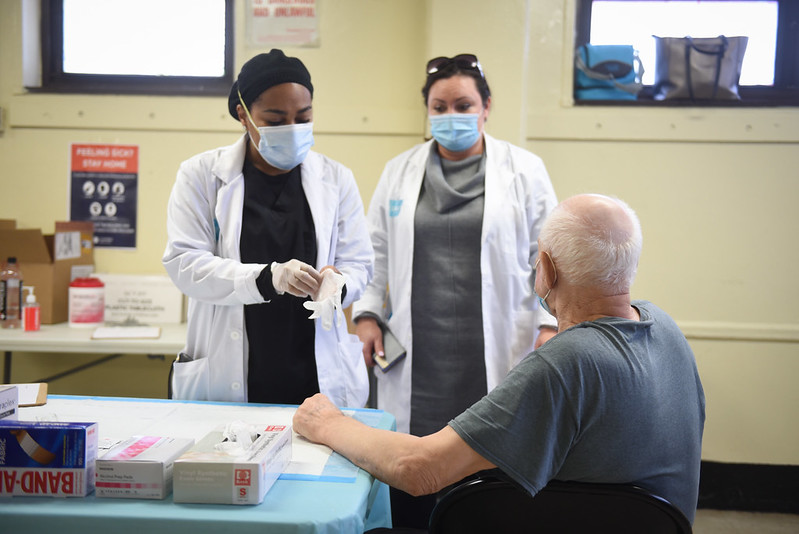 Getting local help (photo: Michael Appleton/Mayoral Photography Office)
---
The COVID-19 pandemic revealed glaring gaps and limitations in New York City's social safety net, leaving many low-income families struggling to meet basic needs. As the city rebuilds from the pandemic's destructive economic and health consequences, investing in social services should be at the core of our recovery plan. Moreover, it will be crucial to invest in the community-based organizations (CBOs) that help connect communities to these services.
Throughout the pandemic, city government has heavily depended on human services nonprofit organizations to help provide essential services to New Yorkers. In 2021, the city procured $12 billion of goods and services from the human services sector. However, many of these organizations have operated at a financial loss and are struggling to survive. 
Now is the time to protect these organizations and in turn strengthen the current safety net. To do so, the New York City Council and Mayor Eric Adams must agree on a final budget that includes $100 million for the Public Health Service Corps and prioritize part of that funding for CBOs that were involved in the pandemic response through the Test and Trace and Vaccine (T2) program. As known and trusted providers, these CBOs will also be the ones to ensure the city's underserved communities are connected to critical social service programs, which, consequentially, will help boost the city's economic recovery. 
Compared to other major cities, New York City continues to experience higher unemployment rates and a slower economic recovery. At Public Health Solutions, we've been tracking data related to New Yorkers' experiences during the COVID-19 pandemic since the beginning; worsening economic inequities and new economic pressures are causing an unequal recovery among New Yorkers. Our most recent COVID-19 Health Equity survey reveals low-income New Yorkers and people of color – groups who have been disproportionately impacted by pandemic life and job loss – are especially facing challenges in paying for basic necessities.
More than half of low-income respondents (those making under $50,000 annually) said that paying for food (56%) and paying for housing (52%) are among their top financial concerns for the year. About 12% of low-income respondents reported that they did not have health insurance before the pandemic, and still don't. Comparatively, only 7% of respondents making over $100,000 annually reported the same.
With many New Yorkers still highly at risk of slipping through the cracks, it's obvious that increasing the safety net and expanding access to social services will be critical in the coming months. These services have an immediate impact on the lives of under-resourced communities and demand for them remains high.
Since the onset of the pandemic, federal food and nutrition services, such as Supplemental Nutrition Assistance Program (SNAP) and Special Supplemental Nutrition Program for Women, Infants, and Children (WIC), played a critical role in helping people put food on the table and enabling families to use limited income on rent and utilities. CBOs were right there to make sure communities were able to access life-changing social services like SNAP, WIC, and cash assistance. As the largest WIC provider in the state, Public Health Solutions' WIC centers saw a 20% increase in the number of New Yorkers with children coming in for help during 2021 compared to 2020. 
Critics of a strong social safety net often espouse misconceptions that stigmatize these programs and their participants, but the reality is that more accessible social services are shown to bolster economic security for under-resourced communities, bring long-term economic benefits to enrolled New Yorkers, and ultimately lift overall financial and social fortitude. 
For example, every federal dollar spent on SNAP benefits also generates $1.67 in economic activity. According to a study from the U.S. Department of Agriculture, $1 billion in new SNAP benefits would lead to an increase of $1.54 billion in Gross Domestic Product (GDP) and support roughly 13,560 jobs nationwide. In New York State, SNAP benefits have injected more than $696 million into the state's economy in 2022 so far. In New York City, PHS helped distribute over $1 million in SNAP benefits in 2021. 
In Mayor Eric Adams' economic recovery plan, "Rebuild, Renew, Reinvent," the mayor emphasizes the importance of growing and supporting the economic engines of our city. However, it's clear this plan will fail unless it includes and prioritizes social services and the organizations that provide them. These organizations – the same ones that have been the most trusted by New Yorkers for information about COVID-19, including the life-saving vaccine – have helped support the city's people and the economy through social services.
This budget cycle, Mayor Adams and the City Council will look to create a budget that can propel New York City's economy forward and advance health equities. Investing in life-changing safety-net and emergency services will do both: the final budget must lock in at least $100 million for the Public Health Service Corps and prioritize funding for the community-based organizations and nonprofits that help provide social services. 
***
Lisa David is the President and CEO of Public Health Solutions.
***
Have an op-ed idea or submission for Gotham Gazette? Email This email address is being protected from spambots. You need JavaScript enabled to view it.