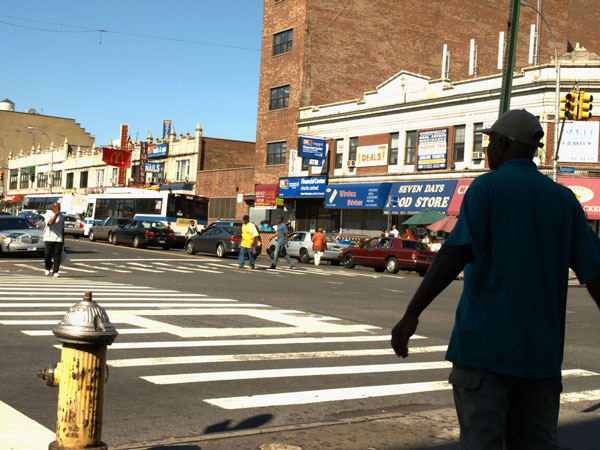 A business strip in Queens (photo: NYCUrbanScape/FlickR)
---
New York's leaders are pushing for an energy transition to get more from renewable sources but in the meantime it is imperative that people can heat and light their homes and businesses.  
A critical decision that will affect the supply of energy in New York City is sitting with the New York State Department of Environmental Conservation (DEC) right now and has been delayed several times. 
National Grid's Greenpoint Energy Center has supplied safe, reliable and affordable energy to New Yorkers throughout the city for more than 50 years. To meet customers' energy needs in the winter, natural gas supplied to the facility is liquified on-site and stored during low-demand periods in two storage tanks. During the coldest days of the year or when other sources of fuel are disrupted by extreme weather, National Grid vaporizes the stored liquified natural gas (LNG) and distributes it to customers through its network. This does not happen often, in fact just a few days each of the last two years, but when it does it is critically important to keeping New Yorkers warm.
Currently, the combined output of the existing vaporizers at the Greenpoint Energy Center is insufficient to meet the forecasted peak demand for upcoming winters. National Grid is therefore seeking approval from the state to construct and operate two new LNG vaporizers that will increase efficiency, allowing reliable, affordable service to continue for all New Yorkers while also decreasing greenhouse gas emissions and pave the way to a fossil-free heating system.
The New York Public Service Commission (NYPSC) found that there are no other viable, short-term solutions that would take the place of the Greenpoint Energy Center, meaning it is essential for National Grid to maintain safe and reliable gas service. 
The new vaporizers will allow the facility to operate more efficiently and cleanly than the equipment currently being used. According to an independent analysis, this will allow National Grid to meet rising demand for heat while reducing greenhouse gas emissions in line with the state's Climate Leadership and Community Protection Act (CLCPA). 
As New York recovers from the COVID-19 pandemic and our economy continues to grow, it is critical that our leaders work with our utilities to provide consistent, dependable service for residents and businesses. As we rebuild our businesses, we need infrastructure that can keep pace to support the development and expansion of small and large businesses across the region. The Greenpoint facility's need is a key, common-sense solution to meet the demands of our economy and put us back on solid footing.   
A very small but vocal minority of New Yorkers say that we should avoid any further investment in our existing energy infrastructure, even if it does cut emissions. They would rather see moratoriums on new hook-ups and leave New Yorkers in the lurch in the middle of the cold winter until enough renewable energy supply comes online decades from now.  These voices are loud, but they do not represent the interests of the vast majority of New Yorkers.
Most New Yorkers understand that neglecting our infrastructure will put us at risk of dangerous outcomes that could disproportionately impact older people and disadvantaged communities. Instead, we should be taking smart steps to reduce emissions and ensure reliable service on our path to a clean energy future. 
On behalf of the Queens business owners and residents I represent in my role as Chamber of Commerce President, and the millions of other New Yorkers who believe in taking smart action to address climate change, I urge the DEC to approve National Grid's applications for permits so that this critical project can move forward and we can continue down the path to a green and prosperous New York.
***
Thomas J. Grech is the President & CEO of the Queens Chamber of Commerce, which has over 1,400 members representing more than 150,000 Queens-based employees. On Twitter @QueensChamber.
***
Have an op-ed idea or submission for Gotham Gazette? Email This email address is being protected from spambots. You need JavaScript enabled to view it.