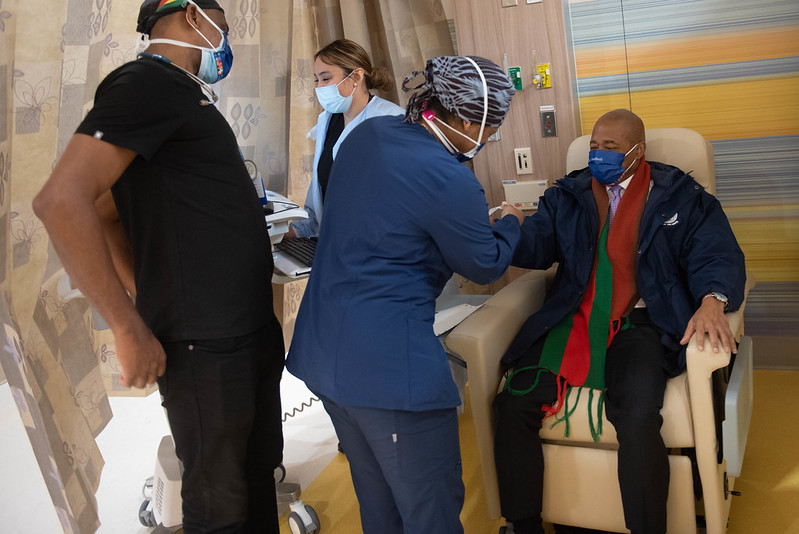 Mayor Adams gets health care (photo: Michael Appleton/Mayoral Photography Office)
---
If you spotted a nickel on the ground, would you stop to pick it up? Probably not—it seems too small, too insignificant. Why bother?
But that small amount is how we value primary care within the context of our whole health care system. It is estimated that only 5–7 cents of every dollar spent on health care is devoted to primary care, despite the fact that primary care is proven to have the best return on investment of all health care services.
Primary care is a cornerstone of vibrant, thriving communities; it helps keep families healthy, children ready to learn, and adults able to pursue education and participate in the workforce. People who have access to primary care are significantly more likely to get preventive care like cancer screenings, flu shots, and counseling related to eating well, exercising, and quitting smoking. They're also better able to manage chronic conditions like diabetes and asthma. Primary care also saves money; when more people have access to primary care, we see fewer hospital visits, fewer emergency department visits, and fewer surgeries.
It's a rare "win-win" in health care—better health as well as lower costs.
Investing in primary care is also key to improving racial health equity. Predominantly Black and Latino communities have lower-quality health care facilities and fewer primary care providers than communities that are mostly white. 
This isn't a problem to be solved simply by throwing more money at the health system; New York's health care spending is already 20% higher than the national average. Yet our rates of cardiovascular diseases, low birth weight, diabetes, preventable hospitalizations, drug-related deaths, and excessive drinking compare poorly with many other states'.
We don't need to spend more in total, but we need to spend differently and smarter. We need to rebalance our health care dollars by allocating a greater percentage of our existing spending to primary care.
New York can learn from the dozen or so states that have already introduced or enacted policies to invest more of their health care dollars in primary care. For example, when Rhode Island increased the share of its commercial insurers' primary care expenditures by 5%, the state's total health care expenditures fell by 14%.
Increasing the share of health care dollars that support primary care could also help ease the strain on New York's health care workforce, which has only become more challenging since the onset of the COVID-19 pandemic. One reason for a shrinking primary care workforce is the differences in payment between primary care and specialty care. Both Rhode Island and Oregon were able to increase their supply of primary care providers after they began reporting and increasing primary care spending.
As we look ahead to the COVID-19 pandemic loosening its grip, we must improve our health system, because the old way wasn't good enough. Let's bring stakeholders together, analyze the data to determine where resources are currently going, and then shift some of those resources toward primary care best practices and policies that increase health equity and improve community health.
And we should agree on a definition of primary care because there isn't a standard one in New York or at the national level. That definition should include any location primary care is provided, and any type of provider delivering care, including doctors, nurse practitioners, or physician assistants. It shouldn't matter where or by whom the care is provided—what matters is the care received by the patient.
With an agreed-upon definition in hand, we can create a baseline measurement of primary care spending. Then we can decide the best ways to increase the proportion of health care dollars that goes to primary care services, set targets for enhanced investments in primary care, and test out pilot programs to identify the most promising models.
The pandemic disrupted everything, but now we have a chance to build back a better health system. By emphasizing primary and preventive care, we can both improve health outcomes and save money—without increasing overall spending. If we seize the moment, New York will be a healthier place for all.
 ***
David Sandman is President and CEO of the New York Health Foundation. Louise Cohen is Chief Executive Officer of the Primary Care Development Corporation.
***
Have an op-ed idea or submission for Gotham Gazette? Email This email address is being protected from spambots. You need JavaScript enabled to view it.